When business continuity events become crises: the case for a system that scales with crisis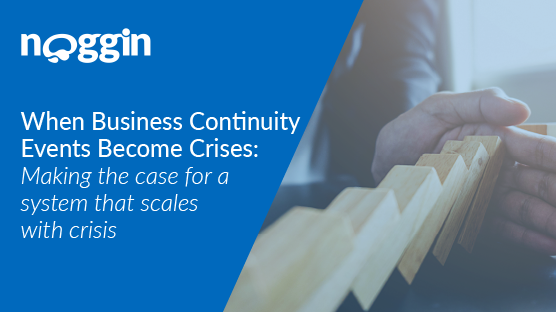 For many businesses, the COVID-19 pandemic precipitated a rapid transition to remote working. But even the organizations who could make the transition confronted latent business continuity challenges once they did. An emergent challenge prior to the pandemic, the inability to reach remote staff due to a lack of up-to-date contact information and appropriate technology to enable two-way communication became a full-bore crisis within a crisis during the early days of the pandemic.
The example highlights an under-discussed difficulty in maintaining a constant state of preparedness. And so, the guide attempts to show how changes in the way business continuity programs are resourced can enhance an organization's underlying operational resilience.
How? The guide starts by re-considering the traditional division between crisis management and business continuity. In our analysis, it has largely fallen to crisis management, especially in larger organizations, to respond to abnormal, unstable situations. These situations (chronic, persistent crises) tend to be of longer duration than shorter-term incidents or disruptions, which are the domain of business continuity.
The distinctions matter as the tools required to deal with time-limited disruptions and protracted crises are usually considered to be different. However, the fact remains that time-limited disruptions themselves often precipitate protracted crises. According to the British Standards Institution, for instance, crises have roots in time-limited incidents, specifically "poorly managed incidents and business fluctuations that are allowed to escalate to the point at which they create a crisis."
What can be done? The guide lays out the benefits of integrated, crisis management and business continuity software solutions that scale with the severity of the event in question. Indeed, when the event itself begins small and time-limited and becomes larger and longer standing, it is imperative that the software platform used for the original response scales to address the latter.
The guide also identifies key software capabilities needed to manage all aspects of business continuity and crisis management in a unified preparedness and incident management platform, so as to effectively assess risks and impact, coordinate response, as well as manage all manner of incidents – from the smallest outage to a major crisis.
Download the free guide from Noggin, here: https://www.noggin.io/download-when-business-continuity-events-become-crises?utm_campaign=BCI%20Corporate%20Partnership%20-%20FY2021&utm_source=BCI-content
More on