Women in Resilience Spotlight: Bethany Warren AMBCI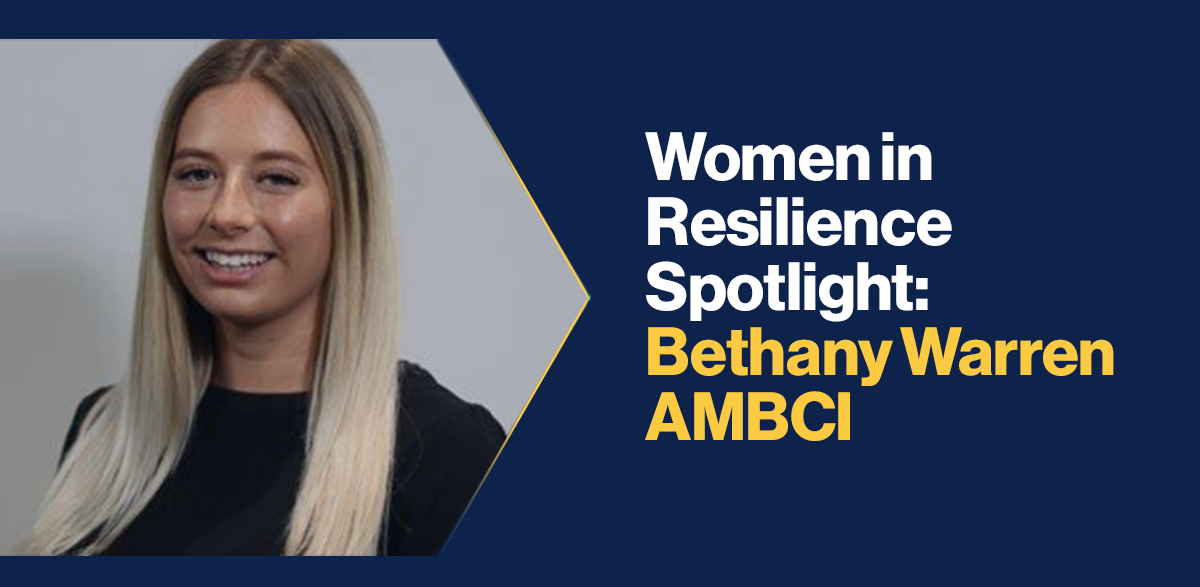 Bethany Warren, AMBCI, has a Master's degree in Occupational Psychology and is a qualified Lead Implementer of ISO22301:2019. During her time as a consultant Bethany has supported various companies, across multiple industries around the world to build their resilience capabilities and preparedness for disruptive events. Her particular interest is in the human aspects of crisis events.
What brought you into the industry?
I originally studied Psychology at university due to my passion for people and wanting to understand human behaviour and decision making. During my studies, I worked at a well-known high street bank and this was my first real exposure to risk management. I went on to pursue a Master in Occupational Psychology, where I studied human behaviour within the workplace. I was always fascinated by resilience, our ability to bounce back from adversity, and how we can increase our own personal levels of resilience - this was one of the core concepts that I researched for my dissertation. While my knowledge base was focused on personal resilience up until this point, I took a leap of faith to apply for a job opportunity to concentrate on resilience, but this time at an organisational level.
How did you reach your current position? What challenges did you face?
I am a strong advocate of striving to adopt a 'growth mindset' in everything I do. I believe my skills and abilities can grow with effort and hard work and this has definitely helped me get to where I am today.
During the recruitment process for my current job I was informed that I was up against other graduates who had specific degrees in Disaster, Crisis and Risk Management. While I did not have a specific degree in crisis, risk, or business continuity, I did have knowledge and understanding of human behaviour from my previous studies. This meant that a lot of what I had previously learnt could be transferred into the work I do today; and I have developed a particular interest in exploring the human aspects of crisis events and how to plan for your people.
Starting a job where I had no real industry knowledge really pushed me outside of my comfort zone; and while this felt uncomfortable at times, it helped me learn at a much faster pace. Whenever I have experienced a setback in my career or made a mistake, I have always tried to view these as learning opportunities to develop rather than failures. It took a lot of dedication, determination and being in a constant state of learning to build my business continuity knowledge and I still have a long way to go! I have learnt so much through others and have always been supported and inspired by those around me; from those I work with to those I meet at industry events.
An experience I will never forget was delivering an assessment audit against ISO22301 in China. Whilst on this trip, my colleague fell ill which meant I had to step up and deliver the work alone. This pushed me out of my comfort zone, as I was in the early stages of my career, was in an overseas country I had never been before and was relying on a Chinese translator due to the language difference. I was really relying on my own levels of personal of resilience to drive through and once I had completed this work I felt such pride that I can achieve anything if I put my mind to it.
While I am a young female in the early stages of my career, I have felt nothing but encouragement, inspiration, and support from others within this industry. My journey of getting to where I am today has not been easy and at some moments, I doubted myself but I have found the more I learn and the more I expose myself to different situations and gain experience, the more my confidence is growing.
Which specific skills do you think are needed to become a leader in your field?
Being an effective communicator, both verbal and written, and having the ability to build lasting relationships is imperative. This field really is all about the people and the connections you make and the way you communicate with and treat others will have a lasting impression.
As I mentioned previously, I truly believe adopting a growth mindset both in our personal and professional life is important. The power of our own thoughts is phenomenal, just by changing how we interpret challenges, and our learning potential can really shape how we live our lives.
Having an eagerness and a desire for continual professional and personal development and acknowledgement that we should always be in a constant state of learning, no matter what age we are or how much experience we have, there is always more to learn. The world we live in changes each day so ensuring your knowledge is kept up to date is vital.
Being emotionally intelligent, and able to control your own emotions and understand, interpret, and respond to other peoples'. Having empathy and the ability to influence, inspire, coach and support others.
Being open to change is a big one, the world is changing everyday and we need to be able to quickly adapt to these changes and embrace them rather than be resistant. Change should be treated as an opportunity to innovate.
Do you think that the BCI WiR initiative will influence our industry? If yes, how?
I feel very fortunate to have been able to benefit from the Women in Resilience initiative and have attended various events and webinars. I have met many inspiring people through this group already and encourage anyone to get involved, there is a real mix of those who are experienced to those who are just starting out in their careers. I hope this initiative will encourage more women to join this industry and I look forward to what its future holds.
What changes would you like to see in the profession?
In the field itself I would like to see more of a focus on the human element of business continuity and crisis management. When a crisis hits it is common to see companies focus on restoring their business-critical processes but forget it is their people they are really counting on at this time. Just because your organisation is resilient, does not mean your people are, and incorporating this into planning is vital.
I hope now that we have experienced Covid-19 and are still going through the recovery, that organisational resilience is seen as a must have rather than a nice to have and regarded an invaluable and worthwhile practice.
In your opinion, why should more people be joining the resilience community?
I am early on in my career in this industry, and from the two years I have been part of it I have been blown away by the support and sincere professionals that make up this community. I am passionate about the human aspects of business continuity and truly believe that at some point in our lives we will all be affected in some way by a disruptive event (covid-19 has proven this). Resilience is on everyone's radar now more than ever and everyone is talking about it; the industry is only going to develop and grow.
If anyone is reading this that perhaps does not have a degree in risk or crisis and disaster management, but you have a real enthusiasm for organisational resilience and an eagerness to learn I would urge you to take a leap of faith and join the community!