Women in Resilience Spotlight: Debarati Rana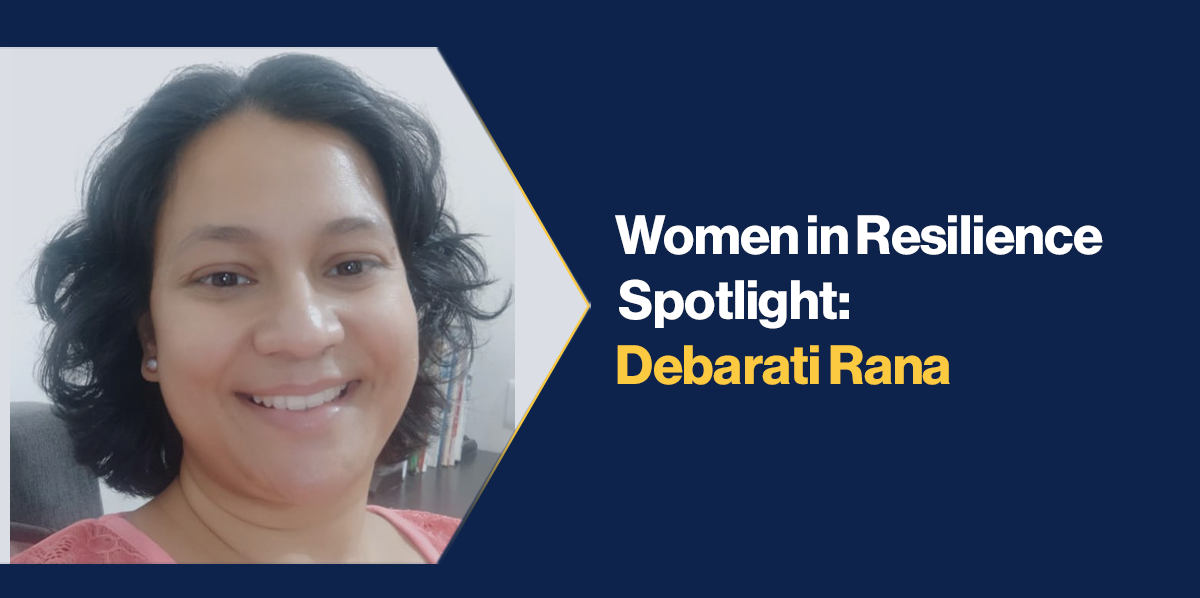 Debarati has been working in Business Continuity for more than 12 years for various organizations in the BFSI and transportation industries. She has worked extensively on plan execution and management, incident management as part of her First Line roles in Business Continuity, and has experience in Policy making, governance and monitoring from a Second Line perspective.
She is a member of BCI Pune Chapter and has worked with other chapter members to publish the BCI Pune Resiliency Survey for three years in a row. She is also part of India BCI Think Tank team and an active member of the Women in BCM(WiB) India group.
What brought you into the industry?
This is an interesting question - I landed in business continuity accidentally! From a young age, I knew I belonged in administration. I had the skills to align things systematically, interact with people, hear out people's views and be able to take a stand neutrally. I was working in HSBC Operations when an internal job posting in Business Continuity and Internal Control department came up. I thought this could be an opportunity for me to build my future and professional profile, so I decided to apply. I must say, I am happy that I made that decision. Business continuity, resilience and risk are disciplines where you learn every day and challenge yourself, and I am enjoying this ongoing learning experience.
How did you reach your current position? What challenges did you face?
By having faith in myself and always wanting to learn. After a few years at HSBC, I realised it was time for me to take up a new role and explore the industry. It was not an easy process from both a personal and professional perspective. I had to move away from my husband in a new city (Pune) with my one-year old daughter. I had no family or friends living with me; except for my mother, who came to support me in this bold career decision.
With the help of the BCI Pune Chapter, I had the opportunity to meet many like-minded peers in the industry and I built my circle of friends, and colleagues. Meanwhile, I started realising that BCM and the expectations on this discipline has changed since I started working. This meant that BC professionals were required to have more skills and knowledge. I worked very hard to stay updated on the latest trends and continued to contribute to the community in every way possible.
Which specific skills do you think are needed to become a leader in your field?
Communication – BCM and Crisis Management are all about what to communicate, when to communicate, and how much to communicate - depending on how many stakeholders you are dealing with. Especially when it comes to written communications, you need to keep it simple and succinct.
Believe in yourself – If you do not believe or stand up for yourself, no one else will do it for you. You are the best 'judge' and know your potential, strengths, and weaknesses, it is up to you how to put them into practice. I believe also that making mistakes is part of being human – even leaders make mistakes – but the important thing is how we correct them and learn from them.
Relationship management and inclusiveness – In your career, you are bound to come across people from different cultures with different backgrounds and opinions. This requires you to understand their point of view, but also make they understand what you are trying to say. Being cordial to people around you makes it easier to create an environment where opinions can be shared. As a leader, you need to be open minded to be able to include different views and work styles.
These characteristics are not exclusive to the BCM and resilience field, they should be practiced across all industry sectors.
Do you think that the BCI WiR initiative will influence our industry? If yes, how?
I am delighted about this great initiative by BCI, which enables female professionals worldwide to get a global platform to connect with each other, share their achievements, and find a suitable mentor from a pool of senior professionals. When we see a female leader in the industry, it works as a great motivation for all as well as being inspiring to others. When you see a young woman trying to make a name for herself in the industry, you relate with the struggles and hesitations she might have, and you want to provide support and the tools to overcome difficulties.
What changes would you like to see in the profession?
To be honest - as I have been in this profession for many years now - I have seen it growing in terms of number of professionals choosing business continuity as a career choice. But there has also been a global acceptance of the importance of this discipline to build resilience. Business Continuity is now recognised as a 'need' from organizations. So overall, I am happy the way things have changed globally for the Business Continuity & Resilience disciplines. BCM is recognised as key risk area and many organizations have done successful collaborations with Cyber, Information Security, Supplier Risk, etc., which has allowed them to open new opportunities to be explored. However, personally, I still feel there is a lot of scope and need for awareness amongst the top leaders within organisations of the true value that Resilience professionals can bring to the table for them.
In your opinion, why should more people be joining the resilience community?
New people, new ideas, and change remain the only constant. We must encourage diversity, which always works better for everyone. Times are changing and we all must be prepared for newer and dynamic work areas as well as new challenges. A balance during these times can be brought in with the right mix of thoughts between experienced professionals, and fresh minds which can assess the situation differently with a new perspective. Lastly, because I have myself learned so much from this field, I am a strong advocate for any individual who has the right skills and attitude.