Women in Resilience Spotlight: Milena Maneva, MSc, AMBCI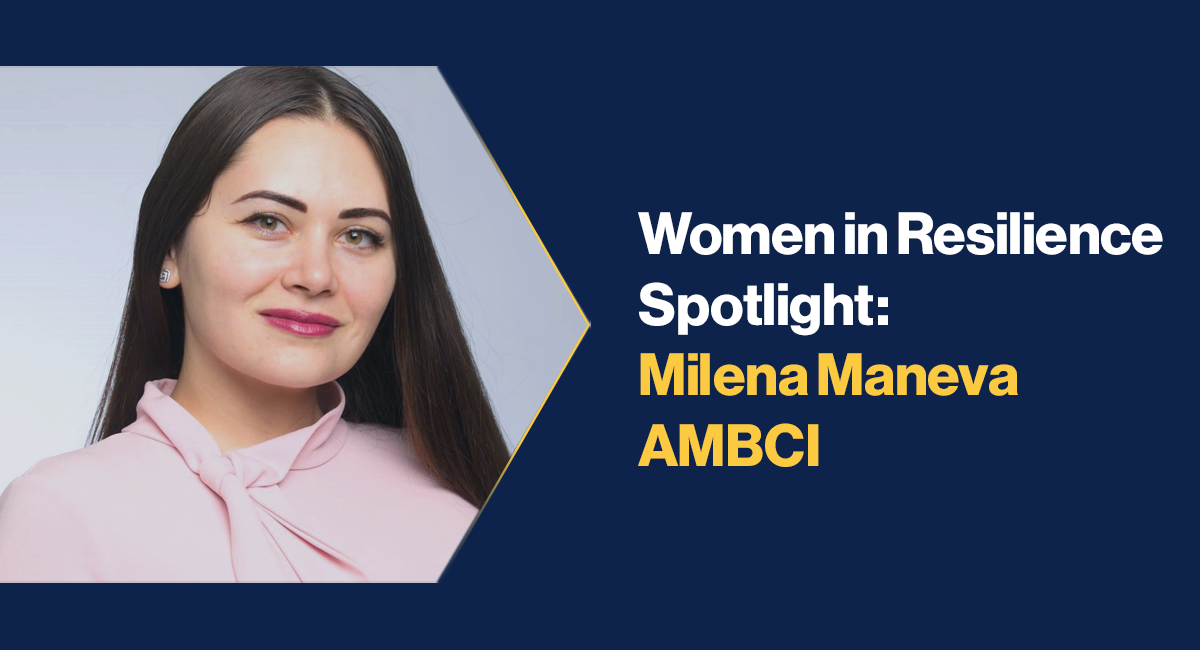 Milena is a strategic, results-orientated resilience professional with the ability to find innovative and resilient solutions to business problems. Furthermore, Milena is able to challenge established behaviours, communicate effectively in delicate situations whilst being a key ambassador for established governance practices playing an influential role in the continuous improvement of global business resilience strategy and operations.
What brought you into the industry?
It all started with an incident at a naval base in Cyprus back in 2011. I was working as a Financial Risk Officer at the time monitoring electronic trading portfolios. On what should have been a normal working day, turned out to be anything but normal, when a massive explosion from the base caused a blackout on the entire island; this severe disruption was further compounded by an acute shortage of generators in the country which made a quick recovery extremely difficult. Many businesses, including my own company experienced continued electricity outages which lasted for more than two months after the blast. I couldn't believe how unprepared organisations were for such events and the whole experience helped me to see how important resilience and preparedness is.
With this incident very much at the back of my mind, I relocated to London to pursue a Master's degree in Risk Management. It was here that I first learnt about business continuity as an established practise and within a couple of years I made my first entry into the industry.
How did you reach your current position? What challenges did you face?
It was not until I had the fortune to work for a rising star of business continuity, Rina Singh, that I seriously considered pursuing a career in the field. She inspired me with her passion and dedication for the profession to join the Business Continuity Institute (BCI) whilst I was working in the public sector. From here, I moved back into financial services, working for a global asset management firm where I am currently responsible for resilience / business continuity within UK and EMEA for over 46 offices and 6000 staff. In my current position, I am able to change existing behaviours, influence cultures and create better corporate resilience globally.
Along the way I have encountered discrimination, but I never let this define my choices. A couple of years ago, I was at a point in my career where progress was very difficult to envisage, due to biases of one form or another. There was always someone who would prevent me from succeeding and despite the right qualifications, determination and passion that next step in my career seemed to elude me. It was difficult not to feel disheartened at the time but I had managed to keep a strong resolve, stand up for myself and soon enough, with changes at the workplace, opportunities naturally presented themselves.
If I could give advice to my younger self or to others, I would urge everyone to believe in themselves and never let anyone else tell them what they can or cannot do because no matter how difficult the situation is or how seemingly helpless you feel at times, there is always a choice you can make, for me it was to speak up and do the right thing. If you believe in yourself, your abilities and embrace change with confidence there will always be positive opportunities awaiting you and helping you grow. Now I think of problems and challenges as opportunities. And remember, there is always a new day tomorrow.
Which specific skills do you think are needed to become a leader in your field?
I don't think you can be a truly successful leader without a strong vision and emotional intelligence. Of all the successful professionals I have met, these are the two qualities that always stand out as defining attributes. You need to be able to understand the motivation of others to be able to inspire them to strive for their best and help to achieve desired outcomes.
Self-confidence is crucial. The ability to walk into a room full of senior stakeholders and influence them to do the right thing and change behaviours is very important to realise any vision. For that you need to be brave and be willing to go outside of your comfort zone. Past experiences also help to build your confidence to face new challenges and learn from one incident to the next, almost like steppingstones, helping you to develop and strengthen future successes.
My top 10 skills / attributes include:
Communication
Confidence
Integrity
Empathy
Problem solving
Perseverance
Adaptability
Team Player
Influence / Personal Impact
And of course, being positive with sense of humour always helps.
Do you think that the BCI WiR initiative will influence our industry? If yes, how?
I believe it already is! This initiative has helped to break down barriers and give professionals, of any age, gender and ethnicity, a sense of self-belief, that with hard work and drive, anyone can succeed at the highest level. I do believe that the success and influence of WiR extends beyond just a focus on gender and has managed to inspire people from all over the industry.
I would like to see this network become truly global where we see colleagues from all over the world working together and exchanging ideas. It is so important to learn from past experiences, whether these are achievements or setbacks, and the more we are able to share and collaborate the greater the opportunity to build towards a more resilient, inclusive future.
What changes would you like to see in the profession?
I would certainly like to see more focus and collaboration on risk interconnectivity. In my experience, resilience/business continuity is a little too isolated, working diligently but ultimately at a distance from the rest of the business. I see business continuity as an integral business unit and a pivotal part in the financial success of a business, rather than simply a support function.
The nature of risk is increasingly complex and if we do not find a way to work together across different functions whether it is during day to day activities or during a disruptive event, achieving success is impossible.
In your opinion, why should more people be joining the resilience community?
The more people that know about resilience and join the community the better chance we have in creating a stronger and more resilient world. This will help to boost our knowledge, share experiences, raise awareness and have the opportunity to inspire everyone with the great initiative and work we all do. At the end of the day, risk may be everyone's responsibility but without everyone we cannot build resilience.