eLearning: Introduction to Organizational Resilience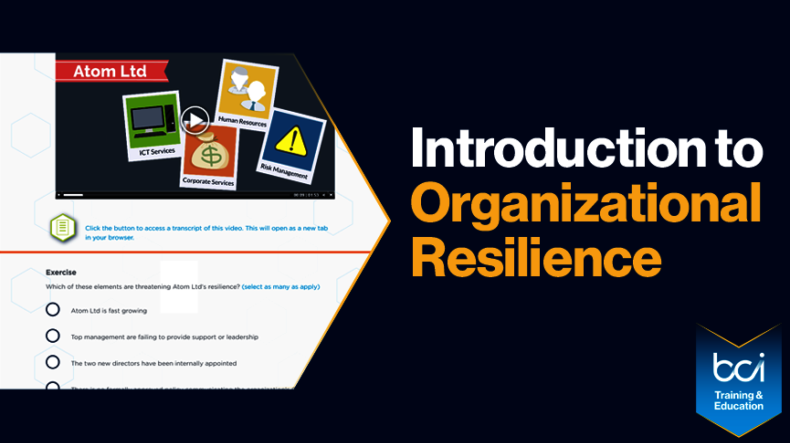 Introduction to Organizational Resilience is an interactive self-paced eLearning Course. This course has been designed to give you a foundational understanding of organizational resilience. It will give you a practical approach, helping you to build your existing skills and knowledge, allowing you to contribute effectively to the development and enhancement of resilience capabilities within your organization.
Modules
Module 1: OR Principles
Module 2: OR and Business Continuity
Module 3: The Importance of Collaboration
Module 4: The Attributes of OR
If you would like to purchase an in-house licence for this course please contact [email protected]
Please note that this product is copyrighted by The BCI and will be supplied for the sole use of the purchaser. Once purchased you will be sent an access email that will usually take up to 1 working day (UK office times) to arrive.
By purchasing this course, you will have 60 days access from the date you receive your registration eLearning link. Typically, the course should take around 4 hours to complete, so 60 days gives you plenty of time to fit around your work schedule and home life.
Time Extension Policy
Please note that short time extensions on the course completion deadline will only granted in the event of suddenly arisen extenuating circumstances, such as a medical emergency. A medical certificate will be required.
We will not grant time extensions on the course completion deadline for work related or holiday/vacation reasons, so please check your calendar before you purchase the course.
Please note: By purchasing this online course you will lose your right to a refund within 14 days under the UK Distance Selling Regulations once the course registration email is delivered.