Introduction to Organizational Resilience E-Learning Course
15% discount available from 1st-30th September 2023 on single course purchases, discount codes are available below. 25% discount on E-Learning Corporate License, please email [email protected] to learn more.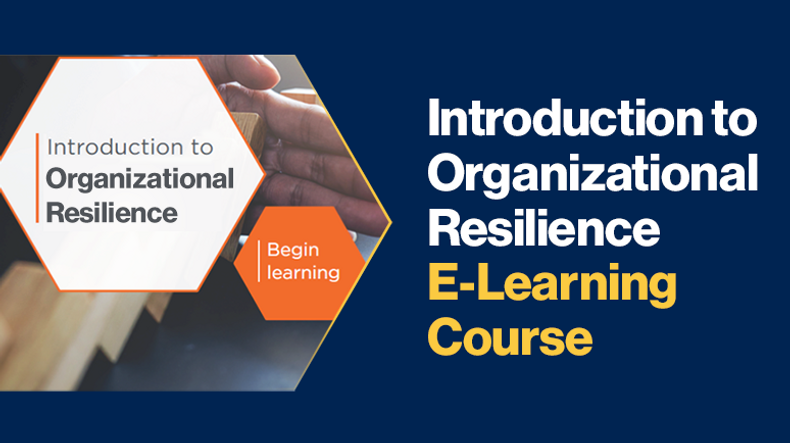 Education Month 2023 discount codes:
AUS$ - Edu23IntroOrgResAU
CAN$ - Edu23IntroOrgResCA
EURO€ - Edu23IntroOrgResEU
GBP£ - Edu23IntroOrgResUK
US$ - Edu23IntroOrgResUS
---
This E-Learning course has been designed to provide you with a foundational understanding of organizational resilience. It will give you a practical approach, helping you to build your existing skills and knowledge, allowing you to contribute effectively to the development and enhancement of resilience capabilities within your organization.
Through this course, you will learn to:
Explain the concept and importance of organizational resilience to your colleagues
Become a positive influencer, building resilience by supporting the collaborative effort between professional disciplines within your organization
Demonstrate how organizational resilience can be developed and improved through the application of sound practices
Reflect on how you can apply your knowledge to your own organization.
This course is designed for:
Practitioners or managers with some organizational resilience responsibilities wanting to have some basic business continuity awareness
Module One: organizational resilience principles

Module Two: organizational resilience and business continuity

Module Three: the importance of collaboration

Module Four: the attributes of organizational resilience
The course should take 3 – 4 hours and you can study whenever you like, by purchasing this course, you will have 60 days access from the date you receive your registration eLearning link. . The course can be used on mobile, tablet and desktop. Once you complete the course you can request a certificate of completion by emailing [email protected].
The course is designed to be informative and interactive:
Concepts and terminology explained in non-jargon, plain English
Animated videos & glossary of key terms
Downloadable action plan to help you think about your own organization as you work through the course
Real-world case studies to think about how organizational resilience can be applied to a variety of situations and businesses
You need to carry out actions and answer questions as you work through each module
And, at the end of each module there is a quiz to access understanding before moving on to the next one

This course is available for organizations to purchase in the form of E-Learning Corporate Licence. During Education Month 2023 (from 1st-30th September), we will offer a 25% discount on E-Learning Corporate Licenses, please email [email protected] to learn more.
Please note that this product is copyrighted by The BCI and will be supplied for the sole use of the purchaser. Once purchased you will be sent an access email that will usually take up to 1 working day (UK office times) to arrive.
By purchasing this course, you will have 60 days of access from the date you receive your registration eLearning link. Typically, the course should take around 4 hours to complete, so 60 days give you plenty of time to fit around your work schedule and home life.
Time Extension Policy
Please note that short time extensions on the course completion deadline will only be granted in the event of suddenly arising extenuating circumstances, such as a medical emergency. A medical certificate will be required.
We will not grant time extensions on the course completion deadline for work related or holiday/vacation reasons, so please check your calendar before you purchase the course.
Please note: By purchasing this online course you will lose your right to a refund within 14 days under the UK Distance Selling Regulations once the course registration email is delivered.