5 Key Challenges You Must Solve With Your Next Backup Platform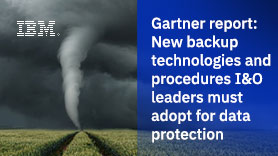 BCI partner IBM shares with us the insightful Gartner report: 5 Key Challenges You Must Solve With Your Next Backup Platform
As organizations migrate to hybrid cloud and multicloud, the infrastructure becomes increasingly convoluted, opening the door for errors, failures and attacks. The risk of costly breaches and the loss or corruption of sensitive data, and the need to meet evolving regulatory requirements make data protection a business imperative. These challenges as well as new opportunities are forcing organizations to rethink their backup strategy to make it fit for a digital business that produces vast amounts of data and spreads that data far beyond the confines of corporate data centers.
Read this Gartner report to gain valuable insights into the:
Challenges faced by I&O leaders, including dealing with legacy platforms and archived data
Different backup approaches, their advantages and disadvantages
Issues regarding backup protection against ransomware
Read the report to also get access to Gartner's recommendations for I&O leaders updating backup as part of their infrastructure availability and recovery strategy.
More on