A BCI World stream on Supply Chain – in partnership with Resilience360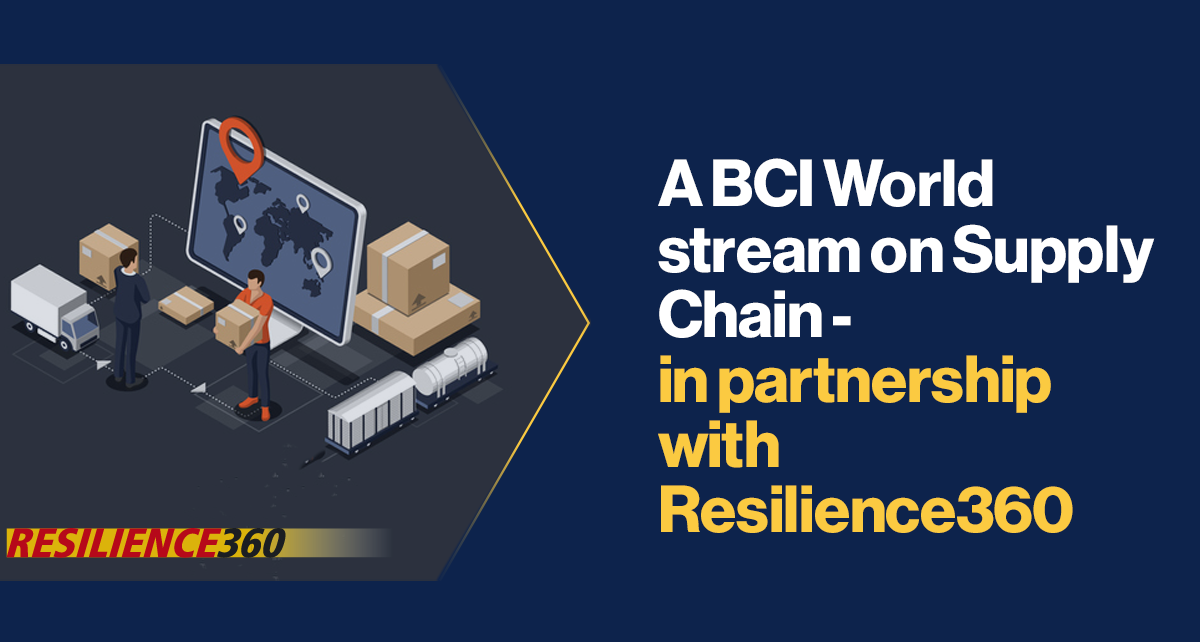 Since the beginning of the COVID-19 pandemic, supply chain management has been in the spotlight for its critical role played in how organizations' deliver their products and services.
The pandemic has put a lot of pressure on supply chains across the globe and many businesses have realised that there is the need to reshape and reconsider how vital resilience is for supply chain management.
BCI World 2020, in partnership with Resilience360, presents a programme stream dedicated to Supply Chain Resilience with four exclusive sessions focussed on how a Supply Chain Risk Management (SCRM) solution is relevant and vital to the survival of the supply chain.
'Enterprise Risk & Continuity'
Presented by: Joe Robinson, Sr Dir BCM
When the COVID-19 global pandemic hit, the world quickly began to understand just how important and essential supply chain is to everyday life.
Highlighting a new perspective at SCRM from the Business Continuity (BC)Manager's point of view, Joe Robinson, Sr Director BCM from Medtronic, will share his personal experience and insights on how SCRM became a relevant and vital component to Business Continuity Management (BCM); and how BC Managers can successfully work together with SCRM to effectively support the organization's supply chain and add revenue and collaboration to the enterprise.
You will learn about:
Why is SCRM relevant to BCM?
How to effectively communicate with C-Suite of Logistics/Supply Chain
Why BCM should include SCRM as part of its strategy and how to best support the supply chain
'Lessons from Covid-19. How Companies Are Adapting their Supply Chains to the New Normal'
Presented by: Rachael Elliott, Head of Thought Leadership, The BCI, and David Shillingford, Chairman, Resilience360
From the initial outbreak to the continued spread of COVID-19, many organizations without sound business continuity plans and access to robust analytics have found themselves in a state of urgency and unprecedented levels of disruption.
Findings from a recent report "COVID19: The Future of Supply Chain" – produced by the The BCI, in partnership with Resilience360 - show that 45% of organizations admitted not having a sufficient plans in place to cover the supply chain issues that arose from COVID-19.
The report was based on a survey of more than 350 supply chain professionals and aimed to better understand the types of changes they plan to make in their own organizations as they navigate the COVID-19 recovery phase.
This session will explore the report's findings, and provide deep insights and benchmarking data to help companies make decisions for the future of their supply chain.
You will learn about:
Variety of pre-pandemic planning
The impact on supply versus demand
How sourcing and inventory management are changing
The growing use of digitization
How logistics outsourcing is changing Is your supply chain ready for change?
'Artificial Intelligence & Predictive Analytics: How Leaders Are Changing the Game of Supply Chain Risk Management'
Presented by: Jim Hayden, Chief Data Scientist, Resilience360
2020 has been a year of back-to-back, jaw-dropping disruptions that often delayed, altered, or halted production and transportation altogether.
Artificial Intelligence, the Internet of Things (IoT) and Cloud Computing are enabling companies to generate 'digital twins' of their supply chains, by creating data that allows supply chain risk to be predicted in ways that were not previously possible. This offers an opportunity for risk data to be used to enhance core supply chain planning and execution processes and create billions of dollars in operational efficiency.
This presentation will provide an overview of how predictive analytics and risk-adjusted data can be used to visualize, monitor, analyze and mitigate risk in the supply chain so companies can make more informed decisions quickly for the future of their supply chain.
You will learn about:
When your organization needs an SCRM
Top 10 things to look for in an SCRM
Why invest in a SCRM?
'Supply Chain 101: What Business Continuity Managers need to know about supply chain to be effective partners'
Presented by: Daniel Stanton – LinkedIn Author and Supply chain expert
Understanding how risk and disruptions ripple through inventory, sourcing, transportation, and manufacturing operations can be a challenge, but savvy supply chains can achieve, and ultimately keep running, despite managing multiple disruptions. So, how can managers quickly get up to speed on what SCRM is and how can it be leveraged so managers can see farther and get ahead?
Supply chain expert and LinkedIn Learning Author/Instructor, Daniel Stanton, will provide insightful knowledge on how to engage with the supply chain team and understand the world they live in every day; as well as highlight what every manager needs to know about risk today, how to prepare for it and what to do about it.
This session, will provide the basics of Supply Chain and the way in which risk impacts every aspect of planning, sourcing, making, and delivering goods to the market.
You will learn about:
How to know when your organization needs an SCRM
How to leverage the SCRM conversation
How to become a supply chain expert while wearing the BCM hat.
Follow the link below to learn more about BCI World Virtal 2020 programme .
More on