A great example of diversity from the BCI Spanish Chapter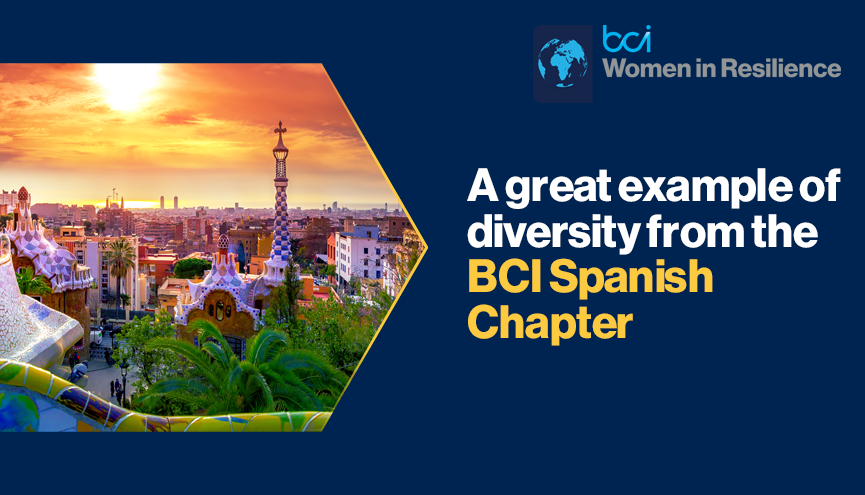 The BCI Spain Chapter was launched in August 2020 but had its first meeting in January 2020, right before the most severe period of the COVID-19 pandemic. Even then it was launched successfully and so far, the Chapter is organizing three events a year. They have also signed two joint agreements with other associations in Spain and are working on a guide for SMEs, among many other projects.
However, one of the things that defines the BCI Spain Chapter is its diversity. The Committee Chapter has eight members, split evenly between men and women, with the leader a woman and the deputy leader a man. The following interview features two of their members, Amanda Conde and Manel Herrer, both MBCI and members of the Committee Chapter, who give us their views on this topic.
Manel Herrer (M) is a Business Continuity, IT Service Continuity and IT Security professional, currently working in the Catalan Cybersecurity Agency for the Catalan regional government (Generalitat de Catalunya). A member of The BCI since September 2015, he has more than 10 years of experience working in Business Continuity. He has worked in a variety of sectors and has experience in conducting and developing Business Continuity and Crisis Management Programmes.
Amanda Conde (A) is passionate about resilience. She started her career as a Business Continuity champion and became fully dedicated to the subject in 2017. Currently leading Business Continuity, Crisis Management and Vendor Risk Management programmes globally at Colt, Amanda is the head of a geographically diverse team with colleagues in India, Japan and Europe.
What has been your motivation to join the BCI Spain Chapter?
M. Since I took the CBCI course 8 years ago, I have always tried to promote Business Continuity in Europe and Latin America, since it seemed that we were always one step behind the Anglosphere. As a result of the first meeting of the Chapter at the beginning of 2020, I decided to join in order to promote Business Continuity in Spain, Portugal and Latin America.
A. To discover and meet people with whom we 'speak the same language' and who have the same interests. I will always remember that first Chapter meeting, when the attendees were asked: "How many of you, during Christmas dinner, still get asked by your relatives, 'what was your job about again?'" There were so many people who raised their hands. They felt so identified that they made me want to join this group of people with the same motivation. Our profession is still very unknown in Spain. In addition, I would say being able to share experiences, help each other and listen to expert debates, as well as promoting the profession in our country.
How is the gender balance in the BCI Spain Chapter?
A. From my point of view, we have a perfect gender balance, achieved very naturally. The roles within our Chapter have also been evenly distributed.
M. One of the achievements that we have in the BCI Spain Chapter is that gender imbalance was never a problem. In this respect, the Spanish Chapter should be an example because it makes no sense that a continuity panel or any forum should be represented primarily by men.
What are the challenges in terms of gender equality in the industry? Is Spain different from other countries?
M. I think in the world of continuity, technology and information security, it is more of a generational gap than a gender gap. Machismo tends to disappear, particularly for the younger generations, although there is still a lot of work to be done. Therefore, we must fight for a more progressive vision. In Spain, this gap is more pronounced than in other countries. Although younger generations are very progressive, our leaders are still very conservative. While there is a wider age range in the Chapter, there is no generational gap problem because we have a progressive vision.
A. Resilience and Business Continuity come from the security and risk sectors, and also started being implemented in the technology industry. In all these industries, men have historically been the majority. In 2020, I did my Security Director Master's programme and I was the only woman in the class. All the men had very relevant experience, but women were not being represented. So yes, at the educational level, it is not as diverse as it should be. Therefore, it is difficult to see this representation at work afterwards. In Spain, there is still a long way to go because of the legacy of machismo or perhaps because we are a more conservative country. Although it must also be said that the new generation is on the right track. In the Chapter, what has united us is that we have a clear and common goal and are united by passion for our profession. Resilience is 'our raison d'être'.
What advice would you give to the members of other Chapters or to the Board to achieve the same level of equality as in the BCI Spain Chapter?
A. There can only be equality if there is interest. Women must be motivated to take an interest in the profession and then everything must be done with parity in the working groups. Every woman has resilience in their DNA already without even realizing, haven't they? I would also ask men & other senior women to be effective allies and help women who are starting in the profession, by mentoring and supporting them.
M. Through promotion and positive discrimination for women. I will do it in my own personal capacity. Much work for real equality remains to eradicate the everyday 'micro machismos' or micro aggressions. Mandatory parity could be considered for all forums and chapters, as takes place in Nordic countries, because parity and diversity enrich, with everyone winning as a result.
Versión en español:
El Capítulo español del BCI se aprobó en agosto de 2020 después de su primera reunión en enero de 2020, justo antes de comenzar los peores momentos de la COVID-19. Aun así, el Capítulo tuvo éxito y hasta el momento, hacen tres eventos al año (siendo por cierto uno de los capítulos con más número de asistentes), han firmado dos convenios de colaboración con otras asociaciones, y están trabajando en una guía para PYMES entre otros muchos proyectos.
Sin embargo, una de las cosas que define al Capítulo español del BCI es su completa paridad de género. El Comité del Capítulo tiene ocho miembros, cuatro hombres y cuatro mujeres, siendo su presidenta una mujer y su vicepresidente un hombre. Por tanto, la siguiente entrevista nos ofrece una perspectiva de dos de sus miembros sobre este tema, Amanda Conde y Manel Herrer, ambos MBCI y miembros del Comité del Capítulo.
Manel Herrer es un profesional centrado en la Continuidad de Negocio, la Continuidad de Servicios TI y la Seguridad TI, que actualmente trabaja en la Agencia de Ciberseguridad de Catalunya, para la Generalitat de Catalunya. Miembro del Business Continuity Institute (MBCI) desde septiembre de 2015, cuenta con más de 10 años de experiencia en el campo de la Continuidad de Negocio y la Seguridad de la Información. Ha trabajado en diversos sectores y tiene una amplia experiencia en el desarrollo de Programas de Continuidad de Negocio y Gestión de Crisis.
Amanda Conde es una apasionada de la resiliencia. Comenzó su carrera como "Champion" de continuidad de negocio dedicándose a tiempo completo desde 2017. Actualmente lidera los programas de continuidad de negocio, gestión de crisis y gestión de riesgos de proveedores a nivel mundial en Colt siendo la jefa de un equipo disperso geográficamente con colegas en India, Japón y Europa. Es MBCI y parte del BCI Spain Chapter Committee.
¿Cuál ha sido vuestra motivación para uniros al BCI Spain Chapter?
M. Desde que realicé el curso del BCI (el CBCI) desde hace 8 años, siempre he intentado impulsar la política de continuidad en Europa y Latinoamérica ya que parece que siempre vamos un paso atrás en relación al mundo anglosajón. A raíz de la primera reunión del Capítulo a principios de 2020, decidí unirme para poder impulsar la continuidad de negocio en las empresas y en la sociedad española, e incluso en Portugal y Latinoamérica.
A. Descubrir y conocer a gente con la que "hablamos el mismo idioma" y qué tuviéramos los mismos intereses. Siempre me acordaré de esa primera reunión del Capítulo cuando se preguntó a los asistentes: ¿Cuántos de vosotros, durante la cena de Navidad, aún le preguntan a sus familiares, ¿a qué te dedicas? Fue tanta gente la que levantó la mano, tan identificados que me llevó a unirme a un grupo de gente con la misma motivación. Sigue siendo una profesión muy poco conocida en este país. Además, poder compartir experiencias y escuchar debates de expertos además de fomentar la profesión en nuestro país.
¿Cómo es el balance de género en el BCI Spain Chapter?
A. Desde mi punto de vista, 2 cosas. Primero el número. Tenemos un balance perfecto y ha salido todo de forma muy natural. Y lo segundo, los roles. En nuestro capítulo, tenemos una presidenta mujer y un secretario hombre y también se han distribuido los roles de forma natural, de hecho, se acepta como normal e independientemente de nuestro género.
M. Uno de los grandes logros que tenemos en el Capítulo español es que en ningún momento nos hemos tenido que plantear ningún problema de género, siendo irrelevante el género de las personas para todas las actividades. Cualquier persona es capaz de hacer cualquier tarea. En este aspecto, el Capítulo español debería de ser un ejemplo porque estamos en el siglo XXI y no tiene ningún sentido que en un panel de continuidad solo hubiera hombres. Desde una perspectiva no femenina, ni siquiera me había planteado que el balance de género fuera un problema en nuestro capítulo, puesto que para nosotros la igualdad es tan natural como el respirar.
¿Cuáles son los desafíos en términos de igualdad de género en la industria? ¿Es España diferente de otros países?
M. Creo que más que brecha de género en el mundo de la continuidad, pero también en el de la tecnología y la seguridad de la información, estamos más bien ante una brecha generacional. Creo que, en las generaciones más jóvenes, el machismo tiende a desaparecer, aunque aún hay mucho trabajo por hacer. Hay que luchar para que la visión de los que tenemos menos edad prevalezca porque es más progresista. En España, esta brecha es más pronunciada que en otros países. Aunque las nuevas generaciones son muy progresistas, nuestros líderes siguen siendo muy conservadores. En el capítulo español, aunque hay un rango de edad más amplio, no hay un problema de brecha generacional porque tenemos esa visión de las generaciones más jóvenes.
A. La resiliencia y la continuidad de negocio vienen de la seguridad y del mundo de los riesgos que además se empezó a implantar en el sector tecnológico, todos sectores donde históricamente predominan los hombres. En el 2020 obtuve el Máster de Director de Seguridad y era la única mujer en las clases. Todos hombres con gran experiencia, pero hombres. Por lo que sí ya en niveles educativos, quieres estudiar un tema cercano al nuestro y no estamos las mujeres representadas como se debería, es muy difícil que haya después una paridad en el mundo laboral. Y sí, en España queda mucho por recorrer por esa herencia de machismo o quizás porque somos un país más conservador. Aunque también hay que decir que vamos por buen camino con las nuevas generaciones. En el capítulo, lo que nos ha unido es que tenemos un objetivo y motivo tan claro que en realidad ni nos habíamos planteado la cuestión de género. Nos une la pasión por nuestra profesión.
¿Qué consejo darías a otros miembros de otros Chapter o al Board para alcanzar el mismo nivel de igualdad que en el BCI Spain Chapter?
A. Solo puede haber igualdad si hay interés. Hay que motivar a las mujeres para que se interesen por la profesión y luego que esté todo con paridad en los grupos de trabajo. ¿Qué mujer no lleva la resiliencia en su ADN? Ej. Por ejemplo, ¿el segundo par de medias en el bolso por si se rompen? A los hombres les pediría que ayudaran a las mujeres de la profesión a nivel de mentoring, por ejemplo, y sobre todo a las mujeres de nuevas generaciones.
M. 2 factores: promoción en las bases educativas, sobre todo en la educación primaria y secundaria, ya que es universal. Y el segundo factor, es la discriminación positiva. Siglos y siglos de herencia machista desde un punto de vista social no tiene más solución que favorecer la discriminación positiva con sesgo en perfiles femeninos. Yo lo haré desde mi propia capacidad personal. Trabajar para la igualdad real ya que falta mucho por hacer con micromachismos a la orden del día. La paridad en el Board debería ser obligatoria, como en los países nórdicos, porque la paridad y la diversidad, nos enriquece a todos, y así salimos todos ganando.
More on