A packed programme accessible across the globe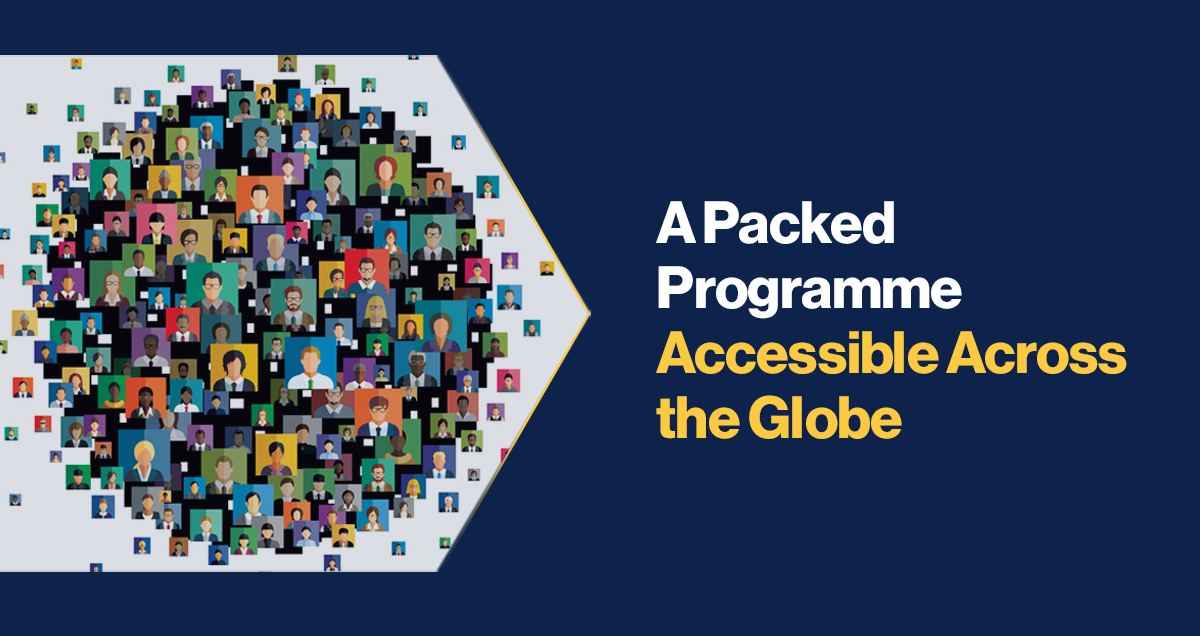 As the need for business continuity and resilience grows across all industry sectors all over the world, this year, we found the opportunity to revolutionise the way we run and deliver our events – especially BCI World.
BCI World is our annual global event that attracts business continuity and resilience professionals from all continents. Every year, this leading event generates a platform for professionals and practitioners to exchange knowledge, innovative ideas, experiences as well as networking opportunities – it is, as we say, an event not to be missed!
This year we are bringing BCI World 2020 to you. Yes, you will be able to access the conference and exhibition virtually from the comfort and safety of your home or office, without having to travel to another country or city.
The virtual event allows us to add more insightful content to the programme, more speakers, sessions and activities that will help you to expand your knowledge, enhance your skills and keep up to date with the latest trends in the industry.
The virtual conference programme features three Keynote Speakers of great calibre, 11 streams covering current topics and issues, as well as subjects related to specific industry sectors, workshops, case studies and more…
Here are some more details about BCI World Virtual 2020 programme streams…
Financial Sector operational resilience - This stream will concentrate on the challenges and opportunities presented to the financial sector, when it comes to building operational resilience, and will encourage discussion and debate.
Cyber and IT resilience - This stream will look not only at technical aspects, but also data protection, awareness, human aspects of Cyber & IT Resilience, and will provide a safe space to challenge our assumptions.
Regulations, standards, and benchmarking – A stream focussed on ISO updates, the BCI Good Practice Guidelines, regulated environments, and benchmarking reports.
Case studies - A stream dedicated to your stories! These sessions will include case studies that support all the other streams as well as even more information on how peers and colleagues have tackled a wide variety of scenarios that have affected them and their teams.
Public Sector Issues - A specialist stream that will be repeated each day to give public sector professionals a unique opportunity to dive into the trends and challenges within their sector when it comes to continuity and resilience.
Supply Chain Resilience – As supply chain plays a critical role when it comes to business continuity and resilience, there is a strong need of a collaborative approach at all organizational level. This stream will consider what this means in terms of practice, planning and relationships.
Soft Skills - This stream will offer insight into the soft skills that make the critical difference in driving engagement, such as leadership, communication styles, negotiating and influencing, managing change, managing relationships, culture change, personal reflection/evaluation, innovation and problem solving etc.
Back to Beginnings - A stream designed in response to popular demand for newcomers to the industry and those who are seeking reassurance in their professional practice. These sessions will not require prior knowledge and will cover some technical subjects as well as introductory sessions to concepts such as data management, use of tools, and advice/reflections from experienced practitioners to encourage and enthuse those in the earlier stages of their continuity and resilience journey
Emergency planning, Exercising & crisis management – This stream is an opportunity to consider best practice and things to avoid when planning a response to crisis and during exercising. These sessions will consider emergency response teams, pre-event relationship building, communications and PR, the human element of crisis, reputation protection, digital aspects of crisis management and some great ideas for planning exercises!
Working with Risk Management - This stream will encourage discussion and debate about the opportunities, pitfalls, and challenges of working more closely with Risk Management within your organisation. What data should and could be shared? How can combined forces be utilised for the greater good of the organisation? Would this offer a competitive advantage? How might this change our horizon scanning and longer-term planning?
Pandemic – What has changed? With respect to recent events, this specialist stream will focus what we have learned from COVID-19, what we need to change, what has changed irrevocably, and what this means for us all.
The programme is already jam-packed with one-hour long sessions covering a wide-range of interesting topics, but we will be adding more in the coming months, so make sure to stay on the look-out…
Thanks to the iVent platform we will be able to deliver 16+ hours of live streams per-day, with sessions running from 5:00 AM (GMT) to 9:00 PM (GMT), as well as more content, sessions, workshops as well as plenty of networking opportunities at an accessible price – which will allow business continuity and resilience professionals across the globe to come together to build a stronger future!
More on
About the author

Digital Marketing Manager , The BCI