Announcing the new BCI North & West Africa Chapter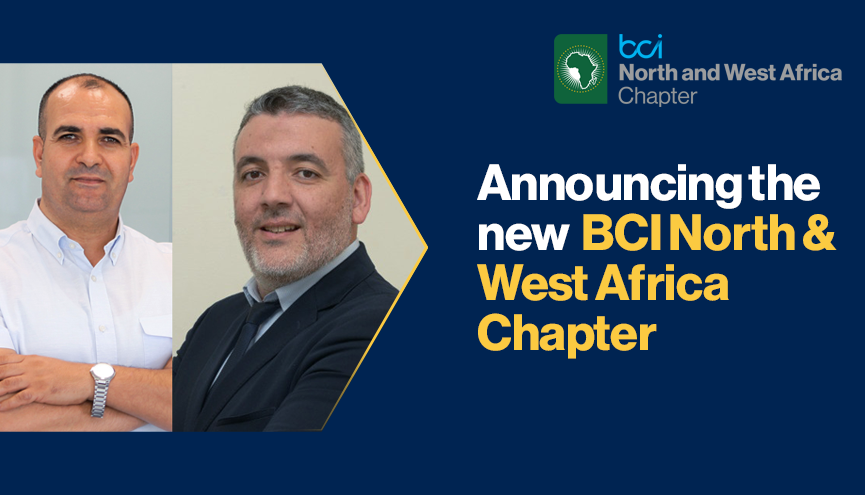 The BCI is pleased to announce the formation of the new North & West Africa Chapter. In this interview, we speak with Mohammed Ramy (Chair) and Raouf Riahi (Vice-Chair) of the newly-formed Chapter.
We discuss their objectives for the Chapter, the uptake of BC in the region and what the future could hold for the group.
Could you please detail your current roles and experience in the field of BC and resilience?
We are both senior consultants in BC and we've worked on many BC projects.
Mohammed Ramy is developing Disaster Recovery Plans for organizations in Morocco across many different industries. Over the last two weeks, he conducted ISO 22301 Lead Implementer Training for French participants in Paris.
Raouf Riahi is currently leading an important BC project involving more than 17 countries in West Africa, including the creation of a Business Continuity Guide for social security organizations (more than 30 organizations will benefit from this guide).
What are your main objectives for setting up the North and West Africa Chapter?
The main objectives for setting up the chapter are to:
raise the level of maturity of BC at the regional level
exchange experiences with other BC communities around the world
share our experiences and knowledge among community members and also with non-members
support our government bodies in BC
coach our BC Managers, BCMS Managers and anyone else engaged in continuity
integrate BC into our schools and universities
conduct awareness campaigns in different environments (public and private sector)
conduct surveys and research in BC and resilience fields.
What trends are you seeing regarding the uptake of BC in North and West Africa?
The region is exposed to many threats and dangerous risks. Infrastructure is weak, the political environment is unstable in many countries and the climate is changing, meanwhile technological risks are rising all over the globe. So, many factors and sources of disruptions are pushing government leaders and top managers to rethink the manner with which to treat major disruptions and crises. The North & West Africa BCI Chapter will be a leading organization in the BC and resilience field, and will influence the culture of resilience at the community, national, regional and continental level.
What motivated you to set the Chapter up now?
In the context of COVID-19, and all the other threats and risks that are arising every day, the BC community in the North and West Africa region gathered to discuss the solutions that it may provide for the community to reach a certain level of resilience and a culture of continuity.
We found that the current situation and the way people are doing business should change. Therefore, we must introduce new thoughts and new habits, at all levels, to enhance organizational resilience. Most of us are familiar with the BCI and we were convinced that establishing a BCI Chapter in the region will have the positive impact we are looking for. It took us more than a year and a half to organize, find our pace, gather a diversified community of BC professionals from all fields and put together a plan as volunteers to strengthen our communities.
Who are you looking to get involved?
We are already 30 active participants from 10 countries. We are BC consultants, BC Managers or CISO (Chief Information Security Managers), and we are all passionate about BC and resiliency.
The community is already active and several events have been conducted. But, with the creation of the BCI Chapter, we are looking to involve senior government officials, private sector leaders and civil society organizations. We also have plan to partner with the BCI Chapters in Africa and Europe so that we can exchange the best of everyone's experience and good practices.
What events are you planning to organize?
We have made an annual schedule for our events. We have already planned live exercises and simulations, internal debates among members, webinar training, webinar experience sharing (3 of them already organized with the BCI). We are also planning to hold some conferences in different countries.
We also meet each other in a Teams conference once every two weeks.
What are your plans for the future?
The first step we are looking to do is arrange the executive committee of the Chapter with defined roles and responsibilities, and profit from the skills that we have to make the best value and representation of the BCI. Then we will use our connections to promote the Chapter, find good sponsors and begin our activities. The activities will be split into several forms and this includes:
webinars
coaching or mentoring sessions
the organization of live seminars
the organization of collective simulation games
the development of toolkits, white papers or templates
sharing articles, news and information on the net (website, BCI Blog, social networks, etc.)
conducting research and issuing publications.
In a further step, we are planning to partner with universities and research centres to build a stronger community and have greater support.
The impact of the Chapter
The creation of this Chapter will have a great impact in the region we are operating in. It will have a distinguished added value for the BC profession, as the culture in this region is different and unique.
Being a member of the BCI North & West Africa Chapter means:
the opportunity to benefit others by sharing information and experiences
gaining credibility in the BC profession and making yourself known in networks
belonging to a community of international experts - a source of motivation and self-confidence
access to knowledge bases, documents and feedback validated by experience
becoming a major player to influence those around you on the importance of BC.
More on