BCAW 2022 Blog Competition: 'How are you embedding BC in the new Hybrid Work environment?'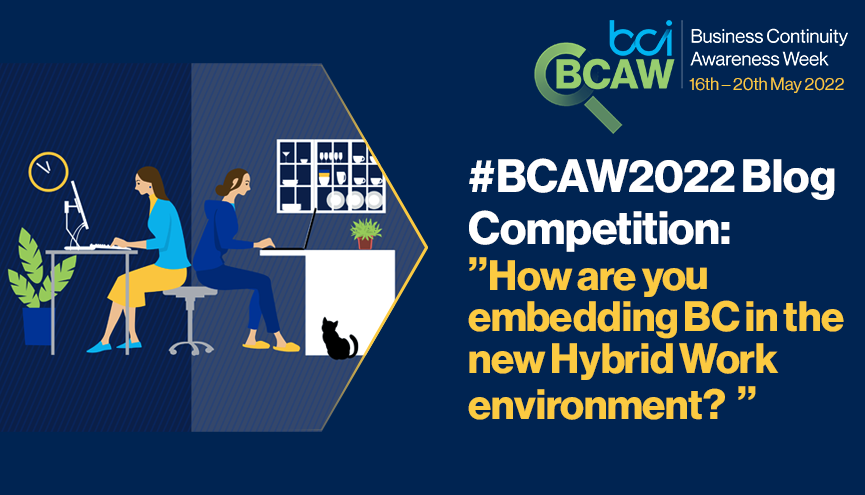 This is the second year we've run a BCAW event internally, this year expanding our reach from UK&I only, to also covering EMEA and APAC.
This is in addition to the training and awareness we run all year round, including:
Quarterly Resilience Forum for colleagues across the business with a role in Business Continuity, to share updates, discuss industry developments and progress of strategic projects;
Annual online training
Scenario training
Overview sessions in team meetings
Regular articles on the Experian intranet site
MS Teams one-stop-shop for Business Continuity information
After viewing the BCI website and seeing the article regarding BCAW 2022 I saw this as an opportunity to run this within our company to build awareness of Business Continuity.
I created a screen lock promoting BCAW which would appear on each employee's laptop so that everyone within our company UK & EMEA (Employee to Senior Management) will be aware of BCAW 2022 and direct them to our company's internal internet to view articles. The information the screen lock included was: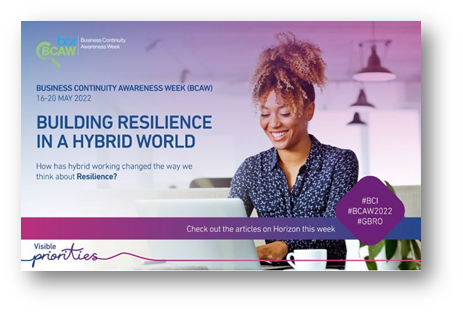 I shared a PowerPoint presentation to all the Plan Owners, Backup Plan Owners, Approvers, and BC Reps to promote BCAW articles which will be on our company's internal internet, and directed them to view the additional information on the BCI website. They also cascaded the presentation with their teams.
I shared articles on our company's internal internet, posted each day on the below topics
Building Resilience in the Hybrid World
Business Continuity Plan Vs IT Disaster Recovery Plan – what's the difference?
Communicating with colleagues during an incident, and keeping contact information up to date
We also developed an infographic highlighting how Business Continuity is changing due to the impacts of hybrid working, including a case study focusing on the impact of the Future of work on the UK&I resilience strategies, Real Estate developments, supply chain changes, Recovery Strategies and a peek at what the future could look like!
Rounding up with a quiz to entice colleagues to read the articles to find the answers and win prizes.
As this year comes to an end, we are already collating our lessons learned and planning for an even more impactful event next year.
Author: Sandra Bartley, Business Resilience Consultant
More on