Electrical Vehicles (EV) and Operational Resilience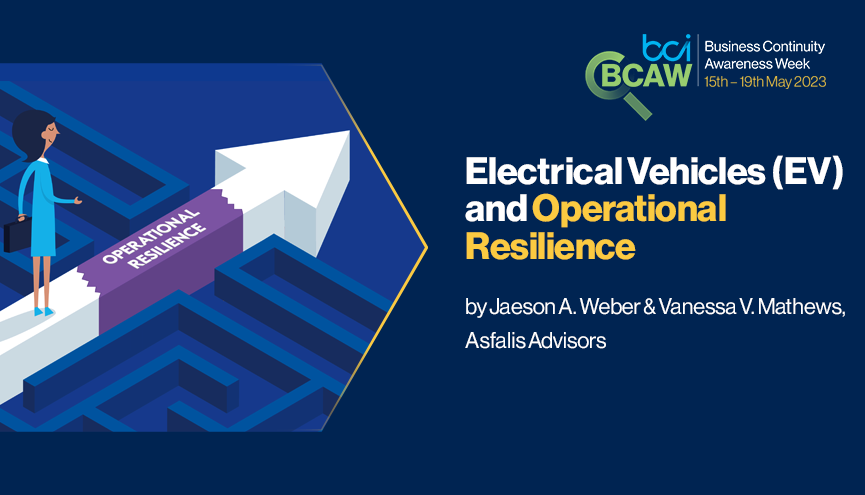 In December 2022, the United States Postal Service (USPS) announced a plan to invest heavily in replacing portions of its aging fleet with electric vehicles (EVs), like many other organizations. As part of this, it is seeking to purchase 9,250 electric vans and 14,000 charging stations.
It represents a growing trend and is recognition of the vital role that commercial fleets play in organizations and in influencing the environment. Beyond USPS, other organizations adopting more EVs include Amazon, AT&T, FedEx, IKEA, Waste Management, and organizations in several other industries.
This move towards EVs being purchased and used for commercial fleets brings new hazards and risks that must be considered and managed by direct and indirect organizations. As research is beginning to articulate, various hazards and safety concerns can directly impact operational and organizational continuity. Whether it be relative to the organizations that are harnessing the greater capacity of EVs or downstream customers that are reliant on those organizations, the new perceptions of hazards and risks cover a range of potential impacts and areas.
The following are samplings of potential new hazards and risks that organizations must consider as they, and those they work with, invest more heavily in EVs. As with all organizational changes, these shifts in operational structures and resources require a review of BC practices to strengthen alignment and resilience. EVs introduce unique considerations for the potential disruption or loss of people, technology, facilities, resources, systems, etc.
First-Responder Capabilities and Training
When dealing with and supporting emergencies involving EVs, fire and emergency service providers must consider unique safety considerations. As discussed in several articles, first responders face significant risks because of the increased use of electric vehicles and a lack of understanding regarding EV fires. The dangers of interacting with electric vehicles include stranded energy, unexpected silent movements, gases released from damaged high-voltage batteries, battery fires, and electric shocks. Considering the probability of increased interaction with EVs in emergencies, agencies should seek to manage the risk by increasing awareness and experience. In this way, they can maintain safety when interacting with electric vehicles. To learn and operationalise the safe handling of electric and electric vehicles in multiple situations, hands-on experience is required.
Fire Hazards/Risks
In addition to introducing EVs as a substantial portion of their transportation resources, organizations are also required to provide enough charging points. As a result of this equation, there is an increase in risk because charging arrangements result in more vehicles parked close to one another, and charging stations are a point of ignition risk. As a result, there is a greater likelihood and impact of fire-related hazards. In order to limit contributing factors to a fire risk, general maintenance considerations for surrounding areas and charging stations must be revisited.
Business Continuity
An organization must consider the possibility of unavailable EVs due to power outages, utility failures, or charging station failures. Organizations must review BC plans and identify which critical functions this may impact, as well as alternative short-term and long-term options based on the severity of the incident.
Repairs/Maintenance/Accident Management
Several factors may contribute to the delay in EV repairs, maintenance, and accident management. Among these factors is the possibility that the maintenance/repair facility may be located at a distance from the organization, thereby increasing travel time to and from the location. A shortage of skilled technicians and the unique processes required for battery repairs and maintenance may also result in longer delays. Finally, the time and materials required for repairs, maintenance, and accident management may result in higher costs that must be accounted for and planned.
Cyber Security
EVs may also pose increased cyber risks as they become more connected to networks and technologies, in addition to the cyber risks associated with charging stations. In a report published by the University of Georgia, researchers identified several weaknesses and vulnerabilities that threaten the safety and security of EVs and charging stations. One example identified was hackers circumventing vehicle control systems and reducing battery efficiency, among other factors, by accessing charging stations.
Authors:
Jaeson A. Weber and Vanessa V. Mathews, Asfalis Advisors
More on