BCI Launches Supply Chain Resilience Report 2023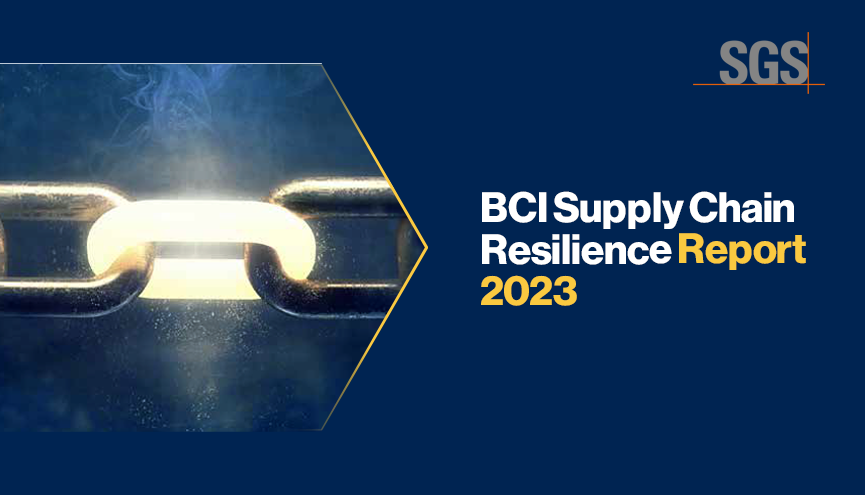 The BCI is pleased to launch the Supply Chain Resilience Report 2023, sponsored by SGS. This report looks at the level of disruption within global supply chains, the uptake of Business Continuity practices within the supply chain, as well as primary concerns for supply chains over the next five years.
Ongoing disruption and the legacy of the pandemic
The level of supply chain disruption reported by organizations is still more than twice as high as pre-pandemic levels. Almost half of respondents (45.7%) experienced these issues with their closest suppliers at Tier 1, while 24.1% saw more disruptions at Tier 2, with these figures higher across the board when compared to the 2021 report. However, the report notes that these high results are partly due to more analysis being undertaken on the performance analytics of supply chains.
With regards to these disruptions, respondents are equally split between those who saw the pandemic have a limited effect on their supply chain (44.1%) and those who experienced either major (33.8%) or serious (10.3%) knock-on effects. However, a positive finding is that most organizations have now mitigated the effects of the pandemic on their supply chains. Indeed, if further action is taken, one legacy of the pandemic may be an increased focus on resilient supply chains.
The 2023 report finds that the initial flurry of activity to increase supply chain resilience following the pandemic is starting to diminish, but supply chains are still in a significantly better place than they were pre-COVID. However, it is critical that commitment to supply chain resilience remains a key part of resilience strategies going forward and practitioners will need to continue to showcase the importance of this to those at senior management level, so lessons learned from the pandemic can be applied to new challenges in the near future. This is increasingly important since only a third of respondents rated their top management's commitment to supply chain resilience as 'high', meaning that unless this commitment is reignited, the opportunity to learn lessons from the pandemic could soon fade.
Current and upcoming challenges
According to respondents, cyberattacks and data breaches are the top threat to supply chains over the 12 months and the next 5 years. This comes despite cyberattacks being sixth on the list of supply chain disruptions for the last 12 months.
The cause of the most disruption for the past year was, in fact, due to a lack of talent or staff shortages, with 46.8% of respondents affected, but only 39.7% of organizations expect this to be a concern over the next five years. The report shows that some reoccurring threats, such as staff shortages, are still having a widespread impact on supply chains, so should, therefore, be given the appropriate weight in an organization's future analysis of the threat landscape in order for organizations to have an accurate picture of what lies ahead.
On the other hand, it is reassuring to find that organizations are indeed thinking about and planning for longer-term threats and trends. As such, over the next five years, organizations have placed energy shortages (41.3%), natural disasters (44.4%), and adverse weather events (46.0%) among the top five risks for supply chains.
Other findings:
The number of organizations using a centralised approach to reporting supply chain disruptions has reached its highest level in the history of the report (35.6%). In total, 73.4% of organizations now report on supply chain disruptions.
On average, only 57.0% of key suppliers have BC arrangements in place. As a result, in the case of a supply chain disruption, there is nearly a 50% chance that a supplier will not have any mitigation measures in place.
Those respondents who have not checked or validated their supplier's continuity plans increased to 49.6% against 43.4% in last year's report. However, this is still an improvement on pre-pandemic figures, and those organizations conducting more extensive checks (such as jointly exercising plans) have also increased over the three years.
Rachael Elliott, Head of Thought Leadership, The BCI:
"During the pandemic, we were buoyed by a significant uptake in the amount of attention supply chain resilience was earning from senior management. This helped to buoy a number of positive changes being adopted into supply chain strategies: more reporting, more attention to supplier due diligence, and more investment in technology to help manage supplier resilience. Whilst this attention has become more muted as the problems associated with COVID-19 start to wane, it is encouraging to see that organizations remain convinced of the importance of elevated levels of reporting, of introducing supplier due diligence at an early stage in contract negotiations, and rethinking the threat landscape when considering potential future impacts on supply chains. Good progress indeed, but we, as resilience professionals, need to continue to work hard to promote the importance of supplier resilience to senior management to retain their ongoing support."
Jeff McDonald, Executive Vice President, SGS:
"As the world picks up the pieces following the pandemic and looks to face a global recession, businesses need a beacon of certainty and the knowledge to build resilience. This is why we are proud to sponsor this wonderful report. By cleverly combining detailed data and in-person interviews, this document brings you the latest supply chain resilience information. It also brilliantly combines lessons from the past with present and future potential issues to give you a rounded picture. Although the future looks bright for business continuity, as many businesses continue to pursue the practice to ensure their prosperity and future, we cannot overlook the fact that managing supply chains is not a one-time activity. It is something to be approached persistently and consistently. Organizations must understand the current landscape, create a plan, implement best practices and be ready to take action to mitigate risks. Whatever stage you are at, our Supply Chain Assurance and business continuity services are here for you."
Please follow the link below to download your copy of the report:
More on
About the author
Head of Thought Leadership, The BCI