BCI Southern Africa Chapter member profile: Nashikta Angadh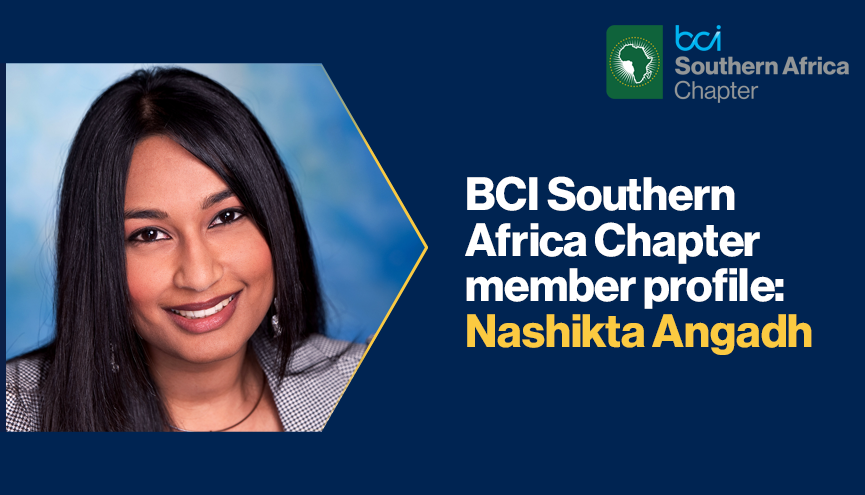 Favourite aspect of your job?
Definitely simulations! Whoever says you can't have fun while working has not been involved in a crisis simulation. The most fun I've had has been a simulation involving the bomb squad, media, emergency services and being escorted to an undisclosed venue to debrief the governor of a bank.
What attracted you to the industry/ profession, and how did you get into it?
Like most things, I stumbled on it by chance. Once I read the literature and was thrown into a few projects, I fell in love with the profession. Continuity & Resilience projects have allowed me to entrench myself in an organisation to understand what could go wrong and matters to them most. Apart from leading practices, experience and certifications, it all comes down to common sense, strong leadership qualities and being able to function optimally under pressure…which I found quite appealing to me.
What is your biggest learning to date?
That a disaster will not take a break for even a pandemic. In the midst of a pandemic, I've seen incidents of cybercrime, water shortages, fires and theft. If I had engineered a crisis simulation scenario around what's happening in the world right now, I'm sure I would have had trouble convincing my audience that the scenario is realistic.
What changes would you like to see in the profession?
For organisations to now take business continuity more seriously and ensure that the momentum and focus continues long after the pandemic. I would also like to see continuity and resilience being regulated nationally, to ensure a collective responsibility where everyone is accountable to each other so that compliance becomes the norm and not an aspiration.
Name: Nashikta Angadh
Nationality: South African
Current Employer: KPMG
More on
About the author