BCI Southern Africa Chapter Member Profile: Roberto Grosso Ciponte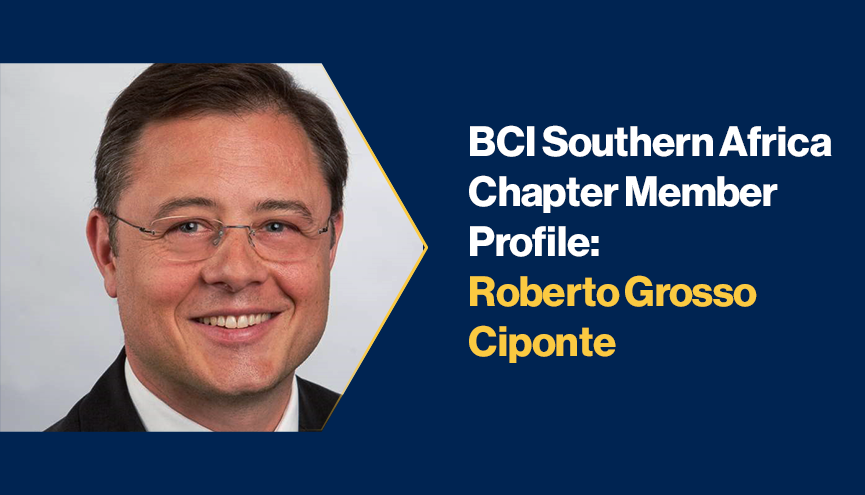 Name:
Roberto Grosso Ciponte
Nationality:
Italian & Swiss
Favorite aspect of the work?
Intellectual flexibility as each situation, each company is different
What attracted you to the industry/ profession?
It was something completely new with only little guidance, something where the personal approach and the passion could still make a big difference.
How did you get into BCM?
I got into BCM in 2005 when my boss at Nespresso told me that we need to do BCM for our Customer relationship Centres of which I was in charge. I told him that I would like to do it but I had no clue what it was about. So, he sent me to a BCI certification training and that how it started.
What is your biggest learning to date?
It is all about foreseeing the unforeseeable.
What changes would you like to see?
I would like much stricter regulations in all industries in the profession.
To be the first to know about BCI News and more follow us on LinkedIn here, or on Twitter @TheBCEye
More on
About the author

Senior Risk & Business Continuity Manager
Since December 2000, I am working for the Nestlé group where he was first in charge of the Swiss Nespresso Club and later of the Nespresso Club worldwide. It was during this time that I first got in contact with Business Continuity when I was given the mission to develop BCM solutions for the Customer Relationship Centres, which at that time where single points of contact for the brand and therefore single points of failure. Since 2009 I am in charge of the Business Continuity Management for Nestlé and in 2016 I added to his BCM responsibilities the one of a Risk Manager at their Nestlé owned re-insurance captive. Outside of his day to day work I was from 2013 to 2015 in charge of the BCI Forum in the French part of Switzerland and since March 2015 I am leading the BCI Swiss Chapter. At the 2016 BCI World Conference I was elected at the BCI Board of Directors as a BCI Membership Director.