Build resilience culture to enable the long-term sustainability of the business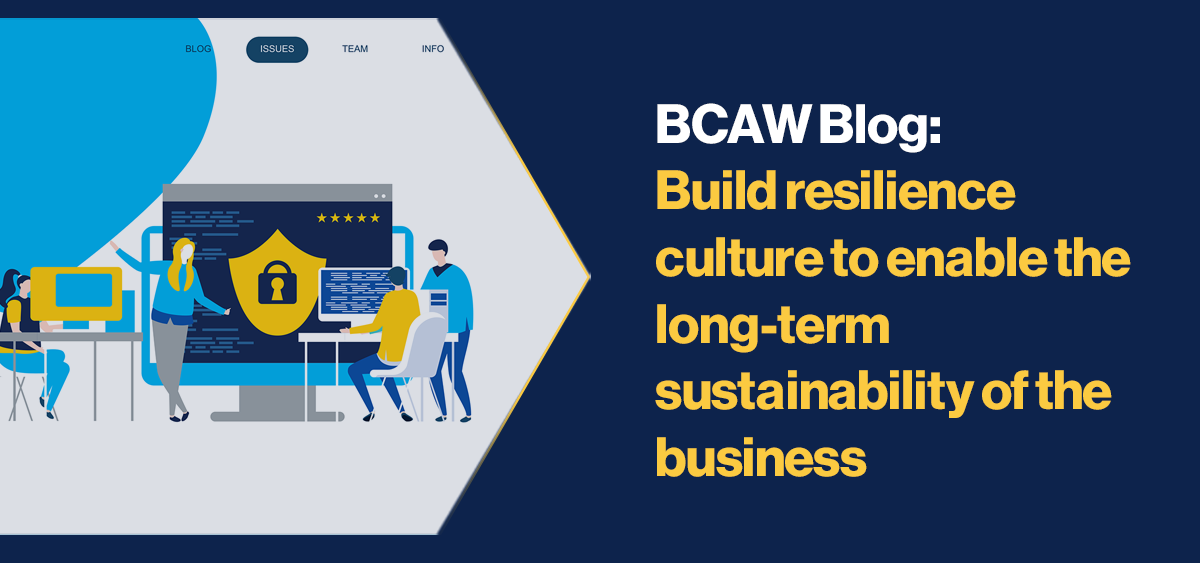 Resilient organizations embrace adversity as a norm rather than the exception which creates a continuous learning experience that allows them to test and refine the business model and state of operating readiness, promoting a culture of prevention and awareness in all areas with a focus on identifying vulnerabilities and weakness.
Resilience doesn't begin and end with a great risk management team, a good business continuity plan, or a hardened IT system; according to the ISO 22300:2018, resilience is defined as "ability to absorb and adapt in a changing environment"; the key word is "change". To be resilient, we need to be able to manage through a crisis or a disruption to business as usual, but we also need to see what's coming down the line, to anticipate and evolve to meet a changing landscape with confidence and have the ability to capitalize on it.
To do that, resilient organizations invest in all levels of their workforce, invest in their leaders, are innovative in times of adversity and invest in their client base, keeping also in mind that a resilient organizational culture is largely built upon leadership and is one that fosters trust, accountability and flexibility giving all employees permission to take care of their physical, mental, emotional, and spiritual needs.
We can describe 6 traits of resilience:
Coherence, Adaptive Capacity, and Agility: these traits represent internal capabilities and are vital in response to an escalating issue or crisis; a coherent, adaptive, and agile mindset needs to be embedded in the culture of the entire organization. All of us can benefit from becoming more resilient, making us better able to face crisis, recover, and adapt.
Relevance, Reliability, and Trust: these traits represent the organization's relationships with customers, business partners, and other stakeholders, which are equally important to the organization's ability to respond to change.
To support the introduction of resilience into the culture some steps can be considered:
Leadership commitment. Resilient cultures begin with leaders who understand and support building resilience at the individual and organizational level;
Build safe and secure work communities. By building work communities that are safe and secure, yet also encouraging and stimulating, the teams can be more productive, satisfied, and high-performing;
Encourage all employees, from the CEO down, to embrace tips to increase energy and productivity;
Develop policies and practices that empower employees to build resilience and have senior leaders lead by example keeping in mind that the key to resilient organizational culture is empowerment.
Lastly, considering that the organization's culture is impossible to conceal because it can be observed almost everywhere, internal or third-party audits can support the overall resilience culture building proving to foster employee trust and help keep organizations healthy and strong by alerting management to any drift from desired cultural values.
More on
About the author

Internal Audit Manager
Laura Zarrillo is Member of the Board of the BCI Italy Chapter and Internal Audit Manager of Borsa Italiana S.p.A.
•    She worked as Business Continuity, Service and Quality Manager at London Stock Exchange Group and, previously, as Consultant at NTT Data Group. Her consulting work involved organizations in the Finance, Telecommunications & Media, Oil & Gas, Chemical sectors.
•    She earned a Master Degree in Management Engineering from Genoa University and Autònoma University of Barcelona, Executive Education in Risk Management from Frankfurt School of Finance & Management, MBCI, IRMCert, ITIL Foundation V4 and Lead Auditor certification for ISO 22301, 27001, 20000, 9001 standards.