Getting Operationally Resilient with a Consolidated Resilience Management Platform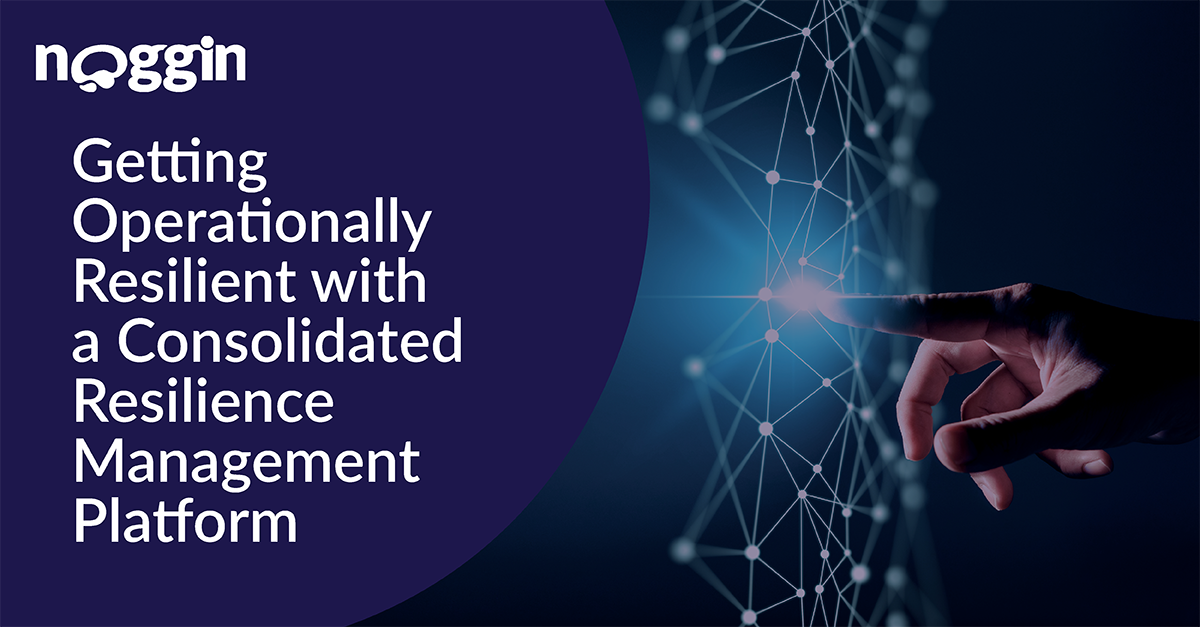 Operational resilience has become commonplace. But maturation remains elusive.
Operational resilience has crossed a threshold. No longer a back-office concern, the ability of firms to absorb and adapt to shocks and disruptions is finally being considered a C-suite priority. That prioritization has, in turn, propelled a sharp uptick in operational resilience programs.
The challenge of maturation, or uplevelling the capabilities of operational resilience programs, still looms, however. And so, this article asks, what can be done to mature operational resilience programs?
Too many solutions spoil the broth.
Well, unlike decades ago, best practices are rapidly accumulating. Firms nowadays need only absorb lessons learned, particularly those coming out of the post-crisis financial services sector, from regulators like the Bank of England (BoE).
But these best practices, as many firms are learning, don't just implement themselves. Organizations looking to scale the operational resilience maturation ladder will still need to invest in the appropriate systems.
Fortunately, firms have grasped the fact that software platforms necessarily play a crucial role in addressing their site-specific resilience challenges. Too many organizations, however, used to deploying multiple solutions, believe they have the appropriate solutions already in place to achieve operational resilience.
Replace multiple systems with a consolidated resilience workplace.
Organizations should look to replace the multiple systems they currently use to manage various aspects of resilience management with a comprehensive resilience workspace that not only manages the interrelated fields of business continuity and resilience management but also their intricately related solution areas: work safety, operational security, emergency and disaster management, incident management, and risk.
The ROI of these platforms comes from the fact that they help organizations remain adaptable to the volatile business environment by seamlessly expanding into new areas of operation while still managing a wholly integrated operational resilience management program on a common information foundation.
The digital capabilities that matter.
Of course, not all so-called resilience management platforms are created equal. The following three capabilities, in our estimation, are critical for helping to establish, maintain, and update a best-practice resilience program.
1. Configurability. Given the extent of the resilience challenge, customers need to get up and running quickly. However, poor configurability stands in the way.
Here, firms should look for platforms featuring no-code designer tools that will allow them to create or modify their respective workspaces without a single line of code.
For increased agility, responsive user interface will enable organizations to design forms and workspaces once and then to access the same information and features across desktop, tablet, and mobile.
2. Automation. Organizations should also seek out platforms that make the lives of their principal users easier.
That means access to powerful workflow engines to automate operational resilience processes, by building site-specific workflows that include notifications, business rules, approvals, and much more. Further workflows to deliver greater resilience automation include:
Automated Business Impact Analysis (BIA) reports, Business Continuity Plans (BCPs), and recovery-strategies' approval process
Automated notifications to prioritized business activity owners whenever the Recovery Time Objective (RTO) is changed on a business asset their activity is dependent on
Pre-configured workflow for incident escalations. Once an incident is created, and the severity changes from Critical, High, Medium to Low, different voice messages, emails, and SMS notifications are triggered
And once a BIA or exercise is completed, the next one is automatically scheduled, removing the risk the user will forget it.
3. Personalization. Personalized user workspaces should enable the self-management, accountability, and agile response needed to address resilience challenges. How so?
Workspaces should allow users to visualize outstanding tasks that have been assigned to them, as well as any checklist actions items which still need to be actioned as part of the exercise or incident response.
Users should also be able to visualize relevant Business Impact Analysis (BIA) activity, such as the owner, which BIAs they are involved in, as well as any outstanding BIA recommendations they need to action, and/or reports that require their approval.
What's more, users should also be able to see any incidents or exercises they are involved in, as well as any outstanding improvements from incidents or exercises that they need to action.
Finally, resilience management is enjoying peaking popularity. But popularity doesn't mean maturity. And addressing the escalating resilience threat requires mature programs that follow available best practices, tailoring them to their site-specific risks.
Here, consolidated resilience management platforms can help ease that transition, by offering organizations the digital means to determine disruption impacts and develop plans and recovery strategies to address those risks, in the aim of developing and maintaining operational resilience.
For more on the digital capabilities that matter, check out Noggin's free guide: What Is Operational Resilience? Making the case for consolidated resilience management software to address operational resilience gaps.
More on