Global Banks discuss resilience standards for big tech cloud computing services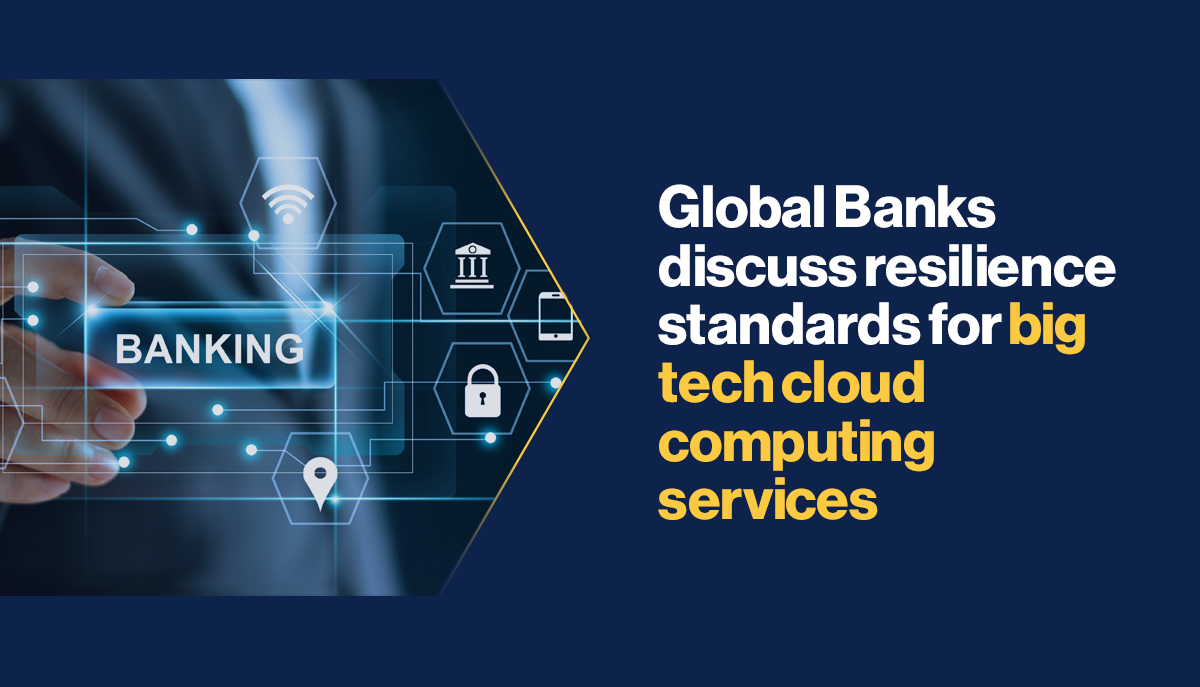 As cloud computing moves to the forefront of banking services, banks in the US, Europe and the UK discuss resilience testing the reliability of big tech firms as the industry leans on a handful of tech giant for cloud computing services. This generates major risks for the future of banking. BC Manager, Mohit Kharbanda from Bank of Ireland says, "Unavailability or potential downtime is becoming a growing concern for these tech firms".
Banking services are fast approaching a mergence with technology, which will change the banking industry for years to come. Cloud computing is becoming an innovative way to allow banking services to stay ahead of the curve with ever changing customer needs as well as alternative banking models. Yet, some of the most critical banking services rely on only a handful of tech companies, which is prompting banks across the UK, US and Europe to discuss resilience standards and testing as an option to mitigate the impact of potential system failures.
Banks such as Wells Fargo have recently made the move to announce they had picked Microsoft Corp and Alphabet Inc's Google as its cloud providers. In the long term, the company will rely predominantly on public cloud services and is planning on moving towards third party owned data centres as part of their new digital overhaul.
Business Continuity Manager, Mohit Kharbanda for Bank of Ireland said, "Cloud computing is strong, dynamic, and complex at the same time, however, it's also open to different known/unknown and visible risks. Unavailability or potential downtime is becoming a growing concern for these tech firms, and it becomes a huge risk around availability expectations of their critical business, including customer obligations and regulatory requirements which have a direct impact not only on the financial side, but also the reputational side".
In a competitive market for Banks or Financial institutes, this could mean the end of business and customers seeking banking services elsewhere.
This has become a major discussion internationally, and banks are now measuring the effectiveness of resilience standards aimed at big tech firms to measure and manage the risk potential failures, system breakdowns, and a delay in operations. But fast paced technological risks may likely outpace the resilience standards of today, which poses the question on whether there could be a future for stricter regulation. "We believe resilience adaptiveness should be core of each business line, even if it's an operational activity or direct impact towards customer e.g., Internet banking or card transactions. Increasing adoption of process's like "Resilience by Design" Or "Resilience Standards" manage these risks in an immediate manner, however, nearly all organizations need to refresh and strengthen their approach to resilience management to be better prepared for the next normal which results in stricter regulations in upcoming years from regulatory bodies across the globe" Said Mohit.
When discussing the impact of an outage or a glitch, Mohit suggested that although the digital revolution has increased the degree of connectivity, speed of transactions and easiness of payments, it has also increased the dependencies heavily on the "Zero Expected Downtime" mindset.
"These digitization and cloud computational changes offer transformational promises in operational activities but also bring potential risks for large scale failure like we have seen in June this year, where major banks and airlines were hit in a new global online outage. Any hit on banking systems such as payment or online banking simply "STOP" the financial organization. It stops their customers on almost all banking activities, and this doesn't only impact a Bank's operational side of the business, but it hits heavily on the reputational and financial side too".
Mitigating the risks for a banks reliance on tech firms becomes a priority moving forward as preparation for a risk of failure and shut down is fundamental to a customers trust in the bank.
"Core components of the Banking system are highly dependent on technology and cloud computing, delivered by tech firms hence encouragement for dynamic analysis on single point of failure at every step to identify potential disruptors, crisis indicators, and capable resilience testing on adopted technology delivered by them, could prepare Banks to mitigate these risks of failure and improve overall availability results. This creates happy and satisfied customers, and most importantly, better Banking."
More on
About the author

Journalist
Lisa Hanley is an In - house Journalist working for The BCI. With a Masters degree in Televison Journalism from City, University of London, Lisa has previously worked as a Freelance Producer and Journalist for London Live, PA Media and Thomson Reuters Foundation. Her experience varies from producing documentaries, films and podcasts, to producing news packages for television and voiceovers for radio.