iluminr named a Gartner Cool Vendor in Sourcing and Procurement Technology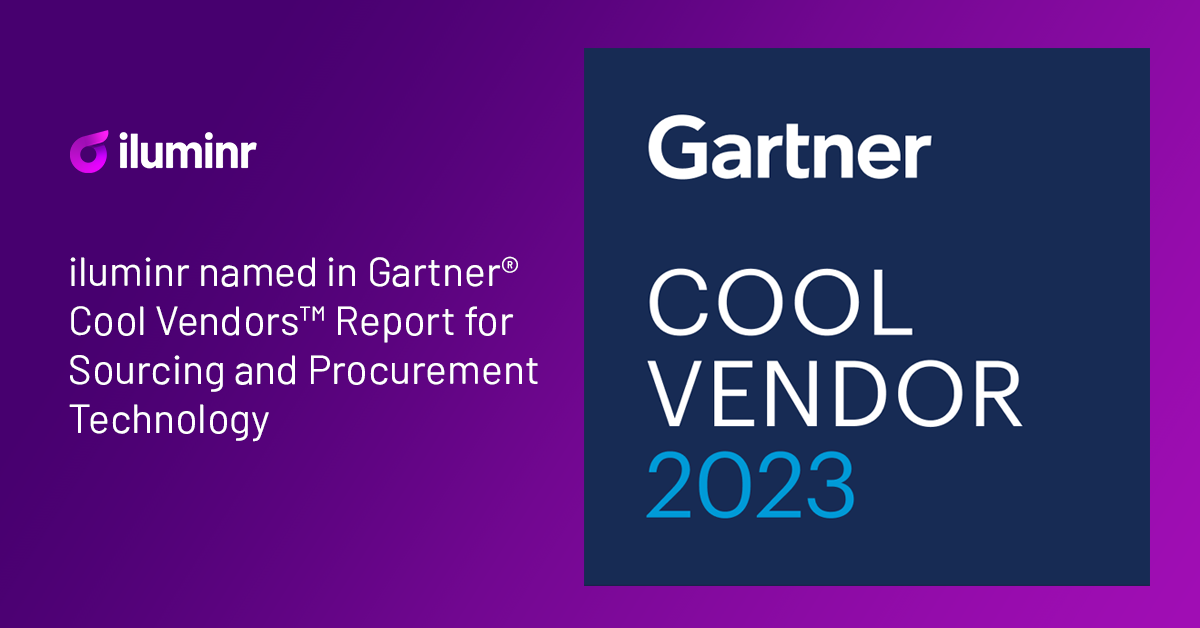 Vendors selected for the Cool Vendor report are impactful, innovative, and intriguing.
Sydney, Australia, NSW and Denver, Colorado, October 16, 2023 — iluminr, the trailblazer in gamified engagement for resilience, today announced it has been included in the 2023 Gartner® Cool Vendors™ Report.
The report identifies technology vendors that have a strong market vision and offer unique and innovative products and services that have a real market impact, delivering tangible value to organizations seeking to enhance their relationship with key third and fourth parties. Past Cool Vendors include organizations such as Bitsight, Box, Dropbox, Nest, Evernote, Cloudera, Palantir, and Instagram.
According to Gartner, "Sourcing and procurement leads the supply chain risk management effort in more than half of organizations we surveyed. Respondents plan to be more proactive and better prepared for disruption over the next two to three years."
Gartner recommends "leaders build an awareness of risk and resilience in their organization by proactively communicating, providing training on risk management and resilience activities, and not waiting until a disruptive event occurs. Procurement, risk and supply chain leaders looking to enhance their supplier risk, compliance and business continuity processes should evaluate iluminr's capabilities to allow them to increase resiliency awareness and understand their organizations' preparedness to respond to disruptive events."
"iluminr is gaining significant traction helping companies better manage third party risk by building the collaborative muscle memory for response," said Josh Shields CEO of Iluminr.
"Being named a Gartner Cool Vendor further validates not only the market need, but also the impactful solution that we have created. We will continue to strengthen and expand our offerings to help customers to collaboratively test response strategies, effectively respond to disruption, and learn from these experiences with critical suppliers and third parties."
iluminr uses simulations to test an organization's policies, plans, and roles. This helps organizations become more aware of and evaluate their strategies for managing third party and supplier risk, resilience, compliance, and business continuity. During disruption, organizations and third parties use the same platform to capture and respond to events as they happen, providing insights on how to improve response over time.
iluminr empowers organizations to:
Optimize Third Party Assessment: iluminr's platform makes vendor onboarding assessment and monitoring processes more robust for critical vendors, providing insights on demonstrated strengths and vulnerabilities.

Enhance Supplier Collaboration: The platform fosters closer collaboration with suppliers, ensuring transparency on resilience posture, and enabling organizations to build stronger, more mutually beneficial response capabilities.

Improve Resilience: iluminr's capabilities help organizations gain control over third party vulnerabilities, test their response strategies, identify cost-saving opportunities, and drive risk awareness into strategic sourcing initiatives.

Boost Compliance: iluminr enables organizations to meet regulatory requirements and internal policies for vendor assessment, scenario testing, and audit, ensuring risk-aware sourcing and management practices.
Marcus Vaughan, Co-Founder, and Chief Growth Officer at iluminr, added,
"Third-party and supplier engagement is the cornerstone of effective risk management. At iluminr, we're committed to empowering organizations to not only manage risks but also foster collaborative relationships with their critical suppliers, turning challenges into opportunities for growth and resilience."
Additional Resources:
Gartner, "Cool Vendors in Sourcing and Procurement Technology," by Cian Curtin, Micky Keck, Naveen Mahendra, Chaithanya Paradarami, October 9,2023.
GARTNER is a registered trademark and service mark of Gartner, Inc. and/or its affiliates in the U.S. and internationally, and COOL VENDORS is a registered trademark of Gartner, Inc. and/or its affiliates and are used herein with permission. All rights reserved.
Gartner Disclaimer
Gartner does not endorse any vendor, product or service depicted in its research publications, and does not advise technology users to select only those vendors with the highest ratings or other designation. Gartner research publications consist of the opinions of Gartner's research organization and should not be construed as statements of fact. Gartner disclaims all warranties, expressed or implied, with respect to this research, including any warranties of merchantability or fitness for a particular purpose.
About iluminr
Bring resilience to life with iluminr. iluminr's cloud-based platform supercharges engagement in risk awareness and resilience, streamlines preparedness, and empowers agility so teams can thrive through fast-paced change, leveraging:
Microsimulations – Drawing on years of annual simulation experience, iluminr's award-winning Microsimulations take all the best components of traditional tabletop exercises, distilling them into 15-minute digital simulations. These short experiences create "aha" moments, subsequently increasing stakeholder engagement and bolstering preparedness. Because Microsimulations are short and delivered digitally, they can be integrated into regular operations – helping organizations build muscle memory in response capability throughout the year, all while addressing regulatory requirements.
Mass Notifications – Protect people and operations with lightning-fast emergency notifications delivered via channels they use every day. iluminr's communications module is so simple to use, there's no training required. The module also offers turnkey integrations to ensure all your communications reach the right people at the right time, and an interactive communications dashboard displaying status updates, polling results, and responses in real-time.
Critical Event Management Rooms – Turn data into actionable insights to support better decision-making during an event. Access continuity and response plans, conduct incident assessments, collaborate and manage the event on digital whiteboards, and activate teams through automated playbooks delivered wherever their team members are, including Microsoft Teams and Slack.
Threat Intelligence – Through global threat monitoring and automated alerts for events such as floods, extreme temperatures, or power outages, organizations can proactively communicate with key stakeholders and get ahead of any situation before it escalates into a full-blown disaster.
To learn more iluminr's solution for risk-aware and resilient organizations, please visit iluminr.io
Paula Fontana
VP, Global Marketing, iluminr
[email protected]
More on