In Conversation with Mohamed Al Alawi CBCI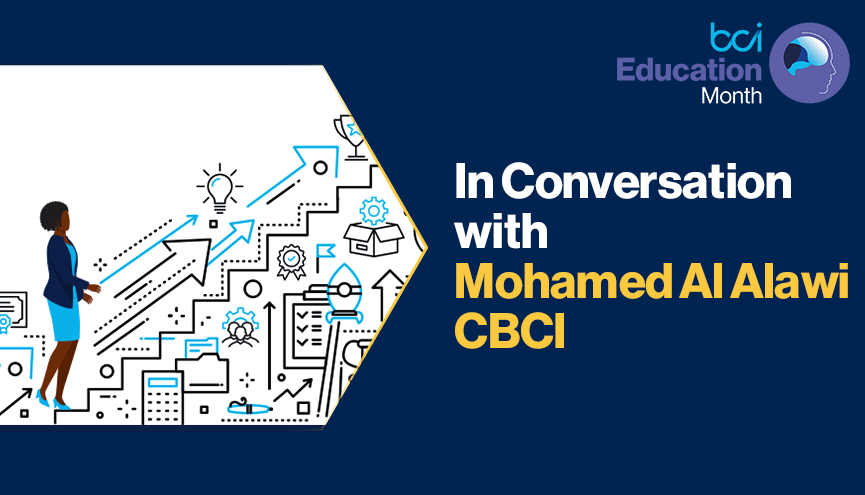 For The BCI's Education Month 2022, we spoke with Mohamed Al Alawi CBCI, a Business Continuity (BC) specialist in the financial sector, about how he entered the sector, the benefits of a career in BC, and the importance of mentorship and continuing to expand your skills.
How and when did you start working in the BC and resilience sector?
I started my career in Germany, right after my Masters studies, working with Daimler Financial Services (now called Daimler Mobility). I worked in their headquarters in Stuttgart and started in the field of financial risk management, looking at credit and liquidity risk, as well as automobile leases.
From there, I shifted to Enterprise Risk for Zalando, a fashion company, in Berlin. As a junior there, I did a rotation in their Enterprise Risk Management department, looking at everything from corporate risk to insurance and BC, which shaped my career into where it is today.
What was your background and studies?
I did my Bachelors degree at the DePaul University in Chicago, USA. My major was in Finance, my minor was in International Business. I moved to Germany to do my Masters on a double-degree programme, where my major was International Finance. During the programme, I had a few classes in Risk Management and found it to be a very interesting field.
I have also completed a few certification courses while in the BC sector, such as the ISO22301 lead implementer course with the BSI. I also completed the CBCI Certification course through The BCI, which is highly recommended and shows how BC should be implemented.
The ISO22301 course lays out the framework in general and how you can be compliant with the standard, while The BCI's Good Practice Guidelines (GPG), which I studied for the CBCI exam, lays out best practice for a BC Management System, so they both complement each other.
What have you learned/what skills have you developed by working in BC & Resilience?
There are lots of soft skills, which you develop by working in this field. Personally, thinking outside the box sticks out for me. You're allowed to be creative in BC because you have to always be thinking of a Plan B in case something goes wrong.
It is also important that you are able to deal with people from all walks of life and different backgrounds, as well. You need to have good stakeholder management skills to handle all the departments in the organization. The finance people talk a different language, the marketing people talk a different language, etc. You need to be able to talk with all these people and get the information you need for your own processes, so the BCMS is complete.
In this field, you can't have tunnel vision and focus on your own department. You need to have a holistic view of what the organization is and does.
With regards to hard skills, I have mainly focused on developing my IT skills. These are mainly technical skills, especially in terms of disaster recovery, information security, and cyber-attacks, for example.
How has the increased threat of cyber-attacks impacted your industry?
Cyber-security is of the utmost concern to us right now in the fintech sector. We're doing a lot of tabletop exercises not just internally, but also with our vendors and other third-parties. We're looking to get an understanding of what happens if they get hit by a cyber-attack and how would that affect our supply chain, etc.
It is a topic that we also need to consider from the perspective of the industry regulators. Our regulator is the Central Bank of Bahrain and they are also concerned with how we deal with cyber threats and have launched a new module within their requirements on cyber security risk management. So, we always have to be up to date with what's going on in terms of cyber risks. As the criminals increase their attacks, we have to increase our defences.
With an ever-expanding catalogue of risks and threats, how important is training and education in BC?
I think it's very important. You have to be constantly updated and aware of the trending risk topics, especially what is happening both globally and locally that might affect your organization. With regards to the pandemic, for example, I had to constantly train and update myself on what the best practice was with regards to handling staff, working from home, etc. This also meant looking at what the top organizations were doing and what our competitors were doing.
You can also check if there's a risk catalogue for your region that you can adhere to as well. These are constantly updated, so you need to keep pace with it.
To stay on top of the cyber threat, we're currently doing cyber wargaming across all industries in Bahrain and the Middle East. We're doing this in line with the big four accounting companies (KPMG, Ernst & Young, PwC, and Deloitte). It means sitting down with many other banks, with senior management, administrators, and IT support, just to get to grips with our response to a cyber attack. These types of events are essential to prepare a response to such a threat.
What advice would you give to those that are thinking of starting a career in the BC/Resilience industry?
My advice would be to go for it! The field of BCM opens up a variety of opportunities and allows you to see organizations from a wider angle. It's not a tunnel vision department, instead it involves taking a holistic view.
To get ready for this, there's a whole bunch of online courses you can take, as well as professional certifications and programmes at university level.
I suggest you go for the CBCI Certification, which is also very good for those who have no experience in the field. I got the certification when I first started working in BCM and it gave me a head-start in my career. It meant I was already aware of what the different processes were in a BCM system and what is expected from a BC Manager. It really helps you hit the ground running.
Do you have a mentor, a colleague or someone in the industry that you look up to or that is inspiring your career?
When I first started working in BCM, I was at Zalando in Berlin. One of my colleagues there helped me to develop my stakeholder management and creative thinking skills, as well as assisting me as I took a leap of faith into a sector that I wasn't experienced in. We remain good friends and we still update each other about BCM trends in each other's countries and potential collaborations.
Watching this colleague complete a Business Impact Analysis in workshops with stakeholders and seeing him build a plan out of his own sheer experience, was something that really helped me to develop.
I think it's really important to keep these relationships alive. Even right now, as the expert in BCM within the organization, I still look up to the experience of IT professionals within my business. These people significantly contribute to the development of a BCM programme, as you will need to discuss ideas with them.
It certainly helps to be mentored and to have someone to look up to who is experienced in this field, especially as this field has so many interrelating disciplines. This can take many forms, for example, the BCI has a mentorship programme as you progress between membership grades, where you can share your knowledge and look up to other people in the field.
Is there anything else you want to share about your experience joining the BC/resilience sector?
I did study numbers when I began my studies and I was pretty good at it, but the shift from financial risk to enterprise risk to BCM has been a life-changing journey.
It is basically about having a Plan B when things go south and being resilient when facing disruptions in your organization. The thing to remember is that we all do this on a daily basis. Whether you want a reservation at your favourite restaurant but it's fully booked, or if you have a travel VISA and it gets denied. In this situation, you make a plan and choose another destination. If your train is delayed, you cycle to work.
When I started in BCM, I learned it was already part of my daily life. Although, when we look at it as a discipline and study it as a process, that's when it gets really interesting.
Learn more about Education Month 2022:
To be the first to know about BCI News and more follow us on LinkedIn here, or on Twitter @TheBCEye
More on
About the author

Supervisor - Business Continuity Management