Interview – Hybrid Work mode & BC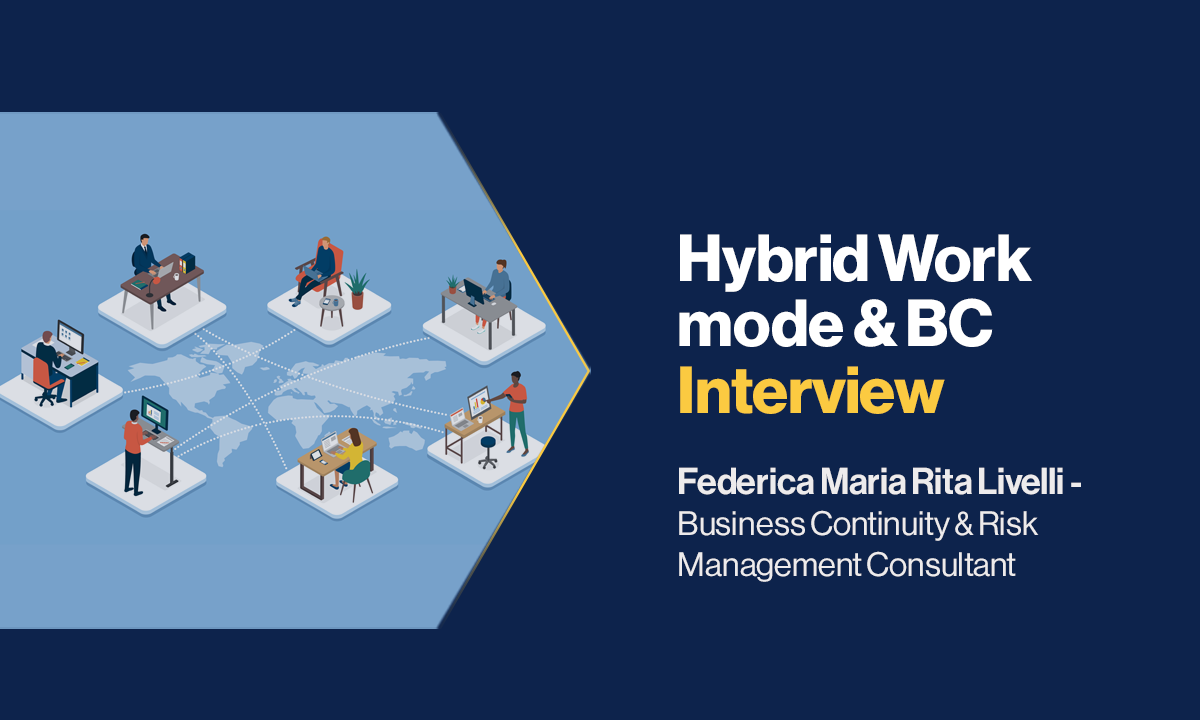 Introduction
The Covid-19 pandemic has forced organizations to adopt remote working and had pushed an exceptional digital transformation – which has taken place in two years rather than decades. This has caused unprecedented challenges that have inevitably impacted organizations' ability to get work done and innovate.
Presumably and regardless of the course of pandemic, the majority of workforce will not be going back to 'business as usual'. The benefits associated with remote working (i.e.: increased productivity and increased operational efficiencies) have pushed leaders and employees to implement a hybrid working model that combines the social aspects of the office with greater freedom in terms of how/where they perform their jobs.
A hybrid workforce essentially refers to a workforce that is distributed across different locations, from traditional office and factory spaces to remote locations, including within employees' living space (family home or shared apartment_. A hybrid working model offers to employees flexibility and choice, it, and it can be an innovative way to drive new approaches to agility, collaboration, and ways of working.
In its report, "The Future of Work Starts Now," global consultancy firm, CAPGEMINI, states that to build competitive advantage and resilience, organizations need to make upskilling and reskilling an integral part of their hybrid working model. According to the report - which includes contributors from leading global organizations - the precise definition of hybrid working may vary. However, the consensus is that there will be no return to a 100% in-office model, therefore, organizations will need to cope with the challenges of new working models and consider upskilling as mission critical vs. a technology redefining jobs.
Is Hybrid working here to stay? Trend scenarios
Global Scenario - Across Western Europe people have started returning to offices since late summer. However, expectations among both employees and leaders have changed after the time spent working from home during lockdown..
According to MICROSOFT's global research, "Workplace White paper", issued in September2020,), a more hybrid way of working is expected to flourish in the long term and staff & employees will work remotely at least one day a week.
If on one hand, there are employees that still see the value in working from the office; on the other hand, averagely, people are considering spending approximately one-third of their time outside the traditional work setting as they feel that working from home is productive and offers numerous personal benefits. Furthermore, leaders see longer-term benefits related to hybrid working model, including greater efficiencies, better employee engagement, and an opportunity for increased sustainability.
Italian Scenario
In Italy, because of the pandemic, remote working- mistakenly referred to as "smart working" - has become the compulsory formula for millions of workers.
According to the survey published in November2020 by the "Osservatorio Smart Working" of the Università Politecnico of Milan, in 2020, during the peak of the pandemic, 6.58 million people worked remotely a third of Italian workforce. Over ten times compared to 2019, when only 570 thousand registered as working remotely. This involved 97% of large companies, 94% of Italian public administrations, and 58% of SMEs.
According to a study from IWG - a leader company of flexible workspaces - in Italy, the use of the hybrid model is rising. Attendance at IWG centres along the peninsula increased by 50% compared to January 2021 and further increases by 19% between May and April 2021. Naples (+86% vs. January), Bologna (+73%), Milan (+66%), Bergamo (50%) and Turin (39%) are the Italian cities where the phenomenon of return to IWG offices was more marked.
Additionally, in the last year, IWG has seen a global growth in demand for flexible workspaces in smaller cities and suburban locations, with peaks of 40% in some areas of the US market and 30% in Italy. There has also been an increase in requests from large corporations to be able to purchase monthly membership agreements for their employees to allow them access to their international network of workspaces.
It is evident that a cultural transformation is taking place, i.e.: moving from the only large central hub located in metropolises or suburban areas to a network structure distributed throughout the territory and designed to provide a point of support for employees, wherever they are.
In Italy, at present, there is not a defined hybrid working model. There are, on one hand, companies that are moving towards a "remote-first" model. This includes predominantly working remotely and occasionally from an office space. There are also companies that that are opting for an "office-first" approach, in which the office remains the main place to carry out the activity.
This change in working habits is also confirmed by the research "Rapporto Italia 2021", published last May by EURISPES (Institute for Political, Social and Economic studies). Since the beginning of the pandemic, the "smart working" model has been adopted by 49% of workers (just under 5% had adopted it before the pandemic). More than half (53%) would like to be able to continue with this flexible way of working by alternating days in the office and working from home (hybrid working approach). Many workers have realised the positive impact of this model, highlighting better coordination with work teams and a better quality time with their family .
In the banking sector - where the testing of in the agile/hybrid working models date back to pre-pandemic times - remote work will remain indispensable for at least two days a week (some examples include, Banca Mediolanum and American Express). However, in some cases, these models could become a real pillar for the companies' strategies (for example, Credem Bank during the pandemic has adopted totally agile work for 94% of its workers).
The remote working model will be largely used in the IT and telecommunications sector. It could involve from 60% to 80% of working hours depending on the company areas (e.g. Vofanone); but it could reach five days a week (e.g. Microsoft); or even become the rule where the presence in the office will only be required when and if necessary (e.g. Hewlett Packard Enterprise).
Generali Assicurazioni and other insurance companies based in Italy are also considering adopting a hybrid working model.
With respect to the Public Administration (PA) sector, a recent study carried out by the Italian consulting firm FPA -Digital 360 found that, after the pandemic emergency, only 6.4% of public workers would like to return to work to office; over 93% would like to continue with remote working model, and 27.6% of these would choose to always work remotely, while 66% would like to adopt hybrid working model.
In Italy the trend is to adopt a mix of hybrid and balanced work model. This will guarantee a better work/life balance and avoid deleterious isolation – which many organizations believe it can affect ideas, creativity, the sense of belonging, and in the long run, worsen the whole innovative and productive process.
A new approach required: from remote to hybrid working
The fully remote working model, that we have seen during the pandemic, has delivered mixed results. While it has brought tangible advantages – from a better work-life balance for certain groups of employees to productivity gains for some organizations – it also has limitations. For the future, a hybrid working model will be preferable to strike a balance between work-from-home and office models to meet organizations and employees' needs and, because of this, organizations will need to find the right operating model to implement.
For example, organizations are striving to create frameworks where individuals decide for themselves what environment is best suited to their tasks; giving them access to workspaces as they desire; and providing them with support in their decisions. But this shift is not a smooth one.
Employees consider company culture, team cohesion and the ability to easily collaborate as the biggest pain points in the move to remote/hybrid working models. Ensuring that people feel connected, and collaborative - which comes naturally when people meet every day in the same location - is essential, and organizations need to ensure this in a hybrid model.
Therefore, the role of managers and leaders becomes strategic since they need to ensure that their teams stay cohesive and engaged during a stressful time. For this reason, it is fundamental for organizations to:
question existing structures
rethink the effectiveness of operating models, and break down organizational silos and barriers among teams
adopt a structure able to guarantee the balance among empowerment and control, centralization and delegation, and the number of desired levels.
Additionally, an innovative workplace culture should be developed and be able to:
empower teams and define new rules of engagement and make transparent and flexible policies
rethink the sourcing model to enable "deliver where you are"
protect and promote employees' ability to work in a flow state
establish the "remote/hybrid approach" of each role to understand which jobs can be transitioned smoothly and which cannot be done from remote locations or in hybrid way
embrace tools that support flexibility and encourage accountability
protect employees and keep the human connection
plan increased training and development for employees
define what constitutes "authentic" leadership able to encourage autonomy, empathy, and transparency
reinvent a "trusted" work culture with new collective rituals
shape up organizational real-estate to address the needs of a hybrid workforce
implement booking/hotelling systems to ensuring that office spaces are used to their full potential and optimising the usage and cost effectiveness of workplaces
install a robust digital infrastructure to:

accelerate seamless digital working
establish secure digital accessibility to business processes (anytime, anywhere, and with any device)
leverage digital tools, technologies, and skills to drive remote working efficiency and productivity
transform backend technology into a resilient, flexible, and cloud-ready enabler for daily activities and innovation

tailor the employee experience to adapt to a hybrid operating model
At present, by shifting to a hybrid working model, many organizations have started implementing new approaches in terms of global talent acquisition and adopting digitization of processes (i.e.: contract signing, etc.) to support global talent sourcing and upstream recruitment processes (search, assessments, interviews, etc.). Finally, when shifting to hybrid working model, it for organizations to is avoid creating "first-class" workers (those who work in the company) and "second-class" ones (those who work from home). Those who work remotely, if not properly supported, run the risk of being marginalized within the organization since they are often penalized by a worse technological infrastructure (slow connections, inability to access certain resources from home, a less sophisticated home office configuration) and have more difficulty demonstrating their competence. Furthermore, not being present during informal interactions leaves remote workers out of some office dynamics.
Another important aspect to consider is that working in the same space where the "boss" is, increases the likelihood that the efforts and actions of employees will be noticed and recognized. Furthermore, even if the boss works remotely, when an employee works in the office, the likelihood that his/her actions will be seen by others and indirectly reported to him increases.
When working remotely, no one sees the tasks performed late at night or early in the morning or how hard employees are working to achieve the goals they have been assigned. In most cases, merit for group work is likely to be unfairly attributed primarily to those present in the office and most "visible". To overcome this issue, the HR function should start considering new assessment approaches and introducing benefits or other wealth fare initiatives for different members of staff.
It is interesting to note that MICROSOFT's research entitled "The Next Great Disruption is Hybrid Work – Are We Ready?" – which was carried out by interviewing 31,092 full-time employees or self-employed in 31 markets, including Italy - found that between February 2020 and February 2021, over 40 billion emails, plus 148% of online meetings, plus 45% of chats were detected.
These figures make us realise how the massive interaction with the technology, required by remote working model, has triggered new forms of technostress in numerous individuals - many of whom have found themselves confronted for the first time with this type of tools.
Therefore, now more than ever, the HR function needs to define a new approach to contracts and vs. global remote/hybrid workforce, which requires to:
proceed aligned towards a single goal and supported in every aspect of the activity
respect local employment laws
verify financial and tax laws when hiring remote/hybrid employees in other countries
customize benefits (such as healthcare, etc.) in accordance with local laws and tailor preboarding and onboarding processes.
Hybrid work model & Business Continuity
The pandemic has highlighted the importance of creating workplaces that are able to adapt and react immediately to changes in any circumstances. Workspaces are now required to meet the evolving needs, wants, and safety measures of employees, whilst ensuring that business continuity is maintained. Because of this, resilience must be embedded within the infrastructure of the company and extended to cover all possible workplaces - the office, factory, home, or other locations. Thus, those organizations that embrace hybrid workforces now and invest in a long-term hybrid workplace strategy, are going to be uniquely placed to improve their business continuity and resilience.
In this perspective, the Business Continuity and Risk Management functions should synergically operate and support the IT and Cyber Security professionals to guarantee resilient organizations and implement efficient business continuity and disaster recovery plans, risk management and cyber security frameworks.
Business Continuity plans should always be in place and regularly tested, especially now that organizations have implemented remote/hybrid working models.
In the contingent landscape, an updated Business Continuity Plan is a plan that is not simply reviewed and adapted from time to time. It is a matter of putting resilient systems in place that have the flexibility and adaptability to support employees and their changing circumstances. It is also important to test crisis procedures using numerous scenarios so that business recovery can be optimized regardless of what may happen.
In the last part of 2021 and in the future, it will be fundamental for organizations to find smarter ways to work i.e.: to be flexible and adaptable to their workers' needs. Therefore, resilience must encompass not only the technology - that required to keep the business up and running - but also the human aspect and guarantee employees are well-trained and prepared to hybrid working models.
A hybrid culture is a skilful culture that uses not only digital hard skills, but also soft ones (i.e.: problem-solving, learning agility, resilience, knowledge networking, responsibility, etc.). Agility will be increasingly built into the culture of the organisation as hybrid work environments are embraced and a transition to a new working environment is taking place and implies the digital/analogic and material/immaterial dualism. This is leading to the creation of a new hybrid-phygital world, where organizations need to:
know in depth the context where they perform (internal and externally)
guarantee their resilience as a calibrated synthesis of the implementation of Business Continuity, Risk Management and Cyber security disciplines
be prepared for the unexpected
Therefore, organizations are urged to strategically implement proactive measures to ensure organizational efficiency - regardless of future disruptions that may occur. They will need to complete the ongoing process of digitization and automation, make organizations become increasingly anti-fragile, agile, adaptive, and able to guarantee operational resilience in constantly evolving scenarios.
Inevitably, these changes of paradigm will require a highly thought-out strategy -supported by strong leadership - that will promote a vision focused on risk, continuity, cyber security, and operational resilience. Because of this organizations will:
increase their performance
make better decisions on investments and risks
implement data-driven training programs
guarantee cyber security
make people the protagonists in using technology and have the skills to do so.
Business Continuity, Risk Management, Cyber Security experts – which will be metaphorically playing as an Olympic "dream team" – will contribute to improve strategically corporate governance and compliance by performing a fundamental role in solving the great challenges of the future. Namely, they will take organizations by the hand - as "magister" in the Latin sense of the term, i.e.: the one who indicates the way " - and demonstrate the importance of deep knowledge of the contexts in which the organizations operate. This will help them to become aware of the risks and points of failure; and design the necessary plans to "ferry" them out of "erratic" contexts while safeguarding their continuity and operational resilience.
The American sociologist and writer, Alvin Toffer, stated that in the future advanced world, knowledge will be the fundamental economic resource/lever (i.e.: the ancient Greek philosophical approach "know yourself") and not the labour force or the possession of raw materials. As he said: "The illiterate of the 21st century will not be those who cannot read and write, but those who cannot learn, unlearn and relearn". And, in this respect, I strongly believe that the Business Continuity, Risk Manager and Cyber Security professionals are going to play a strategic and fundamental role in indicating the path towards "knowledge" to achieve "awarness" and guarantee operational and organizational resilience.
Federica Maria Rita Livelli
Business Continuity & Risk Management Consultant
ANRA - Board Member/BCI ITALY CHAPTER - Board Member / CLUSIT Scientific Committee/AIPSA - UNI Member
More on
About the author

Business Continuity & Risk Management Consultant
In possesso della certificazione Business Continuity - AMBCI BCI, UK e Risk Management FERMA Rimap ® è consulente di Business Continuity & Risk Management. Svolge attività di diffusione e di sviluppo della cultura della resilienza presso varie istituzioni ed università. 
Socia AIPSA ed UNI.
Membro de:
·         Board del BCI Italy Chapter
·         Board ANRA
·         Advisory Board di LIUC-ODES Project
·         Advisory Board EU SIMARGL Project
·         Comitato Scientifico di CLUSIT
·         Comitato CLUSIT-Artificial Intelligence/Risk Management
·         Conduct Professional Committee – BCI, UK
·         Judge at the International Organizational Resilience Awards
·         UNI/CT 016/GL 02 "Sistemi di gestione per la qualità" (ISO/TC 176/SC 2), UNI/CT 016/GL 09 "Governance delle organizzazioni" (ISO/TC 309) e UNI/CT 016/GL 89 "Gestione dell'innovazione" (ISO/TC 279) (Commissione Tecnica UNI/CT 016 "Gestione per la qualità e metodi statistici")
Membro de: Associazione Donne 4.0 (Coordinatrice Commissione Reti) e Women for Cyber Security (Comitato Tecnico)
Docente di moduli di introduzione di: ISO 22301 - Business Continuity & Resilience (Università POLIMI–BOCCONI e Università di Verona, Università di Cagliari, Master Ambientale Università di Padova); ISO 31000 - Risk Management (Università Statale di Milano)
Relatrice e moderatrice in diversi seminari, conferenze nazionali ed internazionali.
Autrice di numerosi articoli su diverse riviste online, (i.e.: AgendaDigitale, Cybersecurity360, AI4Business, Risk Management360, EnergyUp, Blockchain4Innovation, Internet4Things, Industry4Business, ANRA - RM Magazine, ISPI online, Insurance Review, INsurzine, UNI Magazine online, The BCI Blog, Data Manager).
Partecipato, in qualità di co-autrice, alle edizioni 2020 e 2021 del Rapporto Clusit - Cyber Security.