Meet the BCI LTP: Marjason Consulting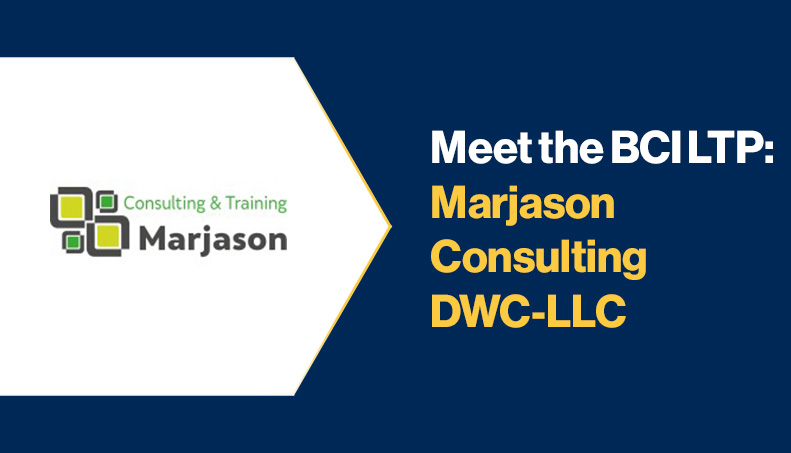 CBCI Certification Course
Business Impact Analysis (BIA) Training Course
Designing and Delivering Effective Exercises Training Course
Incident Response and Crisis Management Training Course
Introduction to Business Continuity Training Course
Policy and Programme Management Training Course
Supply Chain Resilience Training Course
Tim Marjason FBCI

Managing Director

Certified Business Continuity and Crisis Management Subject Matter Expert - Prior to starting his business (Marjason Consulting DWC LLC) in Dubai, UAE, Tim was a Chief Inspector and the former Head of Corporate Business Continuity Management with the Metropolitan Police Service, New Scotland Yard, London. After a long operational career, Tim's final 10 years were in the fields of Business Continuity Management, Command and Control, Crisis Management, Emergency Preparedness, Programme Management and Business Change. Tim was the Bronze Emergency Preparedness Commander for the London 2012 Olympic and Paralympic Games. Tim has an extensive training development and delivery as well as conference speaking record acquired in Europe, the Middle East and the Americas. He works with a variety of government organisations and private sector companies across the Middle East and beyond. Tim is an Approved Business Continuity (BCI) Instructor and a PECB Certified Trainer.

Magdi Hanna MBCI

Business Continuity Consultant

25 years of extensive experience in Consultancy (Business Continuity, IT Disaster Recovery & Data Center) as well as support, analyzing, designing, training, systems and network management, workflow automation, system integration and security printing.

Susanna Buson

Business Continuity & Crisis Management Advisor

Expert in Business Continuity and Crisis Management and promoting the resilience of organizations, she has been working in the field of resilience for more than 20 years dealing with the management of business continuity in banking, industrial and public entities. Responsible globally for Business Continuity for the UniCredit group before, and for the Finmeccanica group (Leonardo) later, in the last few years she supplies her experience as advisor supporting organizations in assessing, putting in place, exercising, improving and revising their Business Continuity programme and in the creation of innovative IT systems to support the protection and resilience of the business. She participates as a panelist in various national and international conferences and is a professor of Business Continuity and Crisis Management in Master at the MIP of Milan and the University of Genoa. Graduated in Information Sciences, MBCI certified, she is a member of the Board of the BCI Italian Forum and Approved Business Continuity (BCI) Instructor.
More on