Melissa Mack MBCI spotlight – a new Co-Leader for the USA Chapter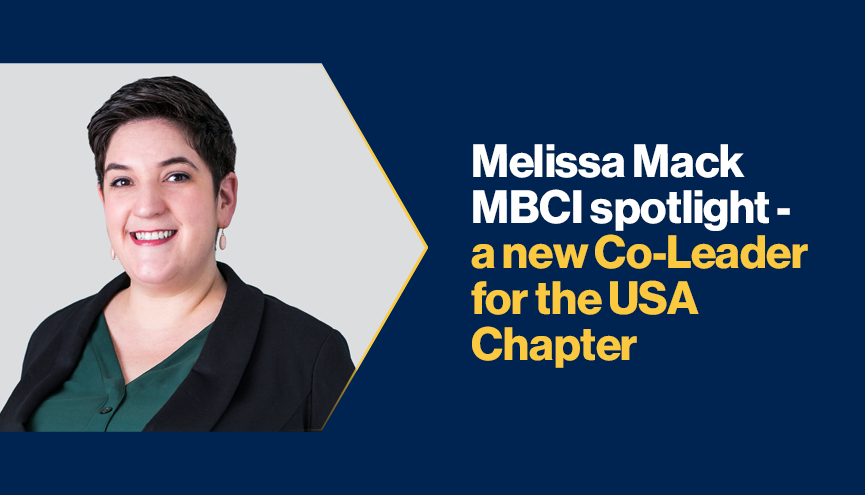 We are pleased to introduce Melissa Mack MBCI as a Co-Leader of the BCI's USA Chapter. In this spotlight, Melissa highlights some of her experience in Business Continuity and Resilience, shares some advice for those in the sector and showcases a few methods for professionals to get involved.
Could you please tell us about your current role and how you got into Business Continuity (BC)?
I'm a Crisis Management & Business Continuity consultant at Witt O'Brien's, where my title is Director, Corporate Resilience. I primarily focus on preparedness in the private sector, working with companies to write or revise plans and programmes. I also write and conduct lots of tabletop exercises.
I got into the resilience industry by luck. I'd spent a year teaching middle school chorus and quickly learned that was not the career for me. My dad knew someone at his gym who was the CEO of a crisis management consulting firm who needed an assistant. I interviewed and was hired as an executive assistant. I learned a lot about crisis management and resilience in that position and, while working as an assistant, I started shadowing one of the consultants. She took me under her wing and eventually started her own company and hired me. I'm tremendously grateful for the many wonderful opportunities I've had in my career, and for the people who have given me a chance and helped me along the way.
What do you see as the emerging threats and risks, as well as the trending topics, in your region?
North America has always been prone to a wide variety of severe weather, and we are certainly seeing this increase in frequency and severity with climate change. In addition to climate change, I don't think we are likely to see a decrease in ransomware attacks any time soon, as many of the ransomware threat actors are now very well-funded.
What has been one of your greatest challenges in this sector?
Working through imposter syndrome. It's taken years for me to get to the point where I feel like I have valuable insight and good ideas to share. I think many people struggle with imposter syndrome, which is ironic because imposter syndrome generally makes us feel like we are the only person who feels like this!
What changes would you like to see in this industry?
I would like to see different voices speaking up - at conferences, webinars, via articles, etc. I'm always eager to hear different points of view. I felt for a long time that, because I was newer to the industry, I didn't have anything valuable to share. I know now that people who are new to the industry absolutely have valuable insights. I encourage folks who feel that they may not be ready to speak up to try it anyway! Co-authoring or co-presenting can be a great way to overcome that initial fear.
What piece of advice can you share for others working in BC and Resilience?
Consider your audience. When writing a plan, think about who will be using the plan and what they will need in order to succeed. Do they have the requisite knowledge or skills? Will they understand the terminology used? Does the plan clearly define who they will be working with and how? The same sentiment applies in communications, in designing exercises, in raising programme awareness, as well as in developing and conducting training – always consider your audience.
What upcoming activities are being planned within the Chapter?
We've got our monthly virtual fireside chat that occurs on the third Thursday of each month at 4:30pm ET. It's a great way to get to know folks working in the industry, to share ideas, and to ask questions. Everyone is welcome to attend (whether or not they are a BCI member).
Additionally, we are partnering with DRJ to have a BCI USA chapter presence at DRJ Spring and DRJ Fall in 2023. More details to come, but needless to say we are excited about meeting folks in person!
The BCI USA Chapter has collaboration streams that are working on various initiatives, including mentorship circles, a collaborative article focusing on diversity and inclusion within the resilience industry, and more. I encourage anyone interested in getting involved to reach out to me or to email us at: [email protected]. Keep an eye out for our upcoming chapter newsletter (by email), and be sure to join the BCI USA Chapter Group on LinkedIn: https://www.linkedin.com/groups/1883327/
Anything else you want to add?
I first got involved with the BCI USA Chapter by joining the Diversity & Inclusion Collaboration Stream. It was a great way to dip my toe into the Chapter, and I encourage anyone who is at all interested to consider getting involved in some way. I've found that the more involved I am with the Chapter, the more I get out of it professionally and personally. Being involved has helped me realize the value of my BCI membership – reading emails only does so much, but the opportunity to connect and collaborate with resilience professionals is extremely valuable to me. I encourage folks to consider getting involved, even if only in a small way. It makes a difference!
More on
About the author