New BCI Board Member: Elaine Nudd MBCI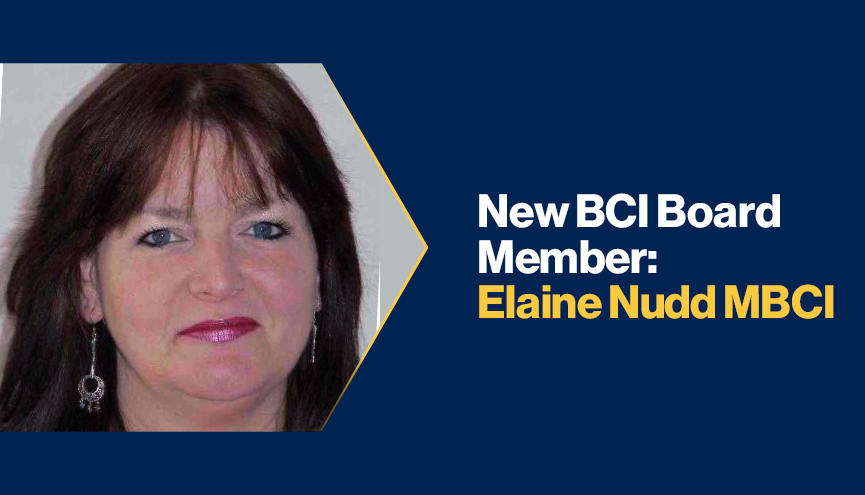 We are pleased to announce Elaine Nudd MBCI as a new Board Member for The BCI. In this spotlight interview, Elaine introduces her experience and what she hopes she will bring to the board during her term.
Could you please tell us about your experience in this sector and how you got into Business Continuity (BC)?
I have worked in the financial sector for over 30 years. I joined Santander (N&P at the time) as a Secretary and worked my way through various roles over the years, moving into Banking & Savings and, ultimately, monitoring, oversight, policies & procedures. I looked at the simple "what if" question and I started to build contingency plans for Banking Operations, working with Central Risk and BCP teams. At the time, I had operational teams that I was responsible for so I understood the impacts for our people, processes and systems.
When I was "dragged into risk, kicking and screaming", away from my operational teams, I was not happy but it was one of those times where others could see where I needed to be. It turned out to be the best move ever and I have loved it ever since – BC planning and Ops Resilience being a key passion for me.
What role has the BCI played in this journey?
I was introduced to the BCI very early on in that risk journey, as my boss at the time was keen for us to be members. The BCI has always been a great source of knowledge and personal development, and helped me to understand what "good" looks like.
I also found that the BCI was a rare community of like-minded people, always happy to share experiences and offer support and guidance.
What has been some of your greatest challenges and successes in this industry?
One of the greatest challenges is keeping up with the pace of change. Just one change can have a snowball effect, but keeping your frameworks live, well structured and not just a tick box exercise allows you to respond effectively.
In terms of success, there are many but taking the frameworks to the next level through automation is certainly one that stood us strong during COVID. Having real time information to work with supported our strategy to get people working from home successfully and significantly enhanced our controls and flexibility. Another by-product from the pandemic was that every single person saw our plans in action, which in turn helped to demystify the process for them, as they understood the real value it had and it supported drawing out more accountability from people.
Why have you decided to join the BCI board?
I have had a long career in an industry I love, and I am passionate about putting things within reach of people that would not ordinarily get that opportunity to learn, develop or be exposed to new ideas. I have supported the BCI over the years in various capacities and feel I now want to give something back - something that adds value and that helps others to see or believe in themselves.
What strengths and experience will you bring to the BCI board?
I believe I can bring an operational view to the board, as well as helping to support and nurture opportunities for better governance and be the voice of the members to feed into strategy and decisions that work to strengthen the value that the BCI can bring. I also want to put opportunities in reach for our members, regardless of their background.
What excites you about the future of this sector?
COVID taught us a significant amount about Operational Resilience and the need for good, strong planning, strategies and impact assessments that are tried and tested. What excites me now is building on that, embracing digitisation, and thinking outside of the box for our dependencies, e.g. third parties. We are also seeing new global risks that have far reaching consequences and increased threats that should all be core parts of our planning, regardless of industry sector.
Is there anything else you want to add?
I am so thrilled to have had the backing of the members for this role. I do not take that accountability lightly and it will be an absolute honor to be the best representation I can be for them and the value, support and resource they require from the BCI.
More on
About the author

Head of Operational Risk & Control