Small businesses given support to bounce back from cyber attacks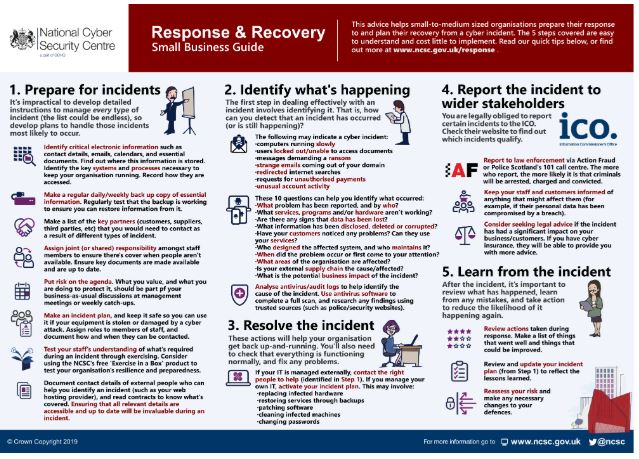 The UK National Cyber Security Centre (NCSC) has published guidance for small businesses looking to prepare their response to and plan their recovery from a cyber incident.
The Response and Recovery guide offers a 5-point plan to help get businesses back on their feet after an incident and follows the journey from preparing for an attack to learning lessons in the event that one happens

It is the latest in a range of products and services from NCSC to help small businesses build their cyber security resilience.
Clare Gardiner, NCSC Director of Engagement, said:
"While it is vital that small businesses protect themselves from cyber crime, it is equally important that they know the steps to take if they do fall victim to an attack.
"We understand that it can be difficult for businesses to know where to start in the event of an attack, and the NCSC's Response and Recovery Guide is designed to help them through the process from those crucial early preparation stages through to the lessons learned review.
"We would encourage all small businesses to familiarise themselves with this guidance so that any impact on their time, finances and reputation can be kept to a minimum."
The guide can be downloaded here.
More on