The added benefits of the BCI's new mentoring platform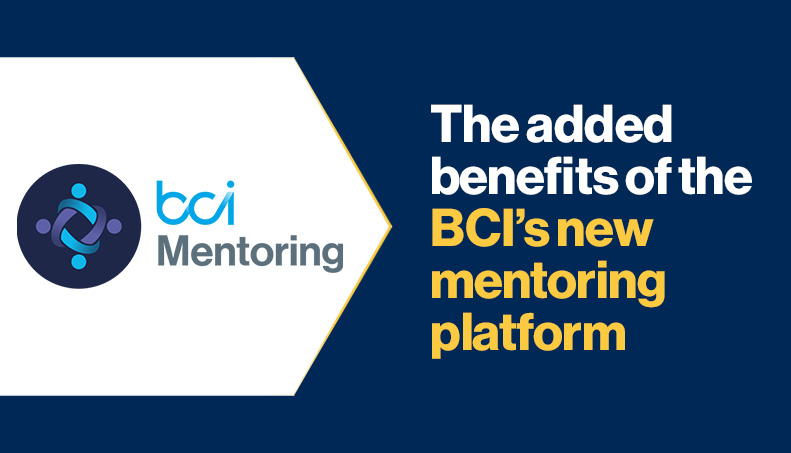 The BCI is dedicated to supporting all of its members throughout their professional journey. Therefore, as part of this commitment, we are proud to relaunch BCI Mentoring.
BCI Mentoring now features a refreshed platform that allows members to be better supported by fellow professionals in the sector and will promote best practices, knowledge sharing, and experience sharing. It will also be a valuable tool for supporting members who are at the start of their careers in the sector.
Additionally, through a reverse mentoring programme (coming soon!), the platform allows us to address challenges not typically explored during the standard mentoring relationship. The reverse mentoring programme will allow members to give back, provide leadership, and gather knowledge on technology, cultural diversity, and workplace inclusion.
Aligned to the BCI competency framework, the programme also provides a matching and monitoring service to enhance the Continuing Professional Development (CPD) experience.
Students, affiliates, and those at a CBCI or AMBCI membership grade can apply for a mentor on the standard mentoring programme, while a membership grade of MBCI and above can become a mentor. On the reverse mentoring programme, both mentee/mentor pathways are open to all membership grades.
The new platform
To support the requirements of the new programme, the BCI has partnered with PushFar - the leading mentoring and career progression platform. This digital platform provides various tools to manage and optimise the member-based mentoring programmes.
As such, the BCI mentoring platform software delivered through PushFar will support self-service, promote confidentiality, and help to serve members globally. It will also provide features such as automatic mentor matching, progress tracking, and analytics. The BCI has listened to feedback on its previous iteration of the mentoring programme and, as such, provided these new features to eliminate some of the challenges and limitations previously faced with the mentoring programme.
Key benefits of BCI Mentoring
The BCI has partnered with PushFar to provide a career progression and professional mentoring software platform to accompany the renewed programme that is innovative and continuously evolving with the technology available.
We have highlighted some of the exciting new features for this programme below:
The new platform will have a list of all eligible members for mentors and mentees, which can be accessible for members to view relevant information on their potential matches and request mentorship. This provides the opportunity for self-selection for mentors and mentees, but also has the capacity for automatic matching based on preferences and requirements. There is now the possibility and flexibility to have a mentor anywhere in the world, as long as they have accepted the role.

To enhance community engagement, the new BCI Mentoring will support an online community where members can learn about global issues, cultures, and industries in the sector and exchange and share best practice points. It also provides the opportunity to be directly connected to other members for one-time meetings, set up long-term mentoring relationships, and even create community threads to gain insight into topical issues.

The goal tracker tool is designed to help members track their personal goals and measure their progress towards achieving them. Users can choose to keep their goals private or share them with their mentor. Notifications can also be set up to remind users to catch up with their mentor/mentee according to the goals they have set for meetings. This feature aims to ensure that the mentoring relationship stays active throughout its duration.

The communication aspect of BCI Mentoring has been significantly improved. Now, participants can communicate with each other more effectively through the PushFar platform by utilising virtual video calls and direct chat functions. Additionally, users will have the flexibility of using their own preferred communication platform and can choose to meet face-to-face or over the phone.

Once you have finished a mentoring relationship, you can end it on the platform. By doing so, you can set up new mentoring relationships in the future. You can have multiple mentoring relationships as long as you manage your time effectively. Moreover, you can pause mentoring while still using the platform's features. This is an efficient way to manage your availability. However, it is important to inform your mentor/mentee if you are currently in a relationship before taking a pause.
These are just some of the added benefits of this new programme. More information on the platform is now available here…
We look forward to seeing the role that BCI Mentoring will play in the development of many new working relationships across the BC and resilience sector.
More on