The benefits of attending a virtual conference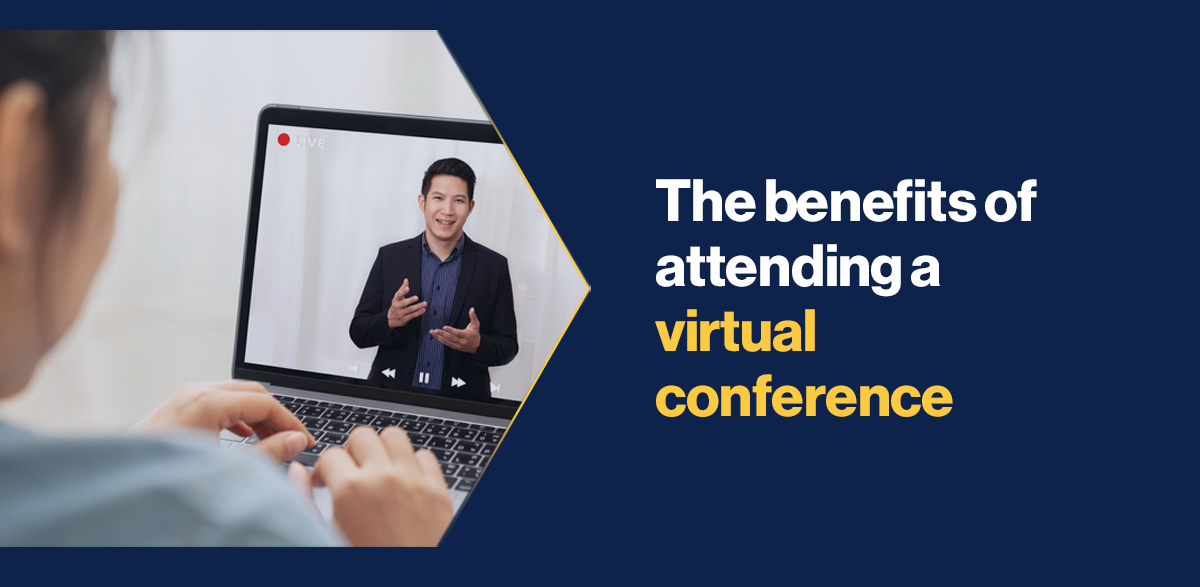 In the space of a few months our world has deeply changed, but during these challenging times organizations and people have shown great resilience capabilities in adapting their business and lives to keep going.
Events have fundamentally altered as in many places social gatherings are still not allowed, or with social distancing in place; leaving organizations like the BCI with a hard decision to make. Virtual platforms offer an opportunity to change the event format without having to completely cancel the entire thing.
Although we must accept that virtual events do not provide the same experience as a physical event, they do bring many of the same benefits – plus some that physical events cannot deliver.
Cost
Virtual events are much cheaper to attend and not just in terms of ticket price! Think about a global event like BCI World, attended by professionals across the world. For them, the cost of attending is not confined to just the ticket, there are extra costs such as travel, accommodation, transport, food and more. A virtual event eliminates all those 'extra' costs and gives the opportunity to organizations to have more of their representatives attend the event.
Time
Physical events can be not only costly, but also time consuming. Depending on where you are based, traveling to the event venue can take away time; then there are also train and flight delays and traffic to factor in, which take away precious time, but can also put you at risk of being late at the actual event. A virtual event is time efficient; you connect through your laptop at the time of the session that you wish to attend, and you are all set. You can continue to work in between sessions as you are only one click away…
Comfort and well-being
Virtual events allow you to attend from the comfort and safety of your home or office – this means a much more relaxed environment. You do not need to walk around the venue to find the room for each session or even the restroom; you can sit on your couch or your own office and just enjoy the presentations. This means less stress, less tiredness, and more energy to dedicate to staying focused on the content that matters to you.
Location & time zones
The beauty of virtual events is that you can access them from anywhere in the world and if you attend an event like BCI World Virtual 2020, sessions will also be available in your time zone.
Networking Opportunities
Some say that virtual events' networking opportunities are not the same as the ones offered by a physical event because there is no 'social or human interaction'. Networking within a virtual event is more scalable than an in-person conference. Indeed, it is easier to connect with professionals that have your same interests and issues… and stay connected. No more business card swaps, you will instantly have their digital contact details. At BCI World Virtual 2020 you will be able to head to the networking lounge. In here you can have a 'look around the room' and see who else is there and you can also start a conversation with them through the chat features.
Never miss a session
Sometimes you go to an event and there are so many sessions that you wish you could attend… but you can't physically split yourself, so you need to pick one or the other. A virtual event eliminates this problem. As part of your BCI World Virtual event ticket you will have access to the sessions on-demand after the virtual conference – meaning you do not have to miss a thing!
Save money and help the environment!
Unfortunately, physical events involve a lot of wastage: they rely on large quantities of paper (marketing collateral, handouts, brochures, or welcome bags) and plastic as well – think about all the exhibition stands and roller banners used in an exhibition hall. The financial and environmental cost of producing all these materials can be significant. There is also the food wastage at the venue, water and energy consumption for delegates staying in hotels and more…
With a virtual event you can access more content, more sessions, more material, and network with a larger and more international pool of professionals from around the world without impacting on the environment.
BCI World Virtual will take place on 5th-6th November 2020 on a purpose-built secure web-platform. The conference programme in now available to explore and registration is open!
About the author

Marketing & Content Manager , The BCI