The majority of organizations are impacted by crises in an increasingly complex landscape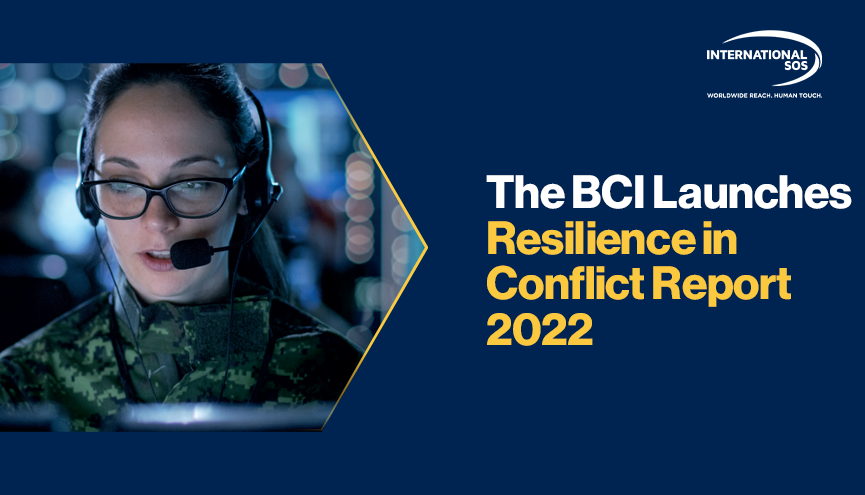 The BCI is proud to launch its new Resilience in Conflict Report, sponsored by International SOS. This report looks at how conflicts in regions around the world are affecting organizations, how organizations manage resilience during periods of conflict, as well as the role of technology in this process.
Most organizations are impacted by conflict
Unfortunately, it has become important to consider the volume of armed conflicts and disputes currently taking place around the world and the range of impacts they can have on organizations, from those who have operations in affected areas to those who have suppliers or customers in those areas, and what responses can be prepared to mitigate these impacts.
Indeed, the report finds that 61.7% of organizations are currently affected by the impacts of conflict. Of this proportion, a majority (74.8%) say they are experiencing secondary impacts, but without physical involvement in the conflict itself. Therefore, beyond considering the primary effects of a conflict, it is critical that organizations also consider the ripple effect of conflict on operations by assessing the resiliency of their supply chains or the rising cost of energy; just two potential threats.
Other concerns highlighted by practitioners include damage to critical infrastructure, as well as staff shortages caused by military call-ups, relocations for safety reasons, and site shutdowns.
Modern conflict is increasing the complexities of response
The report also examines the effect of these impacts on organizations, with 32.8% of organizations having to alter their operational model due to conflict and 31% having to shut down operations entirely as a preventative measure. If based in multiple countries, some of the measures taken may even temporarily impact an organization's ability to operate in certain geographies.
However, the complexities of modern warfare and its impacts are also being considered by some organizations, with almost half of participants reporting that they now have access to mental health and wellbeing services – a clear requirement during such a crisis. In addition, among the main protocols to protect staff during conflicts such as international evacuation and relocation from high-risk areas, just over half of the participants are now also considering cyber and IT arrangements as part of the protocol to protect staff in armed conflict areas. This shows the growing importance of cyber resilience in a landscape where the strategies of hybrid warfare are increasingly deployed.
Organizational responsibility and the role of BC teams during conflict
Looking in more detail at which teams are activated to mitigate the impacts of conflict, 36.7% of respondents include Business Continuity (BC) management in the response while 61.3% include crisis management.
A positive finding of this report is that the relationship between BC management and crisis management within organizations was widely found to be effective, at a rating of 76.7%. It is, of course, critical that this relationship remains effective throughout the organization's response to a conflict in order to ensure the efficiency and agility required to make the right decisions during a crisis situation.
Other findings:
Risk perception is among the main challenges to implementing resilience in conflict areas – with it being a concern for 36.8% of participants. These respondents suggest there is too much focus on other major disruptive events, such as the COVID-19 pandemic, which may deflect attention away from the impact of conflict on organizations.
Only 50.6% of organizations conduct a screening of staff before they are sent to areas potentially subject to conflict. Of those organizations who do screen staff, security, health checks, and cultural assessments may be conducted.
Of those organizations which use software to keep operations resilient in conflict areas, 50% use crisis communications, and another 50% rely on cyber and information security technology.
Rachael Elliott, Head of Thought Leadership, BCI:
"This has been one of the most eye-opening reports the BCI has written. The sheer number of organizations who are currently affected by conflict shows the importance of monitoring unfolding intelligence about conflict, as well as considering both the direct and indirect impacts of current and potential conflict when planning. We are very grateful to those who were interviewed for this report who have shed light on how their own organizations are ensuring their resilience when close to the front line. At a time of increasing global tension, this report will provide timely information for the three-quarters of organizations who are currently being impacted by conflict."
Sally Llewellyn, Global Security Director, International SOS comments:
"Given the very visible nature of conflict in 2022, this report comes at an opportune time. As those who responded indicated that most organizations have been impacted in some way by conflict (61.7%), which compounds the challenges organizations faced in managing consecutive crises since the outbreak of COVID-19. These impacts have resulted in significant organizational changes for some, including altering operating models (32.8%). These findings indicate that now, more than ever, organizations need to invest in understanding more about the risks their operations and people will continue to face in conflict-related challenges. They will also need to improve and strengthen their organizational resilience through robust crisis management practices."
The report is available to download in the BCI Knowledge Library, follow the link below:
For more information, please contact The BCI: [email protected]
More on
About the author
Head of Thought Leadership (The BCI)
I am Head of Thought Leadership and I am happy to talk about BCI Research with any members. I'm happy to present research for Chapter meetings, for Corporate Partners and other relevant events. English is my primary language, but I can also speak French and have a basic understanding of Japanese.
Offical bio: Rachael has twenty years' experience leading commercial research within organizations such as HSBC, BDO LLP, Marakon Associates, CBRE and BCMS. She has particular expertise in the technology & telecoms, retail, manufacturing and real estate sectors. Her research has been used in Parliament to help develop government industrial strategy and the BDO High Street Sales Tracker, which Rachael was instrumental in developing, is still the UK's primary barometer for tracking high street sales performance. She maintains a keen interest in competitive intelligence and investigative research techniques.