Women in Resilience (WiR) Ally Spotlight: Ramachandran Vaidhyanathan Hon FBCI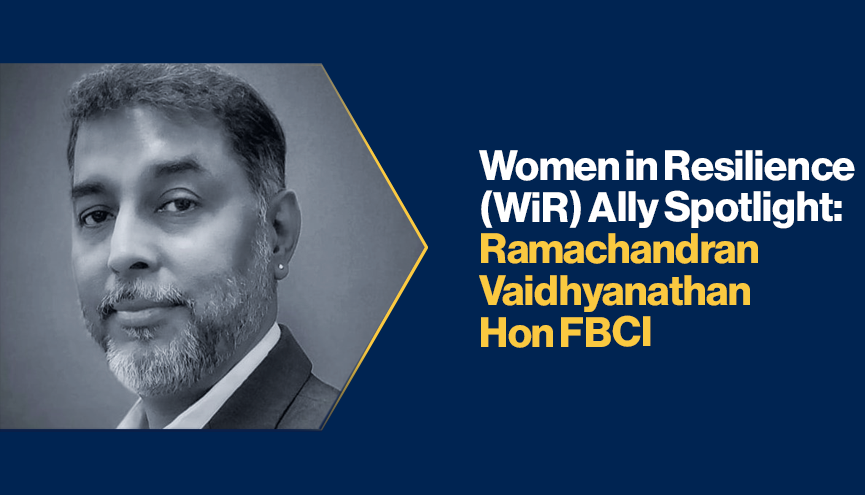 R Vaidhyanathan ('RV'), Hon FBCI, is currently the "Head of Cyber Security Practice" for NTT Data Services. He has almost two decades of experience in BCM/Resilience and is a well-traveled risk, continuity, information security & IT specialist, with an understanding of global business culture and the practical implementation of management systems. He has international exposure in consulting for ISO22301 and ISO27001 across industries such as IT services /BPO, financial services & insurance, retail, and manufacturing. He is also the BSI's first Technical Expert for BS25999 and ISO22301 in India.
RV is the former president of the BCI India Chapter (2016 -2019), and the winner of the BCI India & South Asia Industry Personality Award for 2015, 2016, and 2019. In 2019, he won the CIR "Lifetime Achievement" Award and he entered the BCI Hall of Fame. In 2020, he won the DRII Lifetime Achievement Award.
When it comes to the importance of women joining the resilience industry, RV says, "I have always felt that women are resilient by nature. They demonstrate multi-tasking with ease and keep cool in any tough situation."
Throughout his time working in the resilience industry, RV highlights "how industry professionals need to be pessimistic", especially while assessing risk and the related impacts. He explains that this "helps them to bring out the best in the strategies and plans for a worst-case scenario."
In his opinion, having more women in the resilience domain means that "organizations will grow stronger." He explains, "Any 'weird' situation will get 'wired' through the Women In Resilience Domain. We have a huge task to transform the current situation of only very few women joining the resilience field in India."
RV also shares how in his career he has contributed as an ally to other professionals. He explains, "in my career to date, I have trained/mentored around 25 women who are now leaders in resilience in various organizations across different industries. As this is my passion, I am continuing to do so."
RV was also one of the founding members of the BCI India Chapter, which was set up in 2016. As one of the Chapter initiatives, they organized quarterly knowledge-sharing sessions, where they encouraged women to participate. They also created an opportunity for senior female resilience leaders to take up a role on the Chapter board.
When the BCI started the initiative to set up BCI Women In Resilience (WIR) in India, RV recommended Ratna Pawan, who he says is "a consistent contributor in the BCI Mumbai Chapter since its inception." Together, they built a team of about 30 to 35 active members, and they motivated more women to be part of BCI WiR. He says, "I'm happy to note that WIR has been very successful through Ratna's seasoned expertise as a contributing Committee Member."
RV regularly dedicates two hours during one weekend a month to mentor a few resilience professionals, ensuring that at least one is a woman. He says, "in the previous organization where I was heading BCM-GRC, I had three women in the team, who I always encouraged to participate and contribute in the Chapter quarterly sessions. One of the performance objectives set for them was industry contribution. By 'Rubbing shoulders' with fellow professionals, they shared and learned more and started contributing back to the organization in building a robust resilience framework."
According to RV, Equality, Diversity, and Inclusion (EDI) are important for promoting the welfare of women in all aspects. He explains, "in the recent pandemic, women especially had to spend about 360 hours a month on average to take care of their family and children while working. The focus on EDI has been a key platform to overcome the 'she-cession' in India due to the pandemic."
RV explains that as a result of the pandemic, organizations have brought in schemes for flexibility in working time with the required breaks while ensuring no negative impact on productivity. He says, "there were special drives in my previous organization, which engaged senior leaders to coach female employees, who had voluntarily registered themselves, thereby enhancing their leadership skills in a journey towards achieving their objective as future leaders. I have seen a few of them benefit from this exercise."
According to RV, there are a few professional bodies that "recognize women in the resilience domain for their dedicated effort. The BCI's Women in Resilience is one of the perfect platforms to engage and energize allies to be part of it and contribute to developing the community further."
When it comes to giving advice to other women and allies and encouraging them to contribute to the BCI WiR he says, "by virtue of my own experience as an ally to women in resilience, I have the following advice:
Set a mandate to yourself to have at least 33% women in your team, if not more.
Have a monthly knowledge session where you plan an equal opportunity to enable women in your team to lead it where previously the men may have done so.
Have one topic in your internal or external session that is women-centric and have the female members contribute.
Publish their contributions on your organization's intranet and social media blog/vlog or invite/provide platforms for them to publish it themselves and guide them as required.
Include thought leadership and their contribution to the industry (over and above their day job) as one objective in their performance."
More on
About the author

Former President - BCI IndiaChapter & Global BCM CoE andClientServices @ Cognizant