Women in Resilience (WiR) Spotlight: Brendine Sejake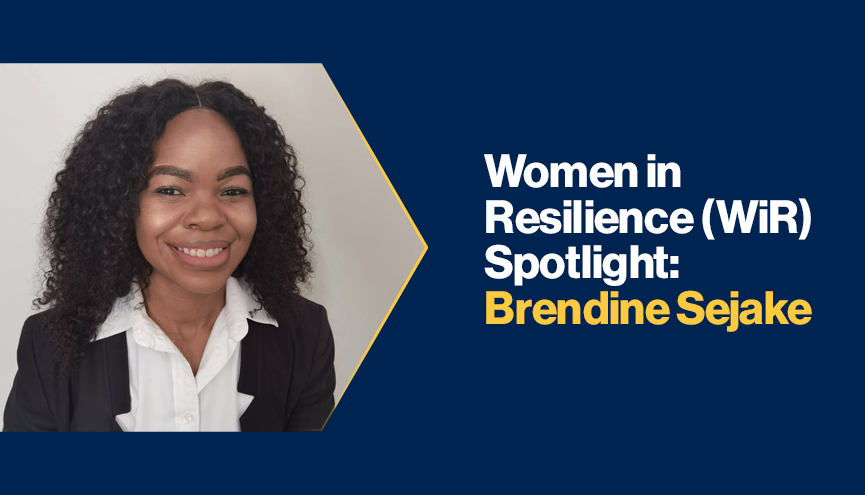 Brendine Bella Amogelang Sejake (nee Tong) is an award-winning Senior Risk Analyst and an expert in business continuity management. She has over 15 years' experience in the financial services sector, mainly in leading governance and regulatory institutions in South Africa, and has displayed strong leadership skills throughout. She is a tactical communicator with an analytical mindset and has the ability to process and present data in a meaningful and value adding way to the executive team.
Her experience includes the management of enterprise-wide business continuity programmes, alongside crisis management, information and cyber security, and large-scale internal and external audit exposure. She also has experience with the interpretation of financial regulation, risk management, accounting and auditing techniques, the formulation and implementation of strategy.
Introduction to BC and developing a career
Brendine's initial plan was to qualify as a chartered accountant, therefore she completed a Bachelor of Commerce in Accounting degree and served articles. She discovered business continuity management when evaluating compliance with policies, laws and regulations, internal controls and risk management processes. The concept of business continuity stuck with her as she found it to be a valuable and a crucial aspect of businesses, so when the opportunity to work in this field presented itself, she took it with both hands and has not looked back since.
Having acquired extensive experience in how businesses operate with a focus on governance and compliance, Brendine found that there was a need to combine governance and resilience to ensure businesses remain sustainable. However, the journey into BCM was not easy. During the first month of her new role as a business continuity manager, she realised that she had to overcome the existing silo mindset and get buy-in from executives and the crisis management team, as well as various other BCM teams, such as health and safety, ICT, communications, human resources, facilities and heads of department. Essentially, the entire organization. This was important for her, as the resilience of any organization depends on collaboration between various functions which are independent in their own right.
Brendine then went on to do her CBCI certification, which she passed with merit. She also passed her PECB ISO 22301 Lead Implementer exam. The mix of experience and qualifications has added immense value in her current role.
A turning point
The turning point for Brendine was the COVID-19 pandemic, which changed how organizations operate. "The pandemic not only tested the human spirit but highlighted the importance of mental health," she says. Following the outbreak of the pandemic, there were riots and looting of businesses in South Africa, causing disruptions and massive revenue losses. "The most painful part was seeing some small companies not being able to recover," Brendine continued.
The events highlighted the importance of business continuity and resilience. She says that managing the enterprise-wide business continuity programme and coordinating high-level decisions during this difficult time was by far the biggest test in her career and personal resilience. "Subsequently receiving the BCI Africa Award 2021 was a humbling moment which made it all worth it," Brendine adds.
A skillset for success
Over and above technical skills, Brendine says the following skills are critical to make contributions and become a leader in the continuity and resilience sector:
Leadership skills: Resilience professionals need to be transformative leaders. They should be able to influence change and inspire people in organizations to believe and contribute effectively towards their resilience programmes.
Communication and interpersonal skills: In a crisis, effective communication and mutual respect for colleagues are critical to the success of any organization. It is within this space that business continuity brings in much needed guidance and application of its principles. Organizations can have the best BCM documentation in the world, however, without buy-in and clear communication techniques, you will not be able to recover from disruptions efficiently.
Adaptability and flexibility: The ability to adapt to changing circumstances and to adjust your expectations accordingly. Incidents are not going to happen the way you anticipated, therefore a BC professional should be able to think outside the box and give much needed guidance and support to their organization.
The WIR initiative
Brendine strongly believes that the BCI WIR initiative is "not only necessary but critical for the progression and recognition of women in the resilience industry." Women need to be heard and represented in high ranking positions. The BCI WIR allows women to come together, share ideas through articles, webinars, social media and blogs, and feel empowered by taking their progression in their own hands. "This is an initiative for women by women. I believe this initiative will reach women from different backgrounds, cultures, age groups and ethnicities, and drive much needed diversity and inclusion in the resilience industry," she adds.
She applauds those women and allies in the BC and Resilience space for making the effort to improve diversity and the representation of women in the profession. However, Brendine believes there is the potential for rapid improvement in terms of diversity, especially in top positions. "I believe that BCM should be prioritised at the highest levels of decision-making in order to begin drawing fresh talent to this critical profession."
Indeed, Brendine notes that people should join the resilience community because the success of governments, communities and business depends on their sustainability and their ability to recover from disruptions. "This is the one career that will expose you to wider areas, such as risk, organizational resilience, business continuity management, health and safety, information technology, supply chains, facilities management, operations and cyber security, amongst other disciplines," she concludes.
About the author

Senior Risk Analyst, South African Reserve Bank