Women in Resilience (WiR) Spotlight: Deborah FitzPatrick MBCI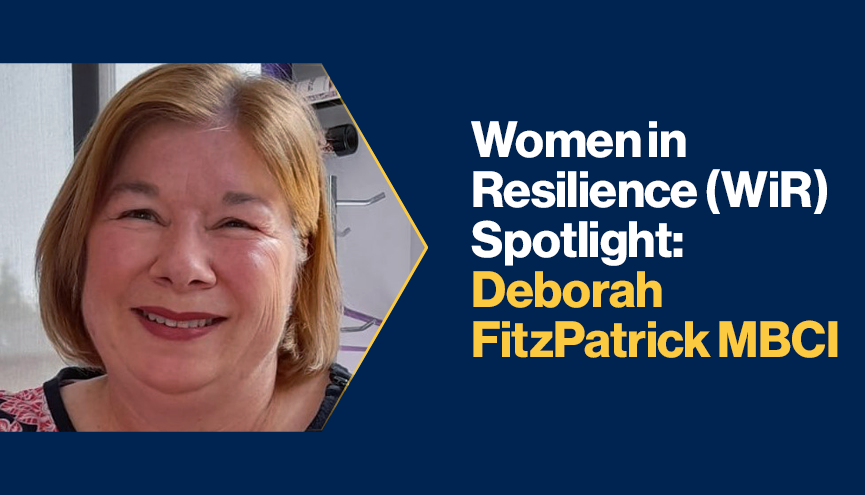 Having led business continuity management (BCM) and resilience within St John Ambulance in New Zealand for almost four years, Deborah Fitzpatrick MBCI drives for the continuing progress of BCM within the organization.
Deborah graduated with her Masters in Emergency Management degree from the Auckland University of Technology in 2018. She was also a speaker at the BCI Australasia Summits, Sydney 2018 and 2020 (virtual), and presented a webinar during BCI Business Continuity Education month in 2020. She serves as the current BCI Auckland Chapter Deputy Lead and is a member of the BCI World Horizons Programme Advisory Group 2021.
Getting into the industry and moving forwards
With regards to getting into the industry, Deborah began a new role that had an emergency management component incorporated within it and decided to improve her knowledge in this area by attending the Auckland University of Technology (AUT) Emergency Management programme. Soon after commencing AUT, Swine Flu (H1N1) arrived across the New Zealand borders. She notes that "it was a great experience to be working within the thick of things, hitting the ground running."
Since then, Deborah has worked in various emergency management roles over the last 12 years and explains that she prefers to be proactive through resilience and BCM, as opposed to responding through emergency management practice. Indeed, she found her Master's research topic 'The Collaborative Experiences of Middle Management When Implementing a Business Continuity Management System Within Their Teams' to be an inspirational journey with her participants. "The challenge that I have found through my current position is keeping the business continuity conversations going and embedding it within the organisational culture," says Deborah.
Creating a skills base
Deborah finds that you need to be a people person within the BCM field. It also helps if "you are flexible to others' requirements, get out and about, walk the talk, and endeavour to keep business continuity requirements front of mind across the organization." She says that business continuity theory, education, and soft skills are all also required to achieve a positive, proactive and continuous outcome.
What changes can we expect?
When talking about the impact and influence of the BCI WiR initiative, Deborah explains that "the BCI WiR will influence our industry. The more business continuity professionals influencing resilience through BCI and BCM from differing backgrounds and experiences, the more the industry will be enhanced."
Beyond this, Deborah wants to see changes in the profession include its influence on Government policy regarding BCM and resilience, especially within countries that do not have business continuity as a regulatory requirement.
She also considers that it will be advantageous for the sector to have more people joining the resilience community. "As we experience minor and major business disruptions, especially through the COVID-19 era and our new evolving reality, it will only be beneficial for individuals, their families, and the organizations that they work for to be more resilient," she says. "Therefore, now and in the future the wider community will reap the benefits from enhanced resilience."
More on
About the author

Business Continuity Advisor, The Order of St John New Zealand