Women in Resilience (WiR) Spotlight: Sarah Garrington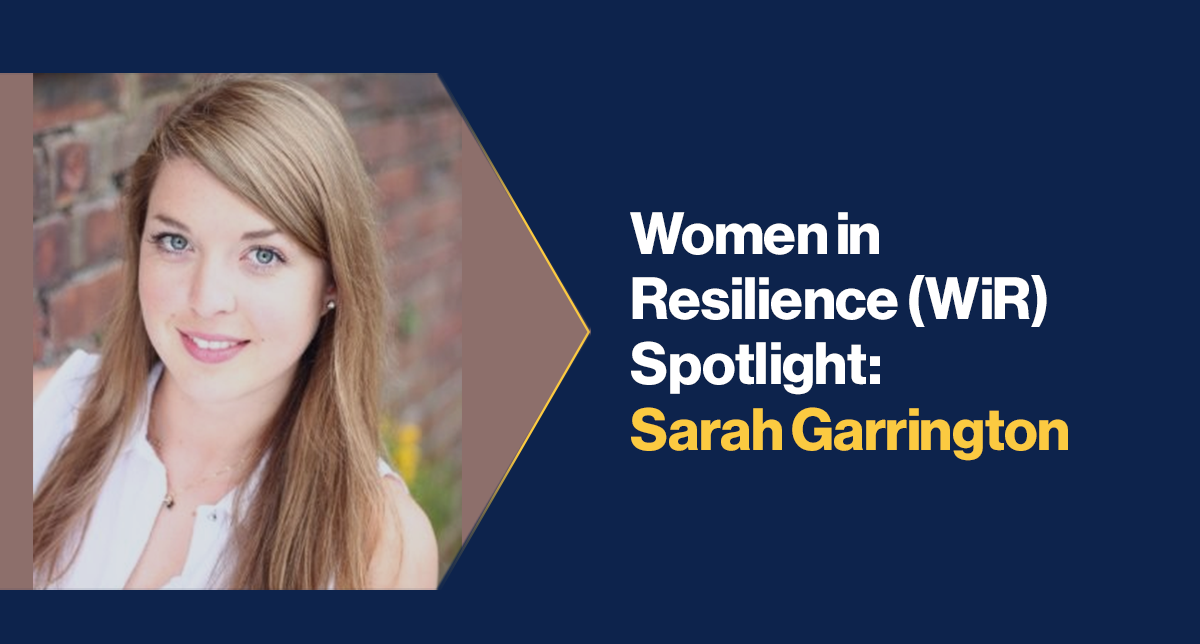 Sarah has over 7 years' experience in the Business Continuity, Crisis Management and Resilience industry. Sarah is an industry speaker, having spoken at the BCI's World Conference, Education month as well as at the Global Resilience Summit in March 2021. Sarah has worked to implement Business Continuity strategies across the Professional Services, Financial Services and Legal industries.
What brought you into the industry?
My journey to the Resilience industry wasn't a linear one! Having dabbled in a few different industries, I was asked to support the creation of a Business Continuity Plan when working in a Facilities team as nobody else in the business had the capacity. I bought "Business Continuity for Dummies", read it from cover to cover and the rest is history.
How did you reach your current position? What challenges did you face?
I'd like to think I reached my current position through persistence – I would certainly describe myself as stubborn and once I had decided I wanted a career in the Resilience industry, I made sure that I learnt as much as I could to develop. I've always thought that you've got to be your own biggest fan, so for me putting in the hours to hone my skills was definitely something that has helped me get to where I am.
I also think that finding peace with being uncomfortable is helpful – during a crisis we can't know all the answers and we sometimes have to embrace the unknown. I think the same goes with my career; nobody ever developed by sitting in their comfort zone, so to me it's really important to do things that scare me just to prove I can.
Finally, I think having some really aspirational role models has been critical to my development. I'm fortunate to be surrounded by a really driven circle of friends and relatives and being given the push to believe that there are no bounds to your ambition has helped.
In relation to challenge, I learnt fairly quickly that I have to stand up for my own beliefs where I have something valuable to add. People will always make judgements about those who challenge the status quo, but that says far more about them than it does about you!
Which specific skills do you think are needed to become a leader in your field?
I think approachability is key. Colleagues often come to those in our profession when they're in times of need – where something has gone wrong, or where they need guidance, and I think that colleagues won't do that unless they are comfortable approaching you.
Humility is next – as I mentioned, in times of crisis we are looked towards to know all the answers within a split second of an event occurring which simply isn't feasible. Accept what you don't know, ask for help where you need it and learn the answer so you know it for next time.
Tenacity is critical – don't take no for an answer if you believe what you're doing is right. Inviting those who disagree to work with you can make a powerful ally for the future.
Finally, I think the ability to remain calm under pressure is a really obvious one. We need to be able to problem solve quickly and under pressure, sometimes without all the information, and the ability to thrive in that environment so we can continue to support those around us is critical.
Do you think that the BCI WiR initiative will influence our industry? If yes, how?
Absolutely! I think that the initiative is so important to continuing the diversification of the industry and to engage the next generation of Resilience professionals. I think the initiative looks at some really key issues which all women face in workplace and can help empower the generations to come, showing them that it is possible to reach senior positions within our community.
What changes would you like to see in the profession?
I'd love to see a greater level of diversity within the industry. I think that we're at such an important turning point in our profession where losing access to a physical site is becoming a much lesser risk than it previously was, replaced by the risks around use of technology. Speaking as someone who has grown up around tech, I think it can really support our profession by giving us real data in real time, agility and wider geographical range than businesses have ever really had before. The pandemic has shown us all that it's absolutely possible to work flexibly and in a way that suits both the colleague and the business – and I'd love it if the wider industry could learn from that and move forward with that flexible mindset too.
I also think that the renewed mentality around Operational Resilience, rather than just Business Continuity, is going to be hugely positive. It's a great opportunity to look at all aspects of risk and resilience and ensure that they all work together.
In your opinion, why should more people be joining the resilience community?
I think it's a really exciting time to be joining the profession – there's so much change, both globally and for businesses at an operational level, and with change comes opportunity. Just within the last 12 months, businesses within the UK have had to deal with responding to a global pandemic and also the transition period from one of the biggest political decisions that has been taken in many peoples' lifetimes – and I couldn't think of another industry that gets to be in the thick of all the action whilst still sitting behind a desk.