BCI and EPC work together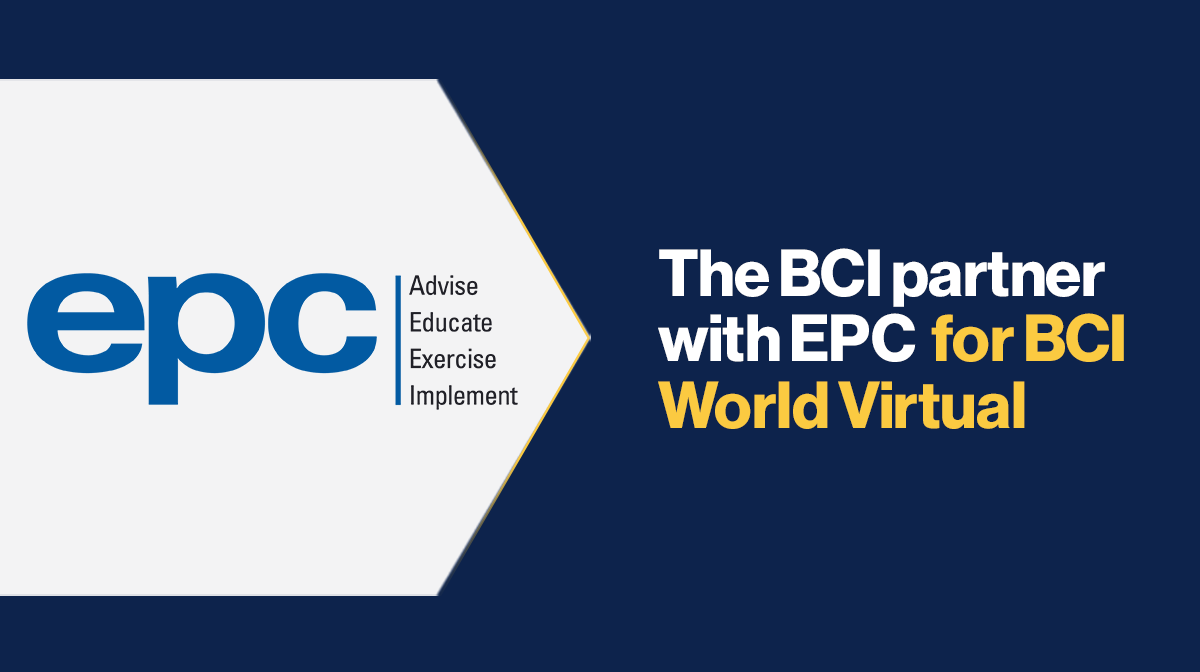 The BCI and Emergency Planning College (EPC) have partnered to bring you even more content at BCI World Virtual dedicated to those working in the public sector.
The EPC is the Cabinet Office College and the UK centre for resilience learning and development focussed on civil protection in the public sector, making them an ideal partner for BCI World.
Together we will be bringing you a selection of sessions across the two days that cover wide ranging issues faced by professionals in the public sector, including:
Concurrent Events
The UK's resilience landscape is becoming increasingly complex and demanding. One consequence is that public sector organisations, like all of us, are experiencing concurrent incidents and emergencies, alongside a response and recovery to the global pandemic. This session will use case studies to illustrate the challenges of dealing with more than one emergency at a time and explore some of the practical solutions.
Personal Resilience
EPC Associate Dr Mike Drayton will use his executive coaching skills and knowledge gained through a distinguished career as a clinical psychologist to guide you to successful ways of embedding personal resilience. Reflecting on key programmes that Dr Drayton has facilitated, he will take you through a journey of key elements of personal resilience and provide you with key takeaways for your own resilience, which is particularly important during challenging times, especially in the public gaze that public sector organisations find themselves in.
Setting Up Your Network (UK Cross-Government Business Continuity Forum)
The Cross-Government Business Continuity Forum brings together the business continuity and resilience leaders from across all UK Government Departments and their associated organisations. This session aims to provide an overview of the importance of building successful networks and relationships across organisations to strengthen resilience together.
Good practice in multi-agency decision making
This session considers the importance of maintaining records to support the decision-making process when managing incidents and emergencies. It will cover the current methodologies used and the role and importance of following good practice for decision making in an interdisciplinary setting.
Learning Lessons
This session will set out a framework for rigorously identifying lessons and good practice, and will explore how to address the challenges of moving from 'lessons identified' to 'lessons learned'.
Challenges of cyber resilience
Anyone who has experienced a cyber incident is likely to recognise the importance of a coordinated approach involving a wide range of functions. This session aims to provide tips on how to overcome some of the common barriers to effective response.
Recovery Management
This session will review the integrated emergency management doctrine which has remained relevant through the COVID-19 crisis. Continually reflecting on lessons identified and applying the principles of recovery management is the basis for considering local challenges of any incident, including COVID-19.
Getting to the Truth of it: Fake news, misinformation & disinformation
This session aims to provide a succinct overview of the typology of fake news. Learning more about how the different types and some of tools available, can assist you in navigating such information and help you to appropriately digest and process it.
Human Aspects & Working with Civil Society
This session will reflect on how communities that have been impacted have also become involved in the response and recovery. The session will focus and use case studies to explore the key 'human aspects' themes faced including psycho-social welfare, vulnerability and volunteers.
Lee Sadler, Head of Channels, at the BCI commented 'We have many delegates attend BCI World from the public sector, so it is great to partner with the EPC and be able to deliver even more dedicated content for this audience.'
Deborah Higgins, the Head of EPC added, "The EPC is pleased to work with the BCI to share our resilience experience with the public sector to deliver these highly relevant remote learning sessions."
EPC will also be part of the BCI World Virtual exhibition so make sure to drop by their booth.
More on