BCI WiR Group International Women's Day Hybrid Event #BreakTheBias
The Women in Resilience (WiR) group recently hosted their first hybrid event on March 8th, to celebrate International Women's Day 2022 which involved discussing this year's theme of #BreakTheBias.
The event had a truly global audience, we were joined by people from: Australia, Canada, Cote d'Ivoire, India, Italy, Japan, Kenya, New Zealand, Philippines, Romania, South Africa, Spain, United Kingdom, and United States.
Milena and Bethany, the WiR Events committee members:
• Welcomed the attendees in person and virtually and walked through the agenda.
• Introduced the global Women in Resilience committee and the events speakers.
Rina, Chair of the WiR committee:
• Opened the event with her thoughts around this year's International Women's Day Theme of #BreakTheBias.

EDI Non-Exec Director
Lutfur joined us to talk about Equality, Diversity and Inclusion (EDI) and the future direction for the BCI in this space
Some of the key areas discussed by Lutfur:
• Why EDI is business critical and the many benefits that can be experienced by encouraging this in the workplace.
• An overview of the current and future state of EDI at the BCI, the future state includes:
1. Implementing an EDI policy and statement.
2. Implementing a strategy to support the policy.
3. Providing a platform for EDI initiatives (such as the Women in Resilience).
4. Working together: inclusion of lived experience & intersectionality.
5. Promoting EDI through all BCI networks and stakeholder groups.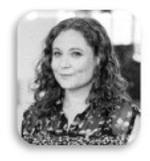 Rachel Collins
Head of Inclusion & Diversity, Colt Technology Services
Rachel's talk was on 'Breaking the bias, the opportunity for women and business'
Some of the key areas discussed by Rachel:
• Experiences of unconscious bias growing up.
• How girls are socialised differently to boys from a young age (E.g., how girls are taught to be nice, agreeable and perfect and how boys are taught to take risks, to be brave and to try things).
• How the way we socialise girls growing up may be impacting women fulfilling potential in leadership (E.g., A KPMG Women's Leadership Study reported while over 60% of women responding were ambitious about getting leadership roles they were also conscious of hesitating "as a woman" or finding it difficult to visualise it actually happening).
• Perfectionism in women and the role of satisficing to counteract this.
• The concept of 'conscious inclusion' which Rachel described as more than being aware of your unconscious biases, it's about being proactive in building a culture where everyone can belong and where inclusive behaviours are role modelled and celebrated.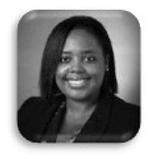 Claudia Cross
Global Deputy for Crisis Management, CBRE
Claudia's talk was on 'Perfect for the role: A radical idea!'
Some of the key areas discussed by Claudia:
• Personal journey as a minority and experiences from her early career.
• The concept of 'code switching', this is what Claudia describes as when ethnic minorities change the way they speak or act in the work setting in order to blend in, she mentioned It makes life easier but can often be mentally taxing.
• Claudia provided a quote from Myles Durkee that read "As soon as we hear someone speak, our minds automatically make associations about where they're from geographically. We also make assumptions about their education level, their income level and maybe whether or not they're a good person or not simply based on their style of speech". This is an unconscious bias we should all be aware of.
• Claudia had some clear takeaways for listeners to think about, a few have been provided below:
1. Support all women, not just the ones that look like you!
2. Don't expect us all to be the same; we are not a monolith and the movie you saw does not represent us all.
3. Understand that it is sometimes a lonely place for those of us who are different.

VP - Business Continuity Manager, Moodys
Penny's talk was on 'Bias Binding'
Some of the key areas discussed by Penny:
• Personal journey as a working mother and the biases surrounding this.
• Experience of hitting the glass ceiling in a previous job role.
• Experience and advice around menopause and the need for organisations to do more in this area (E.g., adopt a Menopause Policy with HR benefits and training in place for all managers).
• Penny recommended the book 'How women rise' by Sally Helgesen and Marshall Goldsmith which talks about 12 habits that are holding women back. One of these is 'minimising' which is where women underplay what they have achieved.
• Penny spoke about "hostile sexism which involves reflecting negative views of people, especially women, who challenge traditional gender roles". Penny explained, when women face this, they sometimes have to choose between being liked but not respected or being respected but not liked. Penny gave an example of this where a mother who takes time out from work may be perceived as "putting their family ahead of their work / career" vs. "being an uncaring cold and selfish person". It is important we educate ourselves on these biases.
The WiR Group had a positive response and very engaging event followed by a networking session for those attending in person, who were able to share their views, personal stories and challenges and celebrate with fizz, a selection of appetisers and bites.
We would like to thank our wonderful speakers, the global WiR Committee and Kirstie Wise (BCI).
Special thanks to our sponsor Marsh for the wonderful venue, tech support and fantastic catering.
We look forward to seeing you soon at our upcoming events / webinars.
We encourage all of you to connect with our Women in Resilience Group on LinkedIn, with other group members and also contact us to get involved.
If you would like to be a speaker, sponsor or host our future WiR events, contact Milena Maneva and Bethany Warren.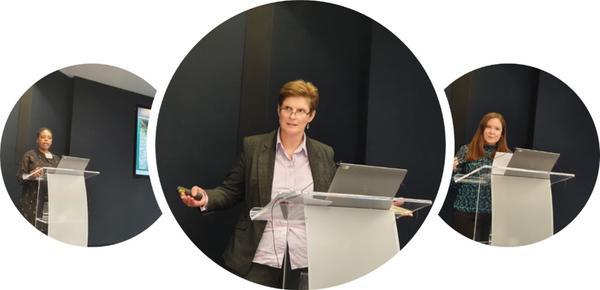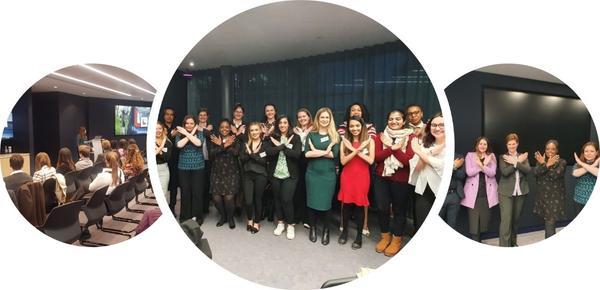 Competition show solidarity with us this #InternationalWomensDay2022 #BreakTheBias pose
We are so grateful to all who supported #IWD2022 by standing strong and breaking bias. We couldn't just pick one winner and included everyone because together and united we can make a difference and influence change. Massive thanks to the global WiR Committee, Lutfur Ali, Ratna Pawan and the Women in BCM (India), BCI East Chapter, Michelle Neisen, Nandini Shekhawat, Macarena Rodriguez, Margaret J. Millett, Cheryl Griffith, Alexandra Hoffmann, Michele L. Turner, Daman Dev Sood.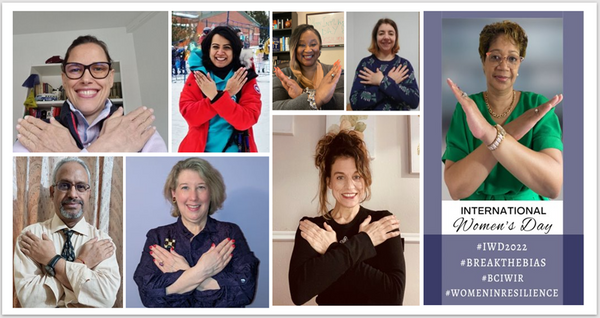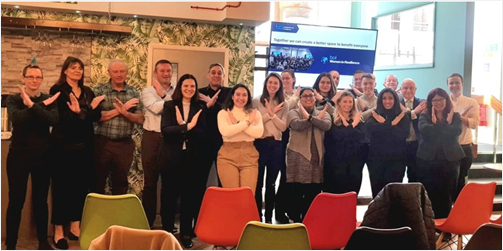 More on