Can eLearning help you to embed Business Continuity?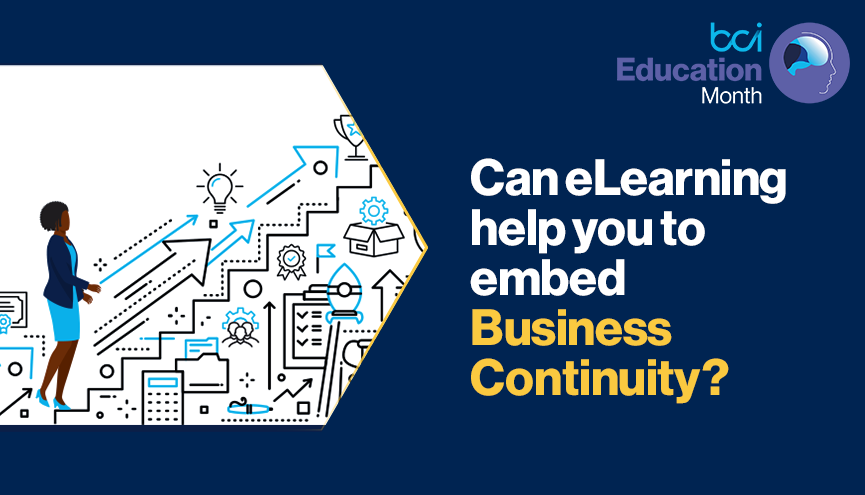 Embedding Business Continuity (BC) is one of the most crucial stages of the Business Continuity Management (BCM) Lifecycle. This is the stage where BC professionals work with a large number of staff to grow BC awareness and integrate BC practices into business as usual activities and organizational culture.
Ask any BC professional or practitioner and they will tell you that this stage can be challenging for a number of reasons, including lack of staff interest/engagement, lack of understanding the importance of BC, lack of top-management involvement and the list goes on…
Education and training play an important role when it comes to embedding. The outcomes that you want to achieve from training your staff in BC are mainly these three:
Your staff gain knowledge of BC
Your staff engage in BC and apply it in their day-to-day work
Your staff are aware and execute the BC plan when needed.
Once you have identified the level of training that your staff require, it is important to find the format that most suits them. On one hand, for staff that are involved in incident response, you might want to look into more in-depth training. On the other hand, for what is usually the large majority of your staff, you will want a training format that they can easily 'digest' but also gain essential knowledge from - this is where eLearning can come into play.
Content in eLearning courses, like the BCI's, is concise and to the point. Your staff will gain knowledge that they will be able to directly apply to their daily job. The BCI has a range of e-Learning courses that are on-demand and self-paced, they can be used on mobile, tablet and desktop, allowing your staff to study at a time and location suitable to you.
The BCI's Introduction to Business Continuity eLearning Course or the Business Continuity Basics eLearning Course are a great way to provide essential understanding of BC in just a few hours or minutes, and once completed, your staff will receive a certificate.
The courses are designed to be informative and interactive:
BC is explained in plain English so that your staff can acquire concepts and terminology easily. There are also animated videos, a glossary of key terms, and a downloadable action plan to encourage your staff to think about their organization.
The course also contains case studies to help participants think about how BC can be applied to a variety of situations and businesses.
The courses encourages your staff to carry out actions and answer questions through each module so that they are engaged with the course content.
At the end of each module there is a quiz to assess understanding.
From an organizational point of view, eLearning also saves you money! The investment on the purchase of a single eLearning course or a corporate licence is way lower than costs of on-site training, such as traveling and accommodation costs for trainers and trainees, or renting a venue and creating physical training material, etc..
Another great bonus with eLearning is employee engagement. Thanks to the interactive format, the course provides staff with consistent feedback through the use of quizzes and videos. These activities produce immediate results that inform employees of their strengths and knowledge gaps.
During Education Month 2022 we are offering a special 25% discount on selected eLearning Courses, click on the link below to find out more on how to access this time-limited promotion.
To be the first to know about BCI News and more follow us on LinkedIn here, or on Twitter @TheBCEye
More on
About the author

Marketing & Content Manager , The BCI