CBCI - Certifications and their Benefits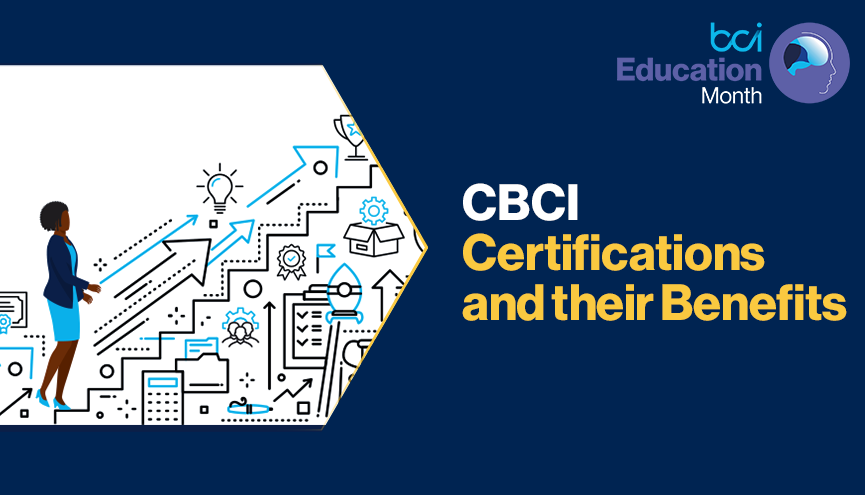 Sometimes, you never know what fate has in store for you when it comes to careers. For me, the journey into Business Continuity and Organizational Resilience was purely taken by accident, but it has since been a standing passion, and I consider myself blessed to be doing the thing I love.
In December 2015, the company that I worked for signed me up with two other employees to participate in a 4-day intensive course to prepare for the CBCI Certification Exam. This program was part of the Malaysian Government's objective to increase the number of certified professionals in the country. Back then, Business Continuity was not as prominent as it is now. The three participants took the course seriously and succeeded in becoming certified with The BCI. Unbelievably, for me, the actual benefits of being CBCI-certified only came several years later.
The value of a professional certification does not normally make itself obvious immediately, but over time and with the emergence of an opportunity.
In time after receiving my CBCI certification, I was still very much in the Internal Audit profession. While not directly involved in Business Continuity - since the field was not even recognized by my company at the time - the knowledge of Business Continuity Management best practices, as articulated in the Good Practices Guideline, enhanced my internal audit fieldwork. Especially when it came to evaluating operations of our subsidiary companies' business resilience in supply chain management, as well as assessing threat and disaster recovery adequacy. As a direct result, the audits contained an increasing number of practical value-added findings, which resulted in recommendations to the auditees that they used to strengthen their operations, business resilience, and recovery planning.
Gaining a certification does not only lend itself to the certification's subject matter but often to other professional areas that one is currently in as well.
Credibility comes with an internationally recognized certification. The CBCI gave me increased acknowledgment during audit discussions. Business Continuity matters brought up in my role as a certified CBCI and internal auditor was taken into consideration by the Heads of the Company as they recognized the value of my certification and assessment of my competencies.
Being certified widens your network with like-minded professionals, even from diverse industries. This is a great way to gain exposure to diverse types of Business Continuity execution methods, acquire further knowledge, and potentially provide advice to others according to the suitability of their industry. Most certifications carry with them the ability to access knowledge-based information and materials, and the CBCI is one such certification. It provides access to documented professional expertise and experience on the BCI members' website to help in enhancing and value-adding one's worth to the organization.
Internationally recognized certifications broaden one's thinking through widened interactions with others who have gone through the certification trials through their own work and professional experiences. It also often gives access to an exclusive body of knowledge to further increase a person's professional knowledge and resulting value.
Five years after gaining my CBCI certification, I came to understand its value when I joined a new company as Head of BCM. Having both the certification, as well as experience in IT and operational auditing made the Human Resource Department extremely confident in offering me the job.
By being internationally certified, a person's position in their current and future jobs is strengthened as the organization sees you as the point of reference and proven subject matter expert.
Being knowledgeable in the BCM Lifecycle as promoted by the BCI, puts a person in a good position to build, implement and execute a BC program in their organization, and ensure that it is comprehensive and in compliance with the ISO 22301 Standard if the organization wishes to be. This further enhances a person's professional profile both within the organization that they are working in, as well as in other organizations that are looking to hire an experienced professional who has proven themselves in implementing effective BC systems and has the necessary certifications to back it up.
Employers look for certified candidates in addition to work experiences, so that they can eliminate the guesswork as to the suitability and qualification of potential new hires to their organization.
In summary, going for an internationally recognized certification like the CBCI is tantamount to taking the necessary steps to 'Future Proof Your Career'
To be the first to know about BCI News and more follow us on LinkedIn here, or on Twitter @TheBCEye
More on
About the author

Assistant Vice President 1
An IT & operational internal auditor with experience in auditing automotive manufacturing/assembly/distribution,logistics,services,property,hospitality,education through past employment with DRB-HICOM BHD & NCB HOLDINGS BHD. Proficient in ACL CAATS use and certified in Business Continuity (CBCI) and is a Certified Information Systems Auditor (CISA)