Extreme heatwaves put pressure on power supply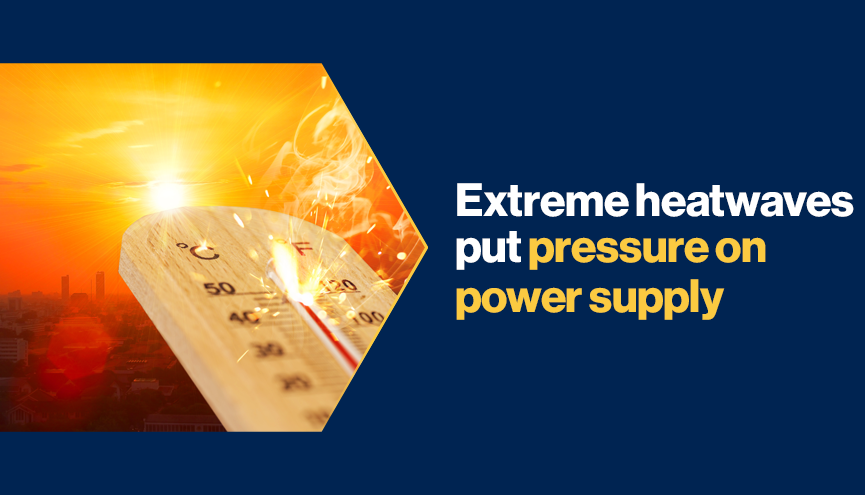 India and Pakistan are both facing extreme heatwaves, with temperatures reaching record highs for April and May. The soaring temperatures have resulted in further pressure on energy supply as people turn to air conditioning to lessen the worst impacts of the heat. The increased demand is straining electricity supply and leading to power outages, with some in India lasting up to 14hrs a day[1].
The extreme temperatures in India and Pakistan have now lasted three weeks but are especially notable for their early onset, arriving before the summer months truly begin. The unexpected early arrival of the heat and sudden climb in electricity demand is now causing disruption throughout both countries.
Climate change – a chronic threat
Many have already linked the early arrival of the high temperatures to climate change[2]. In The BCI's Extreme Weather and Climate Change Report 2022, we see that many organizations view severe weather events, such as the heatwave, as acute and manageable through standard Business Continuity practices. For example, in the case of a heatwave resulting in a power outage, organizations can prepare by having an alternative power supply (such as gas-powered generators in the eventuality of an electrical failure) available. But short-term solutions may not be appropriate for a long-term chronic threat, especially for those organizations with higher power demands. Furthermore, as the report finds, organizations are not viewing extreme weather events linked to climate change as a chronic risk.
Indeed, as the world reports an increase in severe weather events related to climate change, industries which have large-scale power demands may find themselves particularly vulnerable to repeated stoppages, unless methods to address the chronic threat are put into action as early as possible.
For more information on how organizations are addressing climate risk, read the report here: https://www.thebci.org/resource/bci-extreme-weather---climate-change-report-2022.html
Resulting threats from the Indian and Pakistan heatwave
Another finding of the Extreme Weather report is how, at 42.1%, participants rated supply chain disruption as one of the leading concerns resulting from climate-related events.
With regards to the heatwave affecting India and Pakistan, the increased power demand has had another impact on an already-weakened energy supply chain. Since coal is such an important part of both countries' energy mix, imports of the fuel will have to increase to meet demand. This will be especially important due to reports that India's coal stocks are low in as many as 108 of its 173 power plants, according to a BBC report[3]. As coal prices, amongst other energy sources, are at a high-point as a result of the war in Ukraine, one solution will be to increase domestic production of coal as much as feasibly possible. Still, organizations will be aware of rising energy prices.
In addition to this, another threat which could emerge is further damage to the weakened food supply chain, as India's extensive wheat crops are damaged by the extensive heat and farmers contend with working outside under the sun without methods of cooling down.
From all of this, we can this how extreme weather events relating to climate change can pose a threat on multiple fronts and it is simply a matter of when organizations will have to contend with them.
---
[1] https://www.bbc.co.uk/news/world-asia-india-61330302
[2] https://news.sky.com/story/india-and-pakistan-extreme-heatwaves-leave-people-gasping-in-the-shade-12604519
[3] https://www.bbc.co.uk/news/world-asia-india-61330302
More on
About the author