Introducing the BCI Cyber Resilience Special Interest Group (SIG)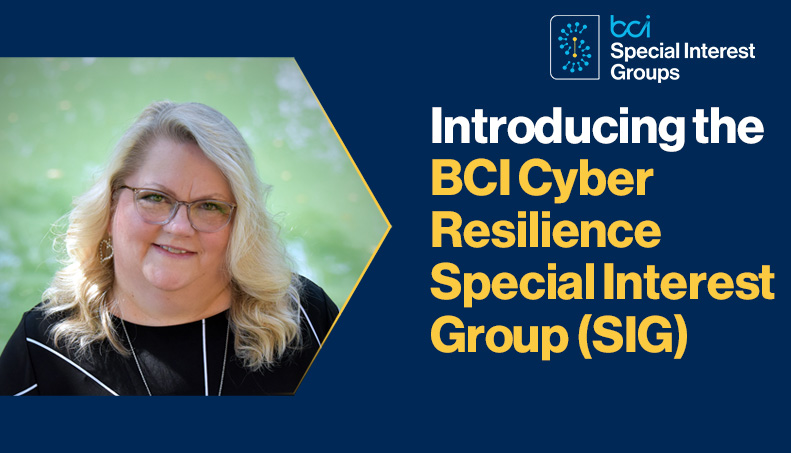 In this spotlight, Alice Kaltenmark FBCI, leader of the new BCI Cyber Resilience Special Interest Group (SIG), introduces the SIG, as well as the aims and objectives for the group.
What is the intention for the BCI Cyber Resilience SIG?
The SIG is directly related to growing a more resilient world. Cyber incidents impact everyone in a different way, but it is currently a global issue that is solved locally within each organization. However, by providing thought leadership and guidance in this space, as well as presenting a forum for people to participate in, the SIG will help to broaden and deliver on that vision of a resilient world.
The SIG will bring together experts in cyber resilience so they can share their experiences and begin forming guidance for organizations. The intention is to leverage our collective experience and explore new ideas to bring thought leadership into the cyber resilience space. I also envision the development of a variety of blog posts, web articles, and infographics which can be shared with the broader resilience community.
Providing good collateral for other resilience professionals to be able to use within their programmes is important. I want to begin this sooner rather than later, so we can start a flow of dialogue with the resilience community and provide a forum for people to be a part of the conversation.
What type of challenges are organizations and professionals facing regarding cyber resilience?
One of the main challenges is what are now defined as standard cyber attacks, such as denial of service attacks, malware, and trojan horses. These are attacks where bad actors can get access to an organization's technology system and wreak havoc by corrupting data, impacting or denying service, and essentially putting so much noise on the network that it can shut a website down.
Ransomware is another threat to consider. A hijacked system which is held for ransom is a criminal act with catastrophic ripple effects. Then there's the day-to-day issue of private information and keeping it private, so that bad actors can't commit identity fraud and put people at financial risk.
These types of challenges can run the full spectrum of impact, all the way from organizational to global system impacts. Cyber incidents can affect telecom infrastructure, utilities, and other basic fundamental services required for daily life support. Therefore, part of the initial conversations for the committee will be considering where we need to focus first. This feeds into our long-term objectives, which will be decided at the same time.
What will the SIG provide for those members who join?
Firstly, it's about having a safe place for a conversation and then figuring out what we want to do as a team. It's going to be collaborative. We're also going to chart our own course by allowing the committee to define what they are and what they're going to deliver.
I expect that the SIG will start with people who are passionate about cyber resilience and the value it brings to organizations, to people directly, and to their communities. However, everyone around the globe, whether they have an electronic device or not, can be impacted by cyber resilience as the services that they use are connected to the rest of the world.
For those that choose to join and become part of the conversation, they're going to start by learning and by building their own personal network. This has already begun as, looking at the initial starting members for the SIG, they're all individuals I had never connected with before.
In this manner, I've already grown my network. I'm going to learn from them and they're going to learn from me. Indeed, for anybody joining in the group, they're going to have an opportunity to have intense but impactful conversations about improving our resilience capability (and defining what that even means). What I find exciting is that we're getting the opportunity to shape our world instead of being told what our world is. We have an opportunity to really make an impact!
I'm particularly excited about getting this conversation started, building new relationships, and working with people that I haven't worked with before. There's so much to learn and I'm excited about the learning ahead.
More on
About the author
Service Continuity Manager
Alice is a recognized business resilience expert who contributes as a resilience thought leader, mentor, and evangelist. Alice's professional experience spans over 20 years in business continuity and disaster recovery in the information solutions industry and over 40 years in IT.
She leads the global technical resilience (ITDR) governance program for the LexisNexis Legal business of RELX and leads the LexisNexis Infrastructure & Technology Operations business continuity and disaster recovery program. Alice chairs the RELX Technical Resilience Working Group setting and guiding TR requirements and best practices for RELX businesses.
Alice holds a Bachelor of Science degree in General Studies from University of Dayton and holds the Master Business Continuity Professional (MBCP) certification and the Fellow of the Business Continuity Institute (FBCI) certification. Alice was awarded BCI's prestigious Honorary FBCI global award in 2020 recognizing her significant contributions to the continuity and resilience profession. 
Alice is committed to giving back to the business continuity community and growing the profession. She currently serves as BCI Cyber Resilience SIG Leader and as Past President & Treasurer, Continuity Professionals of Ohio (CPO). Additional voluntary roles with the BCI include USA Chapter member, co-leader and leader (2015-2021), BCI World Hybrid Program Advisory Group member and team lead (2020-2023), and BCI Awards Judge (2018-present). Alice is a BCI approved instructor and is an active member of the ISO TSC292 US TAG serving on Working Group 2 and Working Group 9.