Organizational Resilience: it's time to stop pressing the snooze button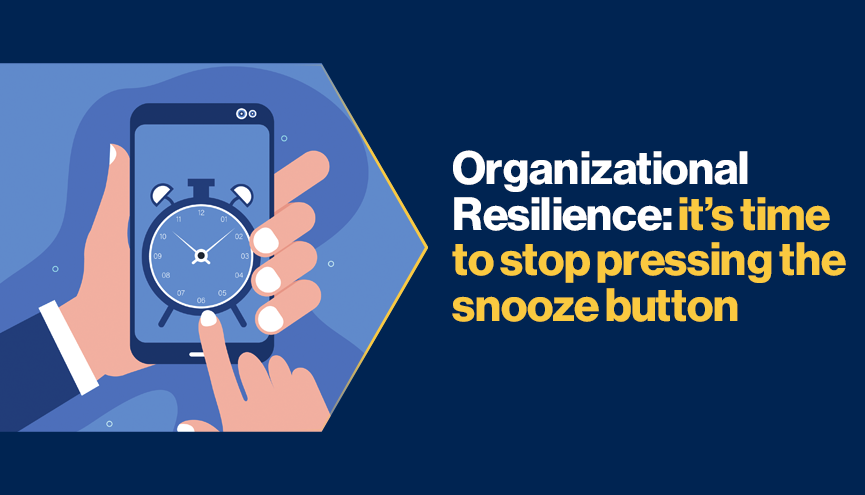 Despite my own opinion of Elon Musk, I do like something he once said: "Some people don't like change, but you need to embrace change if the alternative is disaster." Simple, but true.
The same could be said of where we are now in the UK, with most socioeconomic dials already into the red zone and alarms buzzing on numerous threat gauges and risk assessments.
Various socioeconomic barometers already point to a vulnerable and highly dissatisfied society. This includes the escalating use of food banks that now outnumber Greggs, a worsening sense of energy insecurity (we could soon experience 'Brownouts' as the UK power framework struggles to maintain a constant flow) and fears about food insecurity that could easily lead to panic buying.
This means that it's time to switch on the government Resilience Committee and get the Minister for Resilience working across HMG. Except we don't have either. In fact, we don't even have a published National Resilience Strategy.
I have no doubt our relatively new government would wish it otherwise, but with so many conflicting demands on resources, time and money, it is too easy to put anything that hasn't quite reached disaster proportions into the pending tray. This is despite some important reviews on our national state of resilience revealing a very troubling picture of UK preparedness (e.g. House of Lords, December 2021, and the National Preparedness Commission, May 2022).
To make things worse, at the time of writing the pound has shrunk to a record low. Unfortunately, weak currencies raise dollar-priced goods, raising import costs and fuelling inflation, which exacerbates the cost-of-living crisis. Through listening to phone-in callers on the radio, reading newspapers or watching news broadcasts, you get an increasing sense of citizen rage that cannot be ignored. So, where does this leave Organizational Resilience (OR)?
Taking a broader focus, the World Economic Forum has quite rightly pointed out that OR is not a response to risk, per se, which can often be quantified, but rather to uncertainty, which most often cannot - therein lies the problem. The government is still uncertain what the culmination of rising barometers and spinning dials will actually look like when it all erupts, knowing our reaction to national dramas in the past has depended very much on certainty. This certainty usually occurs well after the optimum time to intervene, so it all becomes vastly more expensive.
Our leaders should, therefore, adapt their approach and plan national OR to prepare us for a host of economic, social, geopolitical, technological and health shocks, all of which have the capacity to inflict different levels of disruption, perhaps simultaneously, across society.
Therefore, I was concerned to read oral evidence a few weeks ago from the Joint Committee on the National Security Strategy's inquiry into critical national infrastructure and climate adaptation. Margaret Beckett MP, chair of the session, noted that "many of our witnesses have lamented the lack of join-up across government…we were very disappointed and rather shocked that the Cabinet Office decided that it would not send a Minister to give evidence on this topic."
Added to which, we cannot ignore the profound knock-on impacts of Putin's invasion of Ukraine, nor his most recent rhetoric about the possible use of nuclear weapons (unlike the West, Russia has no hierarchical gap between conventional and nuclear weapons). However, that's not all. Russia also has submarines equipped to cut through deep underwater cables which would largely cease communication networks between countries. We can now presume they also have the capacity to destroy deep ocean gas pipelines and it could get worse.
According to the Center for Strategic and International Studies, there are approximately 530 cables under the ocean worldwide, covering 1.3 million kilometres (half a million miles) in all. Sometimes described the "world's information super-highways," these cables carry over 95% of international data. Indeed, daily financial transactions worth US$10 trillion are dependent on them.
Therefore, at the very least, we should beef up Business Continuity Management in its widest sense, combining both public and private sectors in case of major breaks, as well as NATO. We can't be 100% certain what might happen next, but delay can no longer be an option. The government and, in some cases, industry needs to move the topic of uncertainty into the forefront of organizational strategy and implementation.
In a world where terms like "black swan" and "one in one hundred year" events have lost all significance, recent lessons have accelerated the importance of replacing rhetoric and verbal commitments on OR with tangible action.
The opportunities to improve UK OR are already there, but the dangers of waiting remain all too obvious. Even when, at last, the government reveals a National Resilience Strategy that is hopefully effective, we will still need to move from intention to implementation in quick time.
The trouble is, when every day is a crisis of some sort, the temptation is to try and only deal with what's immediately in front of you and considered urgent. The focus needs to be on what's urgent and important, without waiting for absolute certainty, by which time it's likely to be too late.
An uplift of collective mindset within the Cabinet is urgently required to embrace change as the alternative is very likely to be a disaster. Sadly, I am not optimistic.
More on
About the author