The importance of supporting the BCI and how you can get involved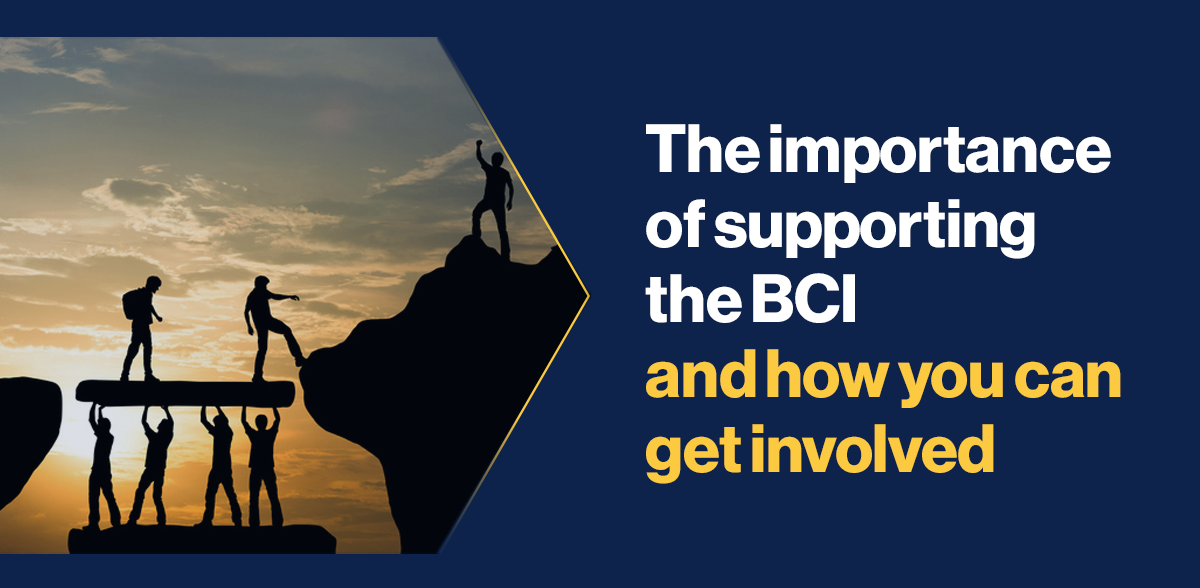 As a member of the BCI for nearly 16 years I have been involved on the periphery of the Institute's activities, but in the last few years I decided I was not doing enough. I appreciate the Institute and the resources it provides me, so I sought opportunities to 'give something back', and I would encourage everyone else to do the same.

There are a number of key areas where you can contribute, all of which are personally rewarding and, very importantly, can contribute to the ongoing development of our professional body and our industry.

Regional chapters

I have been a member of the BCI's regional chapters for more years than I care to remember, but due to the nature of my work I have been a little nomadic, and as a result I have attended and hosted many different chapters in the UK (North West, East Midlands, South West). Recently I landed back in the North Midlands chapter, where I originally started, and have recently joined the planning committee. These chapters are a great source of information, both from the other members and the BCI, and provide a great network for discussion and debate of the key topics and challenges we face as practitioners.

Mentoring

I have mentored a number of individuals over the years, both inside and outside of the BCI's scheme. This allows you to pass on your experience and knowledge to someone starting out in the industry, supporting their growth in our profession, creating the next generation of BC & Resilience professionals. What's more, I have learned as much from my mentees as they have from me as their mentor.

Awards judging

I have been judging regional and national awards for the last three year and have contributed as a judge to at least one category from each region and the worldwide award in each of those three years. I find this a great way to support the Institute and your fellow members, providing recognition to those individuals and companies that make our industry what it is.

Research

I have been lucky enough to be part of a number of Research panels and have recently been involved in working parties on the BCI's recent rebrand and 'The Future of Business Continuity. As part of the thought leadership team, whilst I am only a very small part in these working parties, I feel that my contribution is valued and beneficial. Being part of these groups allows you to have a say in the direction of travel of our industry and the Institute so is a very worthwhile activity. In addition, there are regular surveys on topical issues, and these provide another great way to contribute.
Volunteering

I have a particular passion for volunteering, and in particular working with schools and young adults as they start out on their journey towards employment. The BCI made me aware of the UK based Inspiring the Future scheme which pairs you with schools and colleges who are looking for professionals to support their students. The vast majority of them have not heard of business continuity and resilience, so this is an opportunity to get them interested in our field, as well as providing more general advice and support on careers and personal development.

Information on all of these opportunities to contribute can be found on the BCI website. I would encourage you to get involved, the Institute needs your support, and these activities can help shape our industry and develop you as a professional as you move through the various membership grades.

About the author
BCM Solutions - Principal Consultant
I am an experienced and award winning Business Continuity, Crisis Management, Risk and Resilience professional, having worked at a senior level for some of the world's foremost organisations.