When the crisis is over…your recovery begins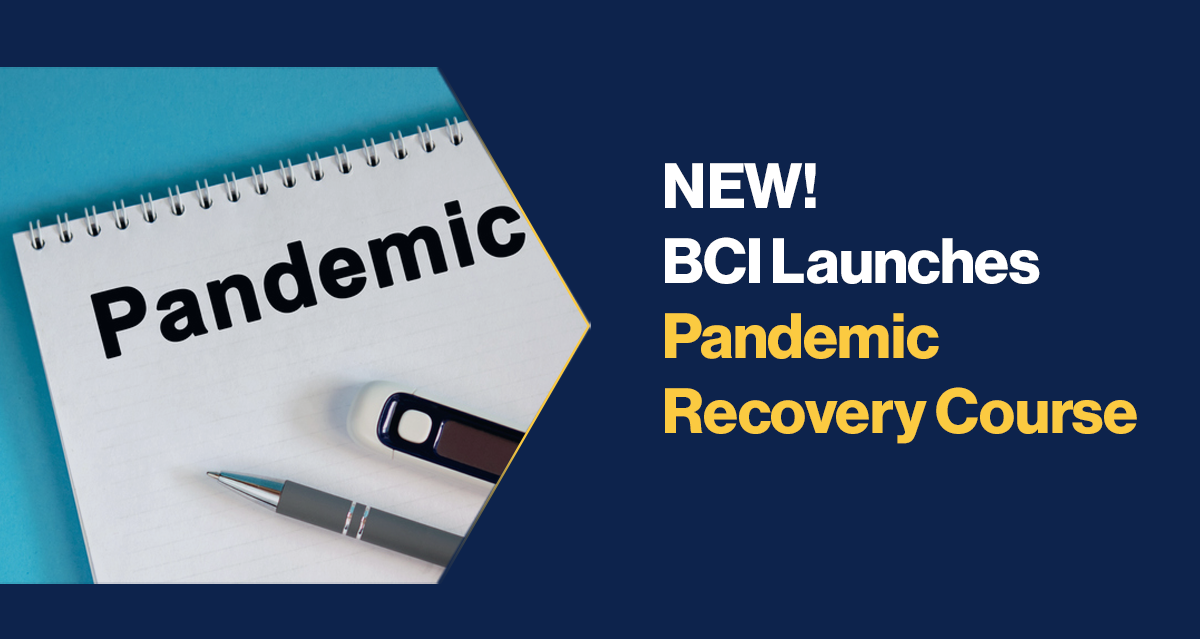 New BCI Pandemic Recovery Course puts BC practitioners on the inside track to the "new normal"
None of us have ever seen anything before like the current COVID-19 pandemic crisis. It's stretched many organisations to breaking point and beyond. Even those organisations with tried and tested Business Continuity arrangements and plans for generic pandemic scenarios have struggled to adapt to the sheer scale of COVID-19 leading to us into the most dynamic, real-time emergency of our careers.
It is far from over yet. You've survived through the response phase, what next?
Many organisations are currently planning for a return to the workplace. But the dramatic and rapid adaptation that marked the response means that many organizations are not well placed for a straightforward return to "business as usual". Some organizations have completely changed their business models and/or products and services. Others have been forced to completely re-think their supply chains, whilst some are essentially moth-balled and surviving only through government financial support. Frontline BC professionals have had to ramp-up operations to extraordinary levels.
The post-pandemic business environment is far from certain. Every global crisis leaves a legacy. Some changes are short term, surviving only as long as the group memory. Some are localized and related to specific traumatic or heroic events. But many of the changes we expect to see will be long-term, acute and structural…changes that will impact the way we live our lives and the way we do business for some time to come.
The acute pandemic phase will end… but if we are to avoid a severe and long-term economic recession, organizations that have survived must ensure they are well positioned for the changed environment that develops.
We want to help you become proactive not reactive in this "new normal". This new BCI course will guide you to take stock of your current position and to define the new norms that emerge. It will help you plan a return to profitable operations so your business can play its full part in the recovery of the global economy. Quickly.
Who is this course for?
The course is for experienced business continuity professionals and teams who are involved in planning for the implementation of robust return to work policies and developing continuity processes for systems that have undergone intensive and sudden change, and which have to work right the first time.
What does the course cover?
The course is broken down into four modules, exploring the concept of recovery as well as the practical application using a number of different organizational starting points (e.g. a front-line organization, a moth-balled organization, a re-purposed organization etc.). It takes a practical, non-theoretical approach and you can use your own organization as a case study.
Modules:
Module 1: The Business Continuity challenges of COVID-19
Ability to recognize the different types of business continuity challenges that COVID-19 poses to a business, so that their specific impacts can be determined.
Module 2: Understanding the post-pandemic environment
Be able to use a range of business planning tools to anticipate the future internal and external environment for the business.
Module 3: Understanding the current organizational situation
Ability to analyse the current situation of the business. Understand how leadership will develop startegy by using tools such a SWOT, PESTLE and SIPOC etc.
Module 4: Planning the restoration of the new normal business
Understand the different processes involved in the restoration including introduction to stakeholder engagement, communication, and organisational change management.
The course will contain 5 -6 hours of content and will be available online via a webcast to consume on demand and will be available within a matter of weeks.
What are the benefits of me taking the course?
The course will help you identify and gain practical insight into the key process steps so that you can offer a lead to your organisation in adapting to the new realities of its situation.
The speed of your business recovery is a source of considerable competitive advantage. Seize that advantage!
More on