WiR Spotlight: 'Resilience is changing the way we approach business continuity'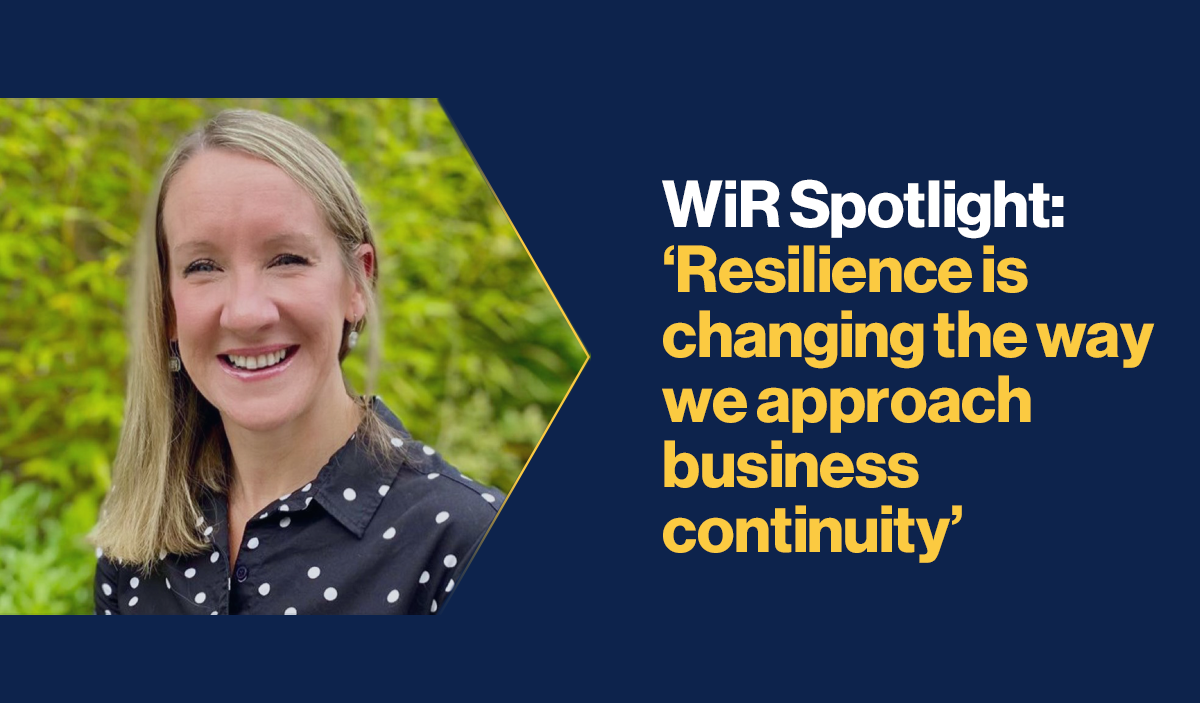 After 16 years in the Metropolitan Police Service, Business Continuity Manager for RSA, Sally Bliss, talks to The BCI WiR about her career journey into BC and the changes she would like to see in the industry
BC Manager, Sally Bliss believes resilience is changing the approach to BC, and highlighting how operational resiliency and BC work together to make an organization stronger. She says, "It requires the support and collaboration from across the business, covering our people, property, processes, technology, data, and third parties that underpin the delivery of the services we provide our customers. It is therefore important that our 'People' know the part they play to make industry more resilient and investment will go some way to future proof our capability."
According to Sally, resilience is echoed as a primary focus for many BC professionals in the years ahead. The disruptions caused by COVID -19 have made businesses invest in resilience strategies to ensure that they are able to continue to deliver services to their customers. Sally believes the best way to do this is to invest in training and educating employees on how to integrate resilience not only in the workplace, but in their personal lives as well, "….it's important to educate employees with a view of changing the cultural mindset towards resilience, both organisationally and in respect of their personal lives too. Initiatives driven by organizations are important to impart, and this community provides the platform to do so and collaboratively allows it to nurture & grow, improving our overall resiliency and collectively making us stronger."
When asked on what changes she would like to see in the BC profession, she said that would like to see a greater focus on 'people'. She believes that without focusing on people, an organizations' reliance goals are 'futile'. "Further investment into resilience, culturally and financially, is necessary. .If businesses can't adapt to changing circumstances and take their 'People' on their journey then they can't survive, let alone thrive".
After 16 years as an Ex-Metropolitan Police Detective Sergeant, Sally took the leap from a career specialising in the Organised Crime Commands Serious Sexual Offences Unit and landed a role in RSA. Taking the leap from the public sector to the private sector - where she described herself as the 'underdog' - was life changing she said. She found that her policing background gave her many transferrable skills to help her succeed in her new career, but the transition into understanding business as a whole was 'a steep learning curve'. She said, "I felt a sense of starting at the bottom of the ladder again having taken a different journey to get where I am today. Even though my role as Business Continuity Manager, plays to my previous career strengths, I initially had confidence issues driven by high expectations, putting unnecessary pressure on myself and creating self-doubt (imposter syndrome) despite my accomplishments."
She applied for an internal mentoring programme where she got to support women in developing their careers, improving their leadership skills and gain insights into barriers women face in the workplace. This position challenged her initial self-doubt, reframed her limiting beliefs, which she said started to accelerate her self-worth, "With the latter in mind an opportunity arose to take on the position of Chair of the Insurance Sector Business Continuity Group (ISBCG) and with a newfound belief I put myself forward and successfully secured the position; one to relish & enjoy"
Soon after starting at RSA she was nominated for the Site Leader position which made her an essential part of BC. Not long after, she was asked to apply for the BC Manager position. She joined the role in November 2019, and a few months later, the COVID-19 outbreak hit the UK, which allowed her to accelerate her learning about the industry.
Becoming a leader in this field required many key skills. Sally believes being a respectable leader in this field takes a strong social profile, "You need the ability to be persuasive, decisive, effective in a crisis, confident in dealing with senior leadership and an influential presenter, and negotiator."
She went on to outline the below list of skills needed for success in this industry:
Empower and develop your team: The aptitude to develop, lead and coach with the aim of building a high performing multi-disciplined team and improving overall effectiveness can be an art form. If mastered empowering leadership can arm employees with a voice; influencing employee commitment and motivation shaping a role into a more enjoyable and meaningful position and ultimately enables employees to 'go above and beyond' not only for the industry itself but wider which can bring out greater well-being, reward, value and a fulfilling career.
Possessing strong stakeholder management: This allows you and your team to take a collaborative approach, build relationships, influence, facilitate and can in turn can motivate & inspire others.
Ability to be dynamic Whether it is a natural disaster, system outage or a pandemic such as COVID-19, these kinds of disruptions have a profound effect on how we live and work which present challenges but having the ability to be dynamic enables leaders to; anticipate problems, adapt to fast changing environments and be creative and innovative in how we respond to address the needs of a business and its people.
Sally went on to say The BCI WiR is an influential initiative as it helps women who are seeking opportunities to raise their professional profile, access advanced knowledge and share ideas and best practices. "The benefits of which also oust any misconception of gender bias by affording women the opportunity to be recognised in our industry, often thought as a male dominated environment. The initiative has afforded women to take the 'spotlight' by sharing their journeys and showcase their achievements with the hope it inspires and empower others."
More on
About the author

Journalist
Lisa Hanley is an In - house Journalist working for The BCI. With a Masters degree in Televison Journalism from City, University of London, Lisa has previously worked as a Freelance Producer and Journalist for London Live, PA Media and Thomson Reuters Foundation. Her experience varies from producing documentaries, films and podcasts, to producing news packages for television and voiceovers for radio.