Women in Resilience (WiR) Spotlight: Camilla Scrimgeour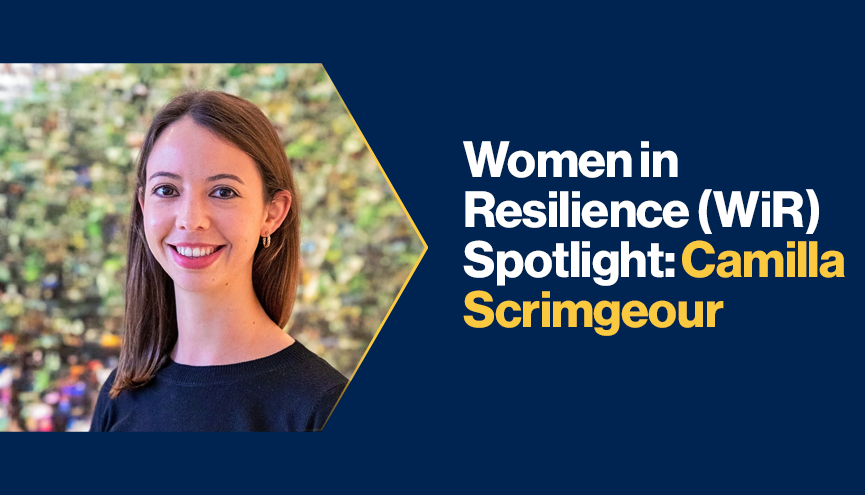 Camilla is the Resilience Manager for a large property company based in London. She has previous experience in several aspects of security and resilience, including crisis response (kidnap for ransom and extortion), crisis management (responding to terrorist attacks, security risk assessments and planning), terrorism analysis and Business Continuity (BC). When not at work, Camilla enjoys boxing and yoga, but is also currently finding the time to plan her wedding in between.
Starting out in the industry
While most people may say that they fell into the security/resilience industry, Camilla has always wanted to work in the sector.
"I had an excellent lecturer at university who taught my counter-terrorism module and she spoke with such passion that she had me engaged from the start. When I left, I joined the world of politics before realising that it wasn't for me and moved to working in terrorism analysis for an insurance company in the City – my career has developed from there."
Camilla particularly wanted to work in hostage negotiation ("absolutely no idea where the inspiration or desire came from!"), but notes that it is a very difficult niche to get into and she was put off a number of times by the suggestion that police or military experience was essential, and that it was not a role best suited to women. However, she finally succeeded in her goal by working for a crisis response consultancy in kidnap for ransom, extortion, piracy and other cases - a huge career achievement and a turning point. "I owe that success to my manager at the time, who believed in me and my capability and played an influential role in my career."
Camilla adds that she reached her current position through a lot of hard work and determination. She has held a number of roles throughout her career, but has never been afraid of moving from one to the other. "Each role that I have moved on to has expanded upon the knowledge and skillset of the previous one and in this way, I have built a wide skillset within the industry and am able to put it all into practice in my current role."
She adds that her career has not been without the "sadly normal" challenges of being a woman in a predominantly male industry, but hopes to inspire other women with an interest in this field to join and experience how diverse the industry is and the different roles that are available. "Groups such as BCI Women in Resilience (WiR) provide the much-needed support to highlight the amazing women who are blazing similar paths within the industry, as well as ensuring you're on the right track."
Skills for success
For Camilla, the most crucial skills needed in this industry are the ability to:
Coordinate – across many functions, departments and areas of an organization
Connect - make connections at all levels of an organization and maintain them
Communicate – being able to communicate effectively at all times, but especially during an incident or crisis
Remain calm – essential in times of crisis
The influence of the WiR network
For Camilla, support networks are very much needed and are a great way to highlight other women who have had successful careers in resilience. "It is invaluable to be able to bounce ideas off like-minded professionals. The variety of roles available in the industry always interests me too."
While she wants see more women in the profession, Camilla would also like to see professionals from more diverse backgrounds, so that the industry can expand its expertise and experience.
She concludes with: "There is never a dull day in resilience. There is always something that will impact on you and/or your business and we need to be prepared. That will never change."
More on