Women in Resilience (WiR) Spotlight: Cheryl Griffith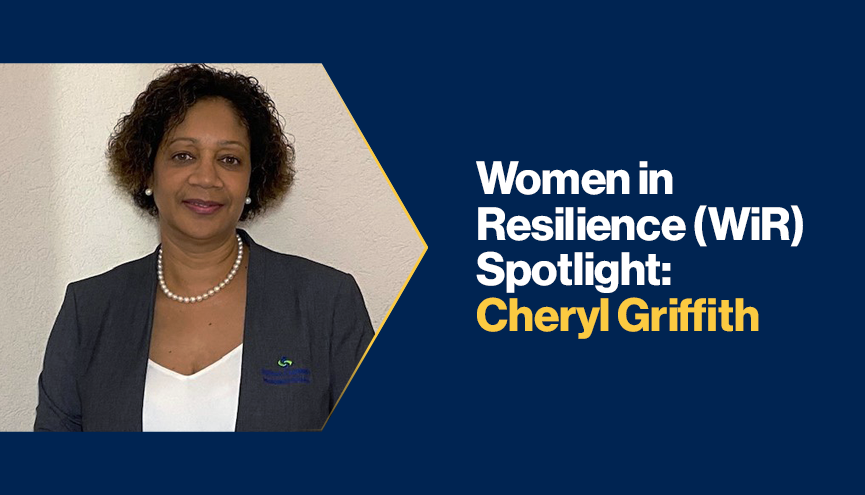 In her current role as a Business Continuity Consultant, Cheryl Griffith is building the case for Business Continuity Management (BCM) as a business across the Caribbean. After the pandemic, BCM is now gaining traction in this market as a distinct planning model to be practiced and implemented.
Cheryl is a Certified International BC Instructor with over 20 years' experience in the financial services sector, mainly in operational risk and back-office operations in Barbados. She holds a Master's degree in Leadership, a Bachelor's degree in Business Administration, and two distinguished certifications in BC.
Joining the sector and taking the next step
Cheryl did not choose the BC profession. Instead, it chose her in 2005 while working as Director of Operations/Technology at a large financial institution, where she was asked to lead the business unit for BC. This was due to Cheryl's initial exposure to BC while participating in the year 2000 (YTK) project, which later evolved into her performance of some BC related duties and eventually into the role of BCP Coordinator, eventually requiring her to be certified in 2005.
When asked how she made her next step, Cheryl notes that making a career transition after performing in her area of expertise for many years was unnerving. However, while taking a few months off to regroup and plan her next move, she had her 'aha' moment. Small companies across the Caribbean were vulnerable to disruptions/disasters if they did not have a BC plan, but she had acquired relevant industry knowledge and experience in this area from her previous employer. So, why not offer consultancy in this area? Here was an opportunity to help these organizations accelerate their recovery and/or start operations back up quickly. Cheryl's BC consulting business was launched on International Women's Day 2018.
Challenges and opportunities
The companies that are aware of BCM are usually large organizations and those fulfilling a regulatory requirement, says Cheryl. "While BCM has now become a buzz word in our region, not many small businesses really understand what it entails. Let's be honest, those outside the profession often struggle with understanding our methodology. Part of this challenge has to do with failing to take the time to educate by breaking down traditional terminology," she adds. Therefore, Cheryl set out on an awareness and education drive to create simpler plans while still capturing all the elements of BCM.
Since becoming a self-employed consultant, Cheryl has been supported by her previous BCM relationship manager who is a practitioner herself. Cheryl is not afraid to ask for help and recognises that it is important to have an expert to whom you can ask questions. As such, she welcomes the advice and mentorship from other practitioners, takes on training to stay relevant and gives back by doing some advisory work. Cheryl also continues to build her professional network while making connections within the industry.
Developing a skills base
"Collaboration, self-awareness, a positive attitude and excellent communication skills are important traits to be a successful leader in our industry," says Cheryl. When it comes to leadership in this field, she believes that key skills include being passionate, having a focused attitude, as well as having flexibility and adaptability, as you will need to adjust to ever-changing situations. Crises never go the way you think, so you must be prepared for anything.
The influence of the WiR initiative
Cheryl was happy to see the introduction of the BCI WiR initiative, which is an indication that the industry is attracting more women than ever before. "This diversity will deeply enhance our industry. The more voices we have, the more we will be heard," she adds.
Cheryl considers that, by creating this supportive space, women don't have to go it alone. "We can all achieve our full potential and encourage each other on this journey and be an avenue for industry training."

Further progress
After years of struggling to get C-suite and financial buy-in, we seem to have won part of that fight due to the pandemic, says Cheryl. However, she would now like to see mental health having a place in BC going forwards. "Operational Resilience is now a term of growing interest and risk management now has more focus given the increase in threats. How we navigate all these changes to ensure that they all work together within BCM is going to be key," according to Cheryl.
"I think it's an exciting time to be joining the profession now as there is so much change going on, both globally and regionally, for businesses. In 2021, businesses within the Caribbean have had to respond to the global pandemic, volcano eruptions, power outages and cyber-attacks. This industry has been in the thick of all this action which has been great in highlighting the importance of BCM and building the capacity for resilience" she concludes.
To be the first to know about BCI News and more follow us on LinkedIn here, or on Twitter @TheBCEye
More on
About the author