Women in Resilience (WiR) Spotlight: Deepa Pavan Kumar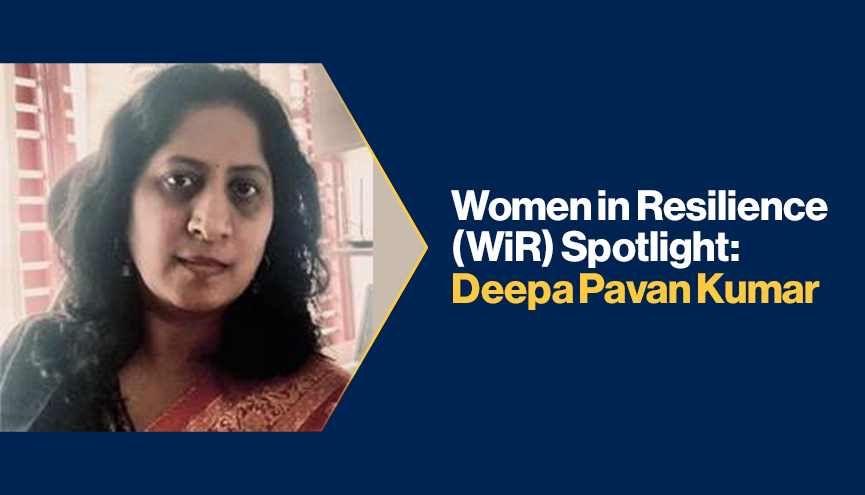 Deepa Pavan Kumar became part of a Business Continuity Management (BCM) team through an internal job posting and then, she says, "I have never looked back". With over 18 years' experience in the IT industry, Deepa has had the opportunity to work across a variety of projects involving software development, ISO standards implementations as well as BCM. On top of this she has a degree in Psychology and is a trained Business Continuity (BC) professional.
At the early stages of her career, Deepa's dream job was to work as a child psychologist, however, her fascination with corporate work pushed her to pursue a career with an MNC. Her first job was as a junior software engineer. She recalls her team went on leave because of protests and political unrest. She says, "I've always been curious as to what occurs on the other side during [crisis] events and that is how I started taking an interest in understanding resilience."
Deepa started her career as a BCM manager where she was responsible for identifying key business services, handling in-country resiliency projects and split operations, coordinating a new secondary production site, determining the impact of wide-scale outages, managing crisis, etc. She admits that the most difficult obstacle she faced was developing domain expertise and communicating with her team who were all certified professionals. Therefore, she decided to pursued BC certifications, which helped her gain greater confidence while also assisted her in obtaining management qualifications. She says, "When I needed advice, my mentors were there to help. The added confidence helped me apply for senior positions in the industry. My hard work and my passion in the subject helped me reach senior positions in the BC space that I'm very proud of".
When it comes to leadership in the BC & Resilience industry, Deepa has a clear idea of which skills one is ought to have. She says that in terms of BC, there are a few key abilities that a leader should possess:
Ability to influence. As the proverb goes, "Continuity plans are like backup parachutes — they're rarely used but you don't want to be caught without one." BC leaders must be able to persuade the management team and employees of the importance of establishing and adhering to a BC/Resilience framework.
Collaboration. Employee engagement, retention, diversity, and innovation are all boosted by a collaborative culture. "Collaboration is a critical element in BC" and for everyone to take the programme to the next level.
Teamwork. Great things are never accomplished by a single person; they are accomplished by a group of people. As a BC leader, Deepa believes this is one of the skills that is required because no individual can drive things alone. Outstanding people with a good attitude are required to drive things for a successful firm.
According to Deepa, the COVID-19 pandemic has revealed how fragile and volatile is the environment where organizations operate in. Therefore, businesses need Resilience professionals to work towards mitigating risks and vulnerabilities.
When it comes to The BCI WiR, Deepa strongly believes that this group has helped women leaders and professionals in connecting; as well as motivating and empowering them in a variety of Resilience disciplines and across sectors. She says, "My association with the Resilience professionals in India has given me a wider perspective of the challenges that women face and how they overcome them."
Looking at the future, Deepa says that we need to be open minded about having women lead Resilience projects across industry sectors. She also says, "I believe we need a better understanding of Operational Resiliency - encompassing third-party risk assurance and disaster recovery, and not be limited to BC and Crisis Management in general - which is the current scenario in most organizations."
More on