Women in Resilience (WiR) Spotlight: Juliet Viney MBCI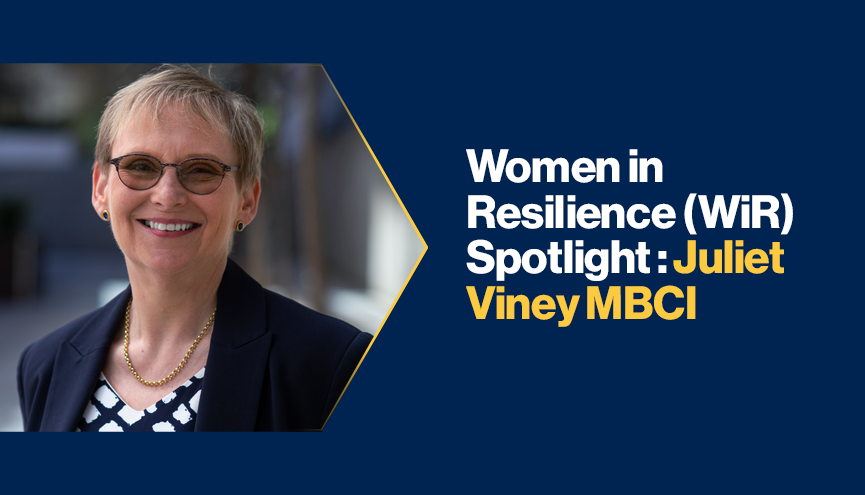 Juliet Viney has been involved internationally in Business Continuity (BC) & Resilience for over 30 years and is still passionate about helping public and private sector organizations to deliver ongoing improvements to their BC and resilience capabilities by protecting and enhancing their resilience. She is often told that she is good at demystifying the process, helping clients to understand the requirements of international standards, and assisting them to develop pragmatic, workable strategies, solutions, and plans.
Juliet has previously served on the Board of the BCI. Last year, she was a member of the ISO Technical Committee last year to review ISO 22318 - the guidelines for supply chain continuity management - and was awarded "Consultant of the Year" in the Asia Pacific region by the BCI.
Getting into the industry
Back in the early 1990s, Juliet was the mainframe systems manager for a dairy company in the UK. She had to plan and manage three data centre relocations over a period of just 18 months. It was her first foray into contingency planning but she loved the challenge. Indeed, all the relocations were completed on time, on budget, and with minimal business impact (to a 24/7 business). After this, she went on to specialise in IT Disaster Recovery and eventually expanded into BC.
In those early days, Juliet says it was about recovering IT systems from backup tapes. As a discipline itself, BC was in its infancy and practitioners came to it from very diverse backgrounds, such as IT operations, health & safety, insurance, emergency management, and the police.
Over the years, Juliet worked internationally with a wide variety of organizations, both large and small, gaining broad and valuable experience. In 2005, she moved from the UK, where BC was relatively mature and well-embedded, to Australia where the discipline was still in its infancy and there were fewer opportunities. It was a challenge to find roles which excited and energised her as much as working in the UK, Europe, and the US. For a time, she returned to her roots, taking on senior IT Service Continuity roles for some of Australia's blue-chip companies. The great thing about her role now, as a Principal Consultant, is the opportunity to use all of her experience to support clients with projects across both the Digital and Business Resilience domains.
As such, Juliet adds that she continues to be endlessly fascinated by the organizations she works with and is never bored.
Turning points
There have been many significant experiences during Juliet's long career. The first turning point was the previously mentioned data centre relocations. Not long afterwards, the company outsourced its IT, making the role of the entire IT department redundant. As Juliet had just given birth to her third child, an extended period of maternity leave gave her the opportunity to re-assess her career direction. She decided to specialise in "resilience" and joined one of the UK's new and fast-growing mobile telephony companies, taking on the challenge of establishing BC and Disaster Recovery in their engineering computing division.
However, probably the most significant experience came as Juliet was preparing to leave the UK in 2005. She supported one of the UK's largest technology and engineering companies through their response to the London Bombings, an experience she will never forget.
"It was a lesson like no other in how real disruptions unfold, with regards to the uncertainty, the need to make fast decisions with very little accurate information, and how different personalities respond or react to the pressure," says Juliet.

Building a skillset
When asked about the skills required to lead in this field, Juliet notes that "to become a leader in BC and Resilience, you need boundless curiosity and endless patience! You must accept that BC and Resilience are rarely going to be top of anyone's agenda, until the day it is. When there is a major disruption, we go from the bottom to the top at lightning speed," says Juliet.
She adds that BC and Resilience practitioners have the great privilege of exploring the vulnerability of organizations (and their leaders) from a 360-degree perspective. Therefore, they must be as comfortable in the boardroom as in the engine room. They also need to be "multi-lingual", meaning they are able to converse confidently with diverse areas of the business as well as with deeply technical and dynamic areas, such as ICT. The best advice Juliet can give to aspiring leaders in this field is to have the humility to accept that you never have all the answers and the courage to ask lots of "dumb" questions!
The importance of the WiR initiative
During her career, Juliet is proud to have inspired several younger women, who had never even heard of BC, to get into and succeed in a career in resilience. Juliet believes that the BCI WiR initiative can positively influence our industry by showcasing what's possible. "It is empowering women to join or progress in our industry, recognising that age, sex, culture, geography, and background are no barrier to a career in resilience. We all have something to offer and by sharing our stories, we can smash the glass ceiling and raise awareness of the variety of opportunities available," says Juliet. She adds that WiR can show them "the art of the possible" and that, through the WiR initiative, we can work together to generate excitement and passion for what we do. "The BC and Resilience discipline has never been more important than it is today, and it is never boring!"
Looking to the future
Juliet expects the profession to continue to evolve, grow and change. Juliet has already seen the evolution from IT Disaster Recovery to the recognition of the importance of BC and then to the broader discipline of Resilience. Looking ahead, Juliet would like to see more collaboration between related disciplines, breaking down silos and leaving egos at the door.
"Let's bring together subject matter experts from, for example, BC, digital resilience, cyber security, risk, and emergency management, to deliver truly integrated resilience solutions. As women, we are natural collaborators. We are wired to work together to solve problems and deliver positive outcomes. There is still a huge opportunity to use our natural strengths to drive a different, more inclusive agenda," she says.
Juliet finishes by stating that more people should be joining the resilience community because "there are few more rewarding ways to spend your working life than knowing that you are contributing to the protection of communities, our critical infrastructure, people's lives, and livelihoods by ensuring the continued delivery of the products and services upon which we all depend."
More on
About the author

Business Continuity and Resilience Principal Consultant
Juliet has over 30 years of international experience in Business Continuity & Resilience. She is passionate about helping public and private sector organisations to deliver improvements to their BC&R capabilities, protecting and enhancing their resilience.
Juliet is often told that she is very good at is demystifying BC&R, helping clients to understand the requirements of the international standards and assisting them to develop pragmatic, workable BC&R strategies, solutions and plans.
She also served as a member of the ISO Technical Committee,  reviewing ISO 22318, the guidelines for supply chain continuity management.