Women in Resilience (WiR) Spotlight: Saritha Annadurai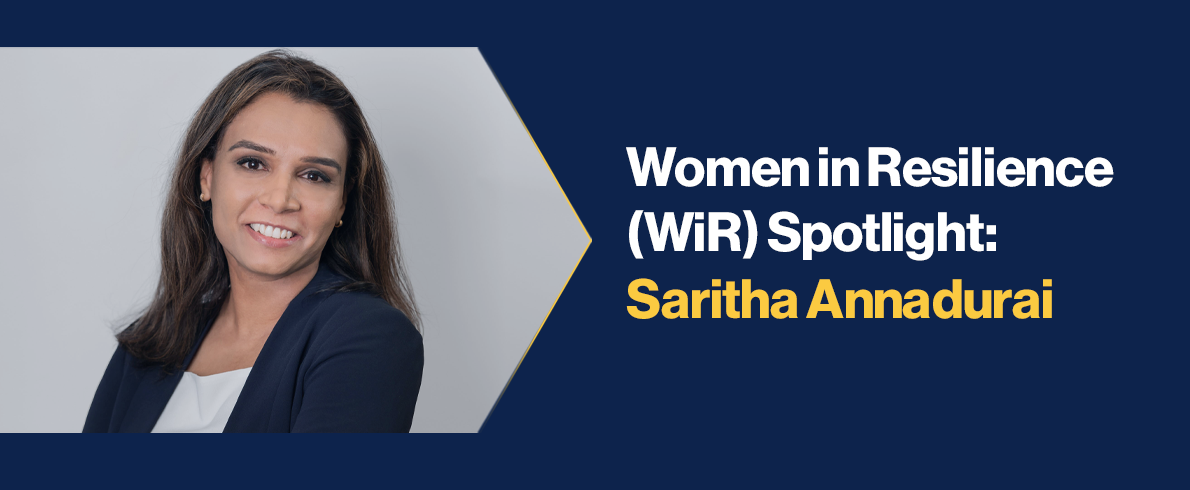 Saritha Annadurai is a proud mother of two lovely teenagers and currently working as the Head of Business Continuity, EMEA for TP ICAP. During her spare time, she also teaches Bollywood dancing and is part of the Tamil Performing Arts Society. She has been working in the finance industry for over ten years and obtained her MBCI status with the Business Continuity Institute.
What brought you into the industry?
Curiosity is what initially led me to this industry. After completing my Masters' in IT Security, I landed a part time job as an Application Security Analyst in the city. My eldest child was just starting nursery, so this was convenient and suited me well.
During this time, I came by a job opportunity to work as a Business Continuity Analyst. I have always desired to attempt different tasks and gain various experiences, and that is how the journey started. It was an entirely different path to what I had initially intended for myself, however I was keen to learn what Business Continuity meant in the financial world and I never returned to Information Security thereafter. I grew to realise that this was the right choice for me. It was much more stimulating and granted me a chance to meet a wide range of people who were at different levels within the organisation. It suited my personality and I thoroughly enjoyed the prospects that came with the job. It allowed to me feel a sense of importance and while adding value to the company.
How did you reach your current position? What challenges did you face?
I met a lot of challenges during my Business Continuity Management journey; from starting in a junior position to now being the Head of Business Continuity for EMEA.
Each challenge was unique, enabled me to mature into my role and allowed me to face the next challenge.
At the beginning I didn't have the confidence. Having the confidence to say what you think, trusting in what you know and what you are talking about, is key in any job position, and it certainly applies to Business Continuity. Being sure of yourself and speaking up where necessary is essential.
While things are changing in today's world, throughout my career in financial services, it has typically been a male dominated industry so having the confidence to make your voice heard is important. I have always enjoyed challenges that I have come up against and I find the result of overcoming a challenge to be the most rewarding feeling.
Business Continuity is one of those areas of a business that perhaps people don't see the importance of, until an issue arises. One challenge has been recognition. There were times in my career where I've had to work extra hard to receive the attention required, and in specific detail.
Being a parent was also challenging with maintaining work-life balance. However, by having good organisation and determination, this helps drive you to where you want to be.
Which specific skills do you think are needed to become a leader in your field?
A variety of skills are needed to lead in this profession.
One of the skills that you must master is maintaining good relationships. This is a skill that comes very natural to me and is important as you need to interact with people at different levels. Having good relationships enables you to communicate well with others in meetings and complete deliverables in time. It allows you to easily approach people and communicate with them.
Communication skills is another significant aspect; whether it is in a presentation, with a time of peace or amongst a crisis, it is vital to know how to communicate in a commanding yet composed manner. Calm, clear and concise presentation is crucial in getting the message across assertively.
One of my favourite mottos is: "If you don't ask you don't get".
Continuously stimulating thought, facilitating that thought and then creating the thought is a major skill as well. Being resilient is principal in this field as you must be adaptable and flexible.
Being persuasive is equally important.
Being confident so you can speak up and overcome your fears is a must. We need to believe in ourselves and constantly push ourselves, or else we will be stuck in our current state, with no progress. You have to be able to step out of your comfort zone and challenge yourself. For you to lead, you need to believe in yourself first in order to make others understand your potential.
Do you think that the BCI WiR initiative will influence our industry? If yes, how?
Of course! Yes, I firmly do believe this. It is good to recognise one another and provide a sense of achievement. At the same time, the initiative will act as an incentive to inspire others who are starting on their journey to become female leaders in their profession. It allows them the opportunity to see how other women have developed their roles and enables them to learn from the experience of others.
We live in a world where everyone is competing with one other, and therefore it would be great to see how we can support each other in reaching our goals.
What changes would you like to see in the profession?
More women in this profession rising into senior roles. It would be great to see more women leaders in this industry to inspire other women to follow in their footsteps.
Organisations also need to help employees understand the importance of what we do.
I would also like to see more seasoned professionals mentor junior professionals to encourage, influence and make a positive impact.
In your opinion, why should more people be joining the resilience community?
It is a great way to interact and meet other individuals who can relate to you and share a common interest as well as collaborate. Essentially, it is a way of being included in a community who understand your role better than anyone.
Furthermore, it is an opportunity to learn and share knowledge with others, helping them to develop their careers. Regardless of whatever stage we are at in our knowledge and development, we can always learn from each other no matter how experienced we are.
It is a great platform for women to feel comfortable and collaborate with each other.
More on