Women in Resilience (WiR) Spotlight: Treena Reilkoff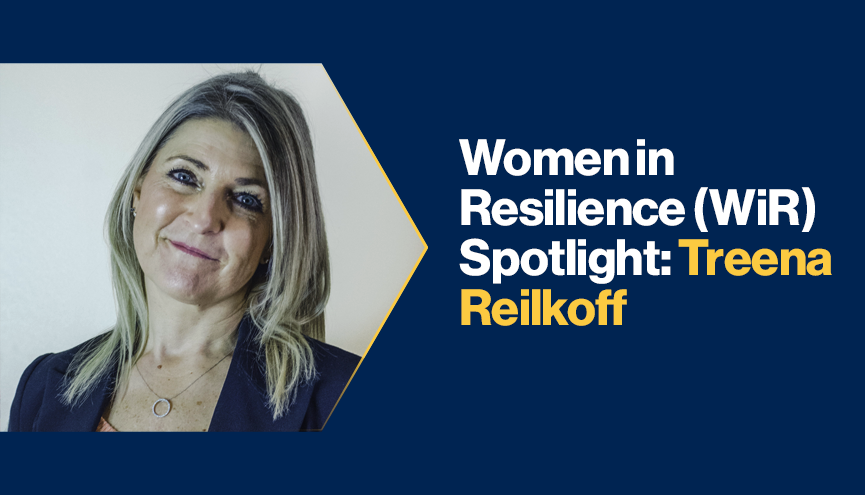 Treena Reilkoff is a Trauma Informed Conflict Management & Resiliency Specialist. She is also an international workshop facilitator on the topic of Trauma Informed practices and has a passion for improving workplace cultures by embracing conflict through resiliency. In this, Treena educates people on how to leverage their experiences of unexpected events, adversities and trauma by creating versatile risk management strategies. She finds that her "conflict resilient" collaborative approach helps create psychologically safe workplaces and inter-generational resiliency.
A journey into resiliency
Over 25 years ago, Treena was part of a CISM team in a rural northern community in Alberta, Canada. She then decided to participate in a Resiliency Facilitator workshop with the goal to help high-risk youths and families, turning their adversity, conflict and traumas into skills sets for optimum resilience growth, as a means of creating a web of protective factors to mitigate future risk.
Treena has also worked within the private and public sector, such as in healthcare, corrections and security settings, as well as educational institutions and isolated communities. With experience in assisting individuals, communities and workplace cultures, Treena believes that "ROI is possible when collectives and organizations support risk mitigation opportunities by creating conflict resilient frameworks that respect various cultural practices."
Mental health in the workplace
In her experience, Treena has found that you cannot deny or dismiss how the mental health of employees is directly influenced by psychological safety in the workplace. Indeed, her toughest challenge was facing her own experience of being vulnerable and recognizing the oppressions, conflicts and traumas she has experienced in the workplace. With regards to how she was able to move from survive to thrive within her personal and professional worlds, Treena notes that "self-reflection strengthens resiliency".
She also finds that operational resilience encompasses a holistic and strategic framework, and COVID-19 has created vulnerability and a worldwide trauma experience. Therefore, Treena believes that we need to flip the script on how we define vulnerability and recognize that mental health is a business metric. "Helping others recognize how resiliency gives you purpose and the ability to address an unexpected change or crisis in the workplace, is a proactive cost-saving opportunity," she says.
A relevant experience that stands out for Treena relates to a workplace assessment she completed that showed a profoundly toxic workplace culture. A psychosocial risk factor survey highlighted serious concerns as well as environmental contributions to the development of vicarious, secondary and sanctuary trauma within some employees. Having listened to their experiences, Treena became curious about what resilient traits they had that assisted them to cope and remain working for their organization.
Through this, Treena discovered that their experiences related to conflict resiliency and trauma resiliency. A mitigating factor was the wealth of ideas contributed by interviewees on how to improve the workplace culture. This would provide a ROI in their organization, as the leaders were also part of the workplace assessment and had the decision-making authority to demonstrate and formulate proactive change. Being a part of the solution, through a shared collaborative process of recognizing people's resilient strengths in resolving the conflict, directly contributed to improving the psychological safety in workplace culture.
What skills are required in this sector?
Resiliency is all about transformation through self-reflection to become more adaptable and agile for the next unexpected event. The resilience mindset is to learn from your experiences of adversity, conflict, trauma and failure, and to construct one's collections of skills in a way that develops their capacity for resilience. Leaders need to support, guide and teach others to identify their resilient skills when confronted with unexpected events, and also develop risk mitigation strategies that are proactive not reactive measures. In these unprecedented times, we need more leaders to move from conflict avoidance to conflict resilience and lead a workplace culture change that supports both physical and psychological safety.
The influence of the BCI WiR initiative
Treena adds that the BCI WiR "is an influential initiative that provides an environment to build a resilient community that can share, demonstrate and support women in becoming more agile and adaptive in the business world. It provides a forum where empowerment through sharing our narratives contributes to building our resilient leadership legacy and a means of transforming workplace cultures and risk mitigation."
The future
Looking ahead, Treena would like to see leaders recognize there is a cost to unresolved conflict in the workplace. ROI is a direct result of proactive not reactive measures when addressing psychological safety in a workplace, enabled by becoming curious about conflict, challenging one's unconscious biases and recognizing the transformational power of personal, professional and operational resiliency.
She adds that resiliency is much more than bouncing back. "When you join the resilience community you are able to share experiences and solutions that provide for a more robust intergenerational opportunity for resilient growth and the development of a resilient mindset."
"Resiliency is an opportunity for learning and building protective risk mitigation strategies whereby humans and workplace culture can flourish," Treena concludes.
More on