BCI Awards Update 2023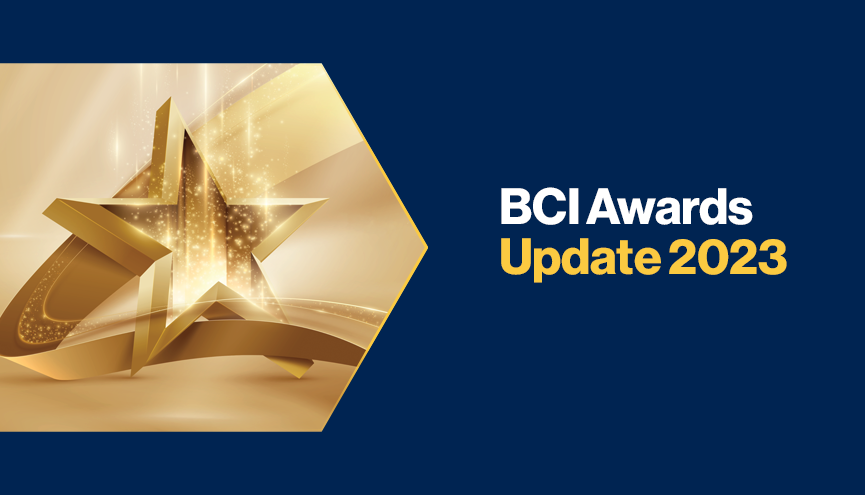 Following the conclusion of the 2022 Global Awards, BCI established an Award Working Party comprised of BCI Volunteers. The purpose of this group was to reset and enhance our awards programme. This comprehensive review was conducted with the aim of providing our members with more opportunities to contribute to and celebrate each other's achievements.
The Working Party thoroughly examined all aspects of the delivery of our awards, including the categories and criteria, entry requirements, judging process, and ceremonies. Our goal was to amplify the voices of our members and actively champion their successes while maintaining the quality, consistency, and integrity of our awards process. As a result of the comprehensive review, a report was created to outline the recommendations. This report was presented to the board during the first BCI Global Board meeting of the year for discussion and decision-making. The changes outlined in the report will be implemented for both the 2023 BCI Regional and Global Awards.
Awards Categories
We have revised all categories to align with the KPI Question methodology and the BCI Competency framework. This will enable us to better recognize and celebrate the achievements of our members based on established industry standards and best practices.
Starting from 2023, we will be introducing three new categories.:
Diversity, Equity and Inclusion Ally/Champion of the Year
This award represents our commitment to promoting and supporting diversity, equity, and inclusion (EDI) within the continuity and resilience profession. By recognizing individuals and organizations who are passionate about and dedicated to building and maintaining an inclusive industry, we can inspire others to follow suit and take action towards our strategic goal for EDI. We believe that this award will help to foster an environment of mutual respect, understanding, and collaboration, where all members feel valued and empowered to contribute to the growth and success of the profession. In this category, judges will look for evidence of a leader or organization within the continuity and resilience profession who demonstrates a passion for, and commitment to, developing and maintaining a diverse and inclusive industry.
Most Original Exercise Programme
In this category, judges will be looking for evidence of a pioneering exercising regime that robustly tests the organization's continuity/resilience system.
Most Effective Supply Chain Resilience Strategy
In this category, judges will be looking for evidence of how an organization has ensured that its key suppliers have suitable continuity/resilience measures in place to maintain a continuous supply.
Entry Process
We will be improving the Awards applicant entry process to make it more accessible for individuals and organizations to participate. This will involve the introduction of a new submission form, as well as Judging Guidance and Application Guide to provide entrants with a clear understanding of how their entries will be evaluated.
Awards Judging
To ensure a fair and inclusive awards process, we will be recruiting a new judging panel made up of certified BCI Volunteers. They will receive comprehensive training and guidance on how to assess entries. If you're interested in becoming an Awards Judge, you can find more information and apply here.
Awards Ceremonies
Over the next three years, we will work towards transitioning all Regional & Global Awards ceremonies to a hybrid model wherever possible. In 2023, all Regional Awards ceremonies will be virtual-only, but the BCI Global Awards ceremony will be a hybrid event in the form of an Awards Dinner. The Awards Dinner will take place in London as part of the BCI World Hybrid conference.
All BCI Regional Awards will be opening for submissions on the same date – Monday, 3rd April 2023 – and will all close on Monday, 1st May 2023. To prepare your entry, please refer to the list of Categories and Application Guidance. We believe these changes will enhance the entire Awards programme, making it more accessible for professionals and organizations to participate, and easier for judges to evaluate. These updates will also highlight the excellent work being done by business continuity and resilience professionals, as well as their teams and organizations, around the world.
We extend our gratitude to the BCI Award Working Party for their diligent efforts in making these improvements.
More on