IPCC Report 'code red for humanity' but what does this mean for businesses?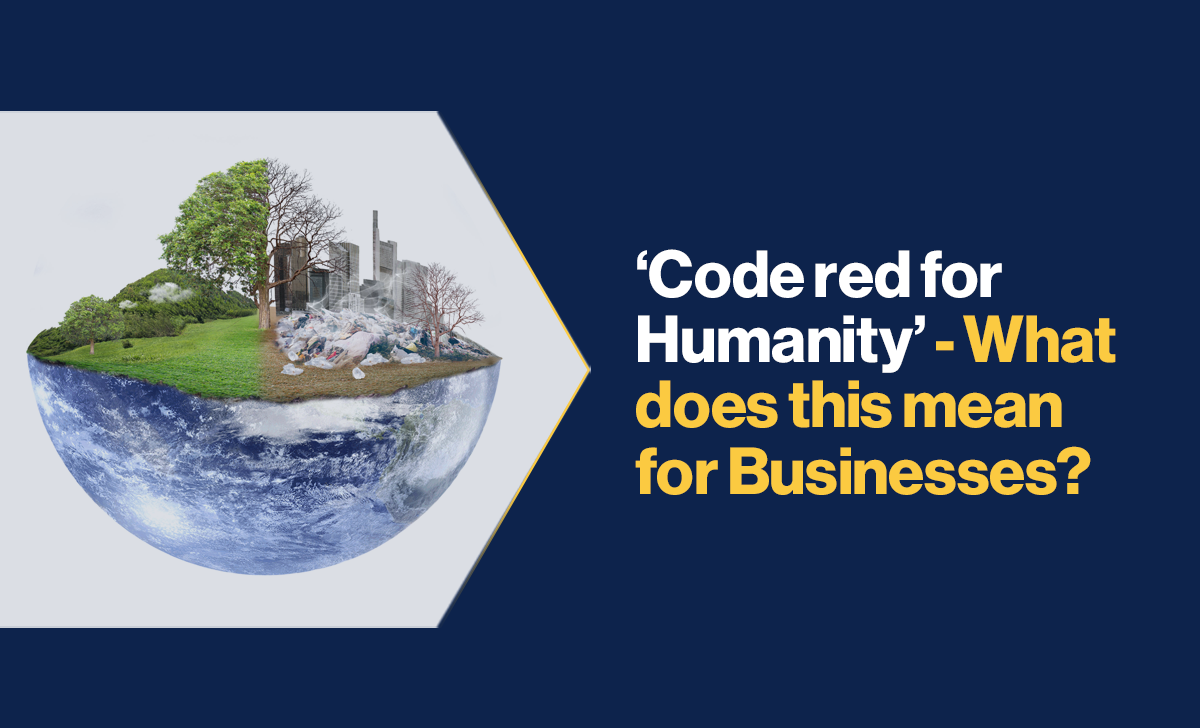 The UN scientific report, released yesterday, gave a stark warning to all, the planet is warming up and this spells danger … but there is still hope if the world acts fast.
The report was the UN's first major review of the science of climate change since 2013 and comes just months before a key summit in Glasgow – COP26.
The IPCC report highlights how the global surface temperature is rising, as are sea levels, and it is 'virtually certain' that extreme weather patterns are here to stay.
But what does this mean for businesses?
2021 has already seen unprecedented events linked to climate change that have impacted many businesses around the globe, with many still ongoing.
There was the catastrophic flooding in Germany and Belgium that killed over 200 people, flash flooding in London in the height of summer, the winter storms in Texas with temperatures reaching -13 degrees and leaving over 3 million houses and businesses without power, flooding in China that saw underground trains filling up with water, and record-breaking snowfall in Madrid.
This does not even mention the fires currently burning across the U.S., Turkey, and Europe, which has seen beach resorts evacuated by boat as people try to escape the fires.
All of these incidents have a direct and indirect impact on thousands of businesses.
Extreme weather events were the 6th most reported disruption in 2020 in the BCI Horizon Scan 2021 report, only behind pandemic and cyber-related incidents. This moved up to the 5th highest risk when looking forward to 2021, so this is clearly a 'top of mind' worry for many business continuity and resilience professionals the world over.
But it is not only BC & resilience professionals that are concerned by extreme weather events and climate change, according to Deloitte's Global 2021 Climate Check Report 80% of executives are also concerned by this.
With the media exposure and global concern for climate change (as well as the pandemic), could this be the 'golden bullet' for BC & resilience professionals to get the attention of those at the top of the organization?
According to the Deloitte report here are 5 ways in which climate change is already impacting, or threatening to impact, businesses:
Operational Impact – the impacts felt by extreme weather disruptions such as flooding of premises & facilities or availability of workforce.
Scarcity/cost of resources – Access to basic resources such as food, water, and energy.
Regulatory/Political uncertainty – The IPCC report is likely to heighten this as governments look to introduce further measures.
Insurance – Increased insurance costs to cover the ever more likely event of extreme weather.
Reputational damage – As climate change becomes ever- present in daily lives how an organization reacts and the effort they make on sustainability could impact future success.
Despite the warnings from all the reports mentioned, there still seems to be a reluctance or hesitation from organizations to make significant changes to the way they operate, although the IPCC report states that there is still hope if the world acts fast.
However, this can't just be left to governments, all need to make an effort, and this includes all businesses. Climate change is not a new phenomenon so it will be interesting to see if the new report from the IPCC will make a difference to government targets and how this will filter down to organizations.
The BCI will be conducting its first-ever Extreme Weather and Climate Change Report, sponsored by National Grid, later in 2021 where you will see in more detail how organizations are reacting to this threat through the eyes of BC & resilience professionals.
More on